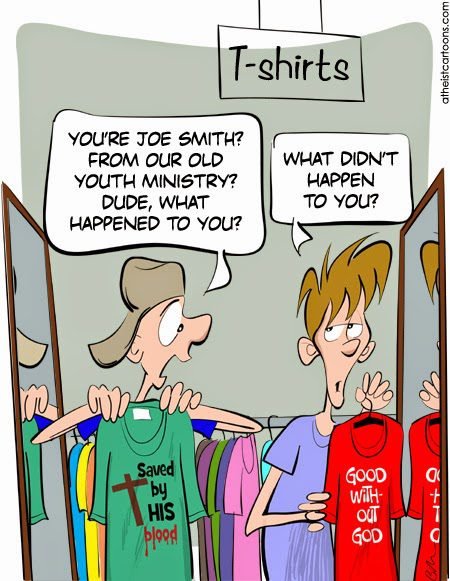 Evangelical church leaders — from garden variety Evangelicals to Southern Baptists, and from Charismatics to Independent Fundamentalist Baptists — are scrambling to contain the sexual abuse wildfire before it consumes their churches and ministries. If it weren't for the fact that countless children, teenagers, and adults have been psychologically and physically harmed, I would stand on the sidelines and wildly cheer as Evangelicalism is reduced to a pile of ashes. But there are victims to consider here, so I won't stand — with a garden hose hooked to a gasoline delivery truck in hand — and watch the fire burn. My view of Evangelicalism is well known — especially the Independent Fundamentalist Baptist wing. I "pray" for Evangelicalism's swift and painful death, and I would be happy to hold a pillow over its face as it draws its last breath. Alas, the current sexual abuse scandal is unlikely to make Evangelicals run from their churches. The deep emotional ties people have with their churches, pastors, beliefs, and practices make it unlikely that there will be a soon-coming mass exodus. If eighty-two percent of voting Evangelicals can vote for a vile man such as Donald Trump and still think they are "Christian," it is highly unlikely that these followers of Jesus will abandon their churches over sex abuse scandals. I am not suggesting that Evangelicals don't care about sexual abuse victims — many of them do — but most of them don't care enough to abandon their churches. One need only look at the Roman Catholic Church to see that it takes more than clerics diddling children for Christians to desert their churches.
With that in mind, what can Evangelicals do to lessen the risk of their children/teenagers being sexually assaulted, raped, or otherwise taken advantage of by so-called men of God? One thing Evangelical churches can do is fire their youth pastors and dismantle their youth departments. When it comes to men raping, sexually molesting, or grooming teenagers for future sexual contact, one church position comes up over and over — youth pastor/youth leader. I have posted scores of news stories about youth pastors who have used their positions of authority and power to take sexual advantage of impressionable teenagers. (Please see the Black Collar Crimes Series.)
Decades ago, it was common for families to worship together on Sundays. Today, children and teenagers are often split from their families, attending church services/programs structured and designed for their age group. It is not uncommon for children/teenagers to not worship at all with their families. Some parents love this because it means they don't have to fight with their children over their poor behavior during church. Let the youth pastor or junior church leaders deal with their hellions. "Adult" church is viewed by children/teenagers as boring. Who wants to listen to preaching and sing old-fashioned hymns, right? Churches, ever fearful of losing the next generation, develop programs that appeal to children/teenagers. Rock/hip-hop music, "relevant" sermonettes for Christianettes, games, and clowning around make for awesome church services, right?
Youth pastors focus on the felt needs of young congregants, often talking about the importance of keeping oneself sexually pure until marriage. Youth departments are populated with sexually aware 13-18-year-old youths. Often, their youth pastors/youth leaders are not much older than they are. And therein lies the problem. Churches isolate teenagers from their parents and put them under the charge of young men who are often still in their twenties or early thirties. Raging hormones are the norm, and it is not uncommon for teen girls (and boys) to become infatuated with their handsome, youthful pastors. This infatuation makes them easy targets for youth pastors who want to groom them and use them for personal sexual gratification.
Teens will often tell their youth pastors secrets, including their struggles with remaining sexually pure. Remember, Evangelicals believe that premarital sex is sinful, and all forms of sexual activity before marriage, including masturbation, are forbidden by God. No matter how sexually "stirred up" teens might be, they are told by their youth pastors that God forbids them from seeking physical release through masturbation. Youths are told, thou shalt hold on until Jesus provides you with the right mate. Imagine "holding on" until you are in your mid-twenties or later without ever masturbating or having sex. Of course, as it was with teens in my generation, so it is today — the spirit is willing, but the flesh is weak. Most Evangelical teens will masturbate and engage in some form of sexual activity before they marry. This SHOULD be viewed as normal, healthy behavior, but in Evangelical churches teens will be repeatedly preached at about "giving in" to their fleshly desires. Deep down, church leaders know that it is unlikely that their teenagers will save themselves for marriage. After all, they didn't.
Based on what I shared above, it is not hard to see that Evangelical churches are making it way too easy for predatory youth pastors/youth leaders to take sexual advantage of the churches' teenagers. Youth pastors engaging in inappropriate sexual behavior with their charges is so common, that the only way to keep teenagers safe is for churches to fire their youth pastors and shutter their youth departments, returning teenagers to the safety of sitting with their parents on Sundays. In 2005, Polly and I, along with our three younger children, attended Pettisville Missionary Church in Pettisville, Ohio. Our two oldest sons also attended this church. One Sunday, after we had been attending for a month or so, the church's youth pastor came up to me and asked if our youngest children would be interested in attending services geared to their age groups. While I was sure my children wanted to attend these services, I told the youth pastor that I believed families should worship together on the Lord's Day. What I didn't tell him was that I had no intention of letting my children out of my sight. Call me a cynic, if you wish, but the only way I knew to protect my children from sexual predators while at church was to make sure they sat with Polly and me during services. Overly protective? Maybe. But, by 2005 I was at the "better safe than sorry" place in my life. I knew of too many stories about children and teenagers being sexually molested while under the care of nursery workers, junior church leaders, youth pastors, and pastors. If that meant my children were the only youths sitting in the "adult" church service, so be it. I wasn't aware of anything going on at Pettisville Missionary, but I was not willing to put my children in the care of people I didn't know.
I had known some youth pastors (and senior pastors) who were way too friendly with their church's teenagers. Innocent familiarity? Perhaps, but I knew that sometimes such familiarity led to inappropriate sexual conduct; that more than a few youth pastors lost their jobs over coming on to church teenagers or taking sexual advantage of them. Our children (and grandchildren) were/are the most precious thing in our lives, and I, for one, was unwilling to put them in harm's way; even if that meant we were "different" from everyone else. Better to be different than have to explain to an adult son or daughter why I didn't protect them. Yes, I know that it is impossible to protect our children from everything and everyone that might harm them, but surely we can agree that we ought not to make it easy for sexual predators to have access to them. There was a time when I thought the cure to the "youth pastor problem" was to have youth leaders who were older adults. Now, however, after reading hundreds of news stories about older church leaders/pastors preying on children and taking sexual advantage of teenagers, I think that's a bad idea too. For me, anyway, Evangelical churches are dangerous places, both psychologically and physically. If you, the reader, must continue attending the local Evangelical cult, please keep your children by your side. It is irresponsible to trust people just because they are pastors. As the recent spate of sex abuse scandals shows, many Evangelical churches are unable or unwilling to care for and protect children and teenagers. It is clear, at least to me, that it is time for youth pastors to get real jobs and for teens to return to their places in the family pew.
Bruce Gerencser, 66, lives in rural Northwest Ohio with his wife of 45 years. He and his wife have six grown children and thirteen grandchildren. Bruce pastored Evangelical churches for twenty-five years in Ohio, Texas, and Michigan. Bruce left the ministry in 2005, and in 2008 he left Christianity. Bruce is now a humanist and an atheist.
Connect with me on social media:
Your comments are welcome and appreciated. All first-time comments are moderated. Please read the commenting rules before commenting.
You can email Bruce via the Contact Form.