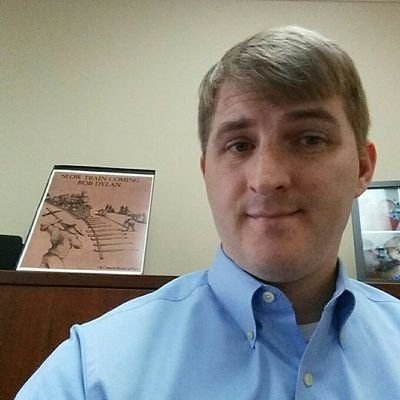 Seth Dunn is a Fundamentalist Southern Baptist [Dunn has since written me and said he is not a Southern Baptist] who believes it is his duty to right all theological wrongs. Dunn, a professor at Tennessee Temple University, [Dunn has since written me and said he is not a professor at TTU; that the school went out of business a few years ago] is one of the hands-on proctologists at the Pulpit & Pen website.
Daily, the fine men at Pulpit & Pen rage against the machine — the "machine" being non-Fundamentalist, non-Calvinistic Christianity. Recently, Dunn took to Twitter to express his outrage over churches who hire female pastors. Thinking he was being clever, Dunn tweeted:
Dunn astoundingly believes that there is no difference theologically or morally between churches hiring female pastors and churches hiring sex offenders — rapists, perverts, sexual abusers, child molesters, and every other crime that might land you on the sex offenders list. Dunn rightly caught a lot of shit over his dumbassery, but he was not moved one whit from his viewpoint. He tweeted::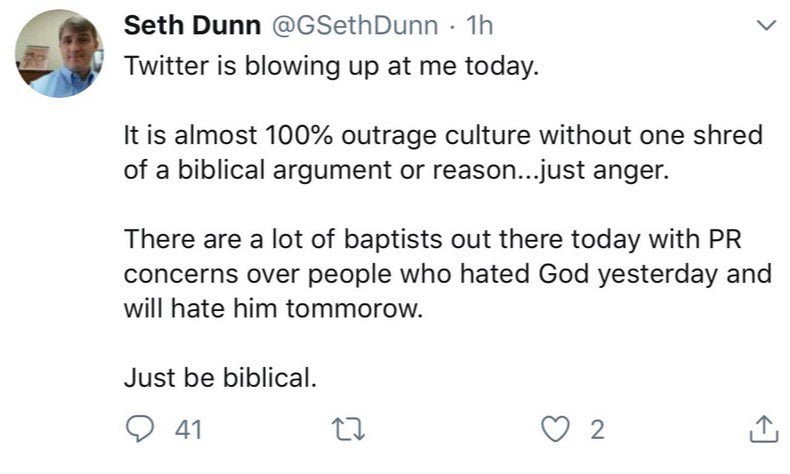 You see, all that Dunn cares about is loving what God loves and hating what God hates, or at least his interpretation of what the Bible says God loves and hates. In other words, Dunn hates most of the human race; which makes sense since Dunn is a card-carrying member of Club Calvin — an exclusive club made up special people chosen by God to be saved. I don't know Dunn, but even in my Fundamentalist days I would have said, Dude, you are an idiot!
About Bruce Gerencser
Bruce Gerencser, 61, lives in rural Northwest Ohio with his wife of 40 years. He and his wife have six grown children and twelve grandchildren. Bruce pastored Evangelical churches for twenty-five years in Ohio, Texas, and Michigan. Bruce left the ministry in 2005, and in 2008 he left Christianity. Bruce is now a humanist and an atheist. For more information about Bruce, please read the About page.
Bruce is a local photography business owner, operating Defiance County Photo out of his home. If you live in Northwest Ohio and would like to hire Bruce, please email him.
Thank you for reading this post. Please share your thoughts in the comment section. If you are a first-time commenter, please read the commenting policy before wowing readers with your words. All first-time comments are moderated. If you would like to contact Bruce directly, please use the contact form to do so.
Donations are always appreciated. Donations on a monthly basis can be made through Patreon. One-time donations can be made through PayPal.