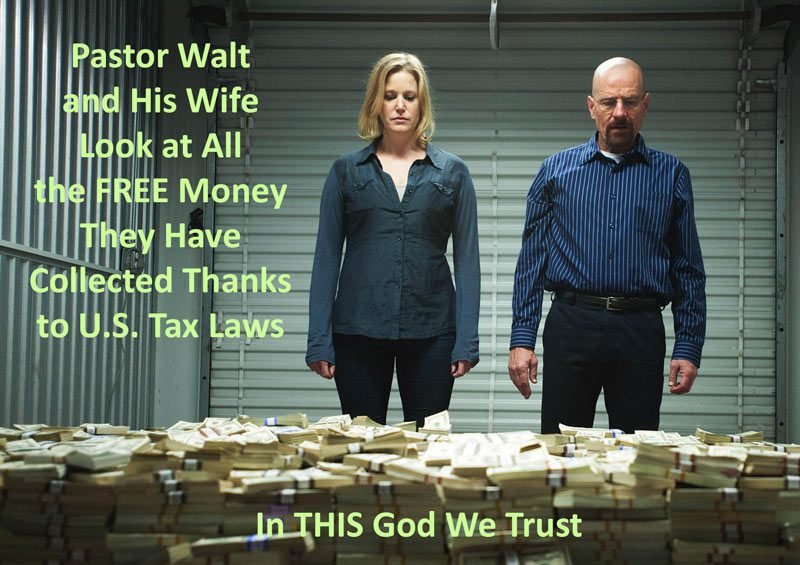 Right-wing Christian Republicans love to talk about the importance of religious freedom, and how liberals and atheists are hell-bent on destroying this freedom. Listen to Evangelical talking heads and you would think that the martyrdom of American Christians is just around the corner; that if atheists have their way, Christians will be rounded up and imprisoned in WWII-type internment camps. Of course, none of these things is true. Christians are free to worship Gods where they wish, in any manner they wish, without government intrusion. Christians are free to stand on street corners and preach their versions of the gospel. Christians are free to start new churches, proselytize, and do any of the things they have done for the past two hundred years. Similar to the cheesy bread in the Domino's commercial, you're FREE Christians, you're FREE.
What HAS changed is that Christianity is no longer given a seat at the head of the American culture table. Evangelicals, along with conservative Catholics, are butt-hurt over their loss of influence and power. In a last-ditch attempt to regain their glory days, many Christians have turned to politics. Now spiritually bankrupt, Evangelicals have abandoned Jesus and turned to their true God: Republican politics. Eighty-two percent of voting Evangelicals voted for pussy-grabber-in-chief Donald Trump. Without their vote, Hillary Clinton would be president. Worse yet, Evangelicals have spent the last two years defending and supporting a man who can only be described as a sociopathic, narcissistic liar. But, hey, he's a "baby" Christian, right?
Secularism and religious indifference are on the rise in the United States, and young Americans are fleeing organized religion in droves. Evangelicals feel their power slipping away, and they don't know what do. So, much as did Joseph McCarthy in the 1950s, Evangelicals see demons — and liberals, socialists, communists, and atheists — under every bed. What they, in fact, see are delusions cooked up in the minds of Evangelical preachers. The fall of American Christianity rests on Christians themselves, not secularists or atheists. Certainly, we are enjoying the bonfire, but it's Evangelicals who gathered the wood and set it on fire. How about some hot dogs or marshmallows?
Secular legal groups have now set their sights on how government unconstitutionally subsidizes Christian churches, pastors, and educational institutions with taxpayer money. That's right, atheists and Fundamentalist Christians alike help support Christian churches through their payment of taxes. I, for one, am tired of financially supporting religious institutions. It's time for churches, parachurch groups, Christian colleges, and other religious institutions to pay their own freight.
Here are some of the ways ALL of us currently support Christian churches, pastors, and religious schools:
Churches are, by default, tax exempt. There are no forms to file or reports to be sent in to the IRS. Any group of people can gather together, call themselves a church, and the IRS will consider them tax exempt. Churches are, by default, EXEMPT from all filing requirements. A church is a church because it is a church. End of discussion. Or so says current tax law.
Churches in most states are exempt from paying real estate and sales taxes.
Monetary or in-kind donations to churches are tax exempt.
Pastors can claim what's called a housing allowance. This allowance allows churches to designate their pastors' rent/mortgage, utilities, home repairs, and other housing expenses as part of their housing allowances. Claiming a housing allowance allows pastors to drastically reduce their taxable income. Some pastors claim ALL their income as housing allowance, thus reducing their taxable income to ZERO.
Pastors can also opt out of Social Security. That's right. Pastors can pay little or no income tax and no social security tax. Jesus F. Christ, what an awesome deal!
Pastors can buy cars through their churches, and have their churches pay all the expenses, further lowering their taxable income. Other expenses such as book and computer purchases can be made through the church, lowering a pastor's taxable income. The goal is to give the evil government as little money as possible. Zero taxes paid and a big fat Earned Income Credit refund is the wet dream of countless Evangelical preachers.
I was a pastor for twenty-five years, and I can tell you this: any pastor who is paying income tax needs to get a better accountant. The U.S. Tax Code provided numerous ways for churches and clergy to avoid paying taxes.
It is time for us to end all tax subsidies for churches and clergymen. Churches should be forced to PROVE they are charitable organizations before receiving tax-exempt status. Good luck with that, churches. Churches should be required file the same tax forms and pay the same taxes as businesses. No more hiding the truth about the golden calf of American Christianity. And while we are at it, it is time for pastors to pay the same taxes as everyone else. Both churches and pastors should pay their fair share. The United States is a secular country, and as such, we should stop supporting Christian churches, pastors, and educational institutions with tax money.
Evangelicals clamor for religious freedom, and I am all for giving it to them. The government has no business subsidizing religious institutions and their leaders. It's time to set the cheesy bread free!
About Bruce Gerencser
Bruce Gerencser, 61, lives in rural Northwest Ohio with his wife of 40 years. He and his wife have six grown children and twelve grandchildren. Bruce pastored Evangelical churches for twenty-five years in Ohio, Texas, and Michigan. Bruce left the ministry in 2005, and in 2008 he left Christianity. Bruce is now a humanist and an atheist. For more information about Bruce, please read the About page.
Bruce is a local photography business owner, operating Defiance County Photo out of his home. If you live in Northwest Ohio and would like to hire Bruce, please email him.
Thank you for reading this post. Please share your thoughts in the comment section. If you are a first-time commenter, please read the commenting policy before wowing readers with your words. All first-time comments are moderated. If you would like to contact Bruce directly, please use the contact form to do so.
Donations are always appreciated. Donations on a monthly basis can be made through Patreon. One-time donations can be made through PayPal.