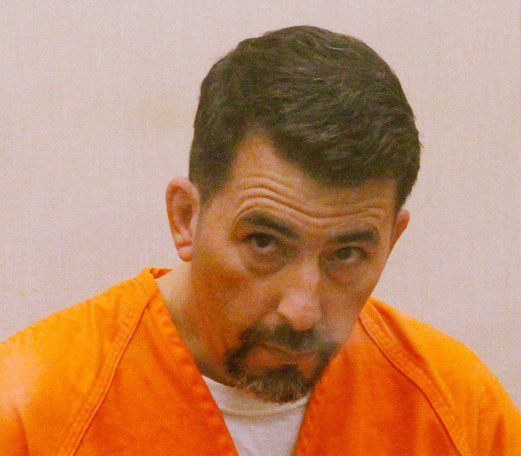 The Black Collar Crime Series relies on public news stories and publicly available information for its content. If any incorrect information is found, please contact Bruce Gerencser. Nothing in this post should be construed as an accusation of guilt. Those accused of crimes are innocent until proven guilty.
In July 2018, Malo "Victor" Monteiro, former youth pastor at Faith Baptist Church in Wildomar, California and former assistant pastor at Menifee Baptist Church in Menifee, California, was accused of sexually abusing numerous children over a twenty year period. The Press-Enterprise reported at the time:
A youth pastor in Wildomar was arrested Friday on suspicion of sexually assaulting children over a nearly 20-year span.

Malo Victor Monteiro, 45, of Colton, was booked into Cois M. Byrd Detention Center in Murrieta on suspicion of intent to commit rape, mayhem or sodomy, lewd and lascivious acts with force on a child under 14, lewd and lascivious acts on a child under 14, distributing harmful matter and sexual penetration by force, according to the Riverside County jail log.
A woman by the name of April Avila publicly accused Monteiro of sexually abusing her while she attended Faith Baptist. ABC-7 reported:
A woman came forward Monday to describe being sexually abused and how her former youth pastor Victor Monteiro groomed her.

"It was little by little, but then he would tell you, 'You're really cool. You're special to me,'" April Avila said. "He would punch you on the shoulder, you know, be the cool youth pastor. Then it became caressing and touching your butt."

Monteiro was arrested last week on numerous felony charges related to sexual assault on children that spans two decades. Avila said she came to know Montiero when she and her family attended Faith Baptist Church in Wildomar.

"The more involved I was, that's when things began to escalate at church and away from church," she said.

Avila is just one suspected victim, and there are others. Another suspected victim of abuse is suing Faith Baptist Church, accusing church administrators of knowing about the allegations and covering up for Monteiro.

In the lawsuit, it claims the church was aware of another youth pastor, who is suspected of having an inappropriate relationship, but the entity ignored it. In doing so, it allowed Monteiro to prey on his victims.

"He knew very well what I had gone through," Kathy Durbins said.

Durbins is Monteiro's sister-in-law. She said she was involved in an inappropriate relationship at Faith Baptist when she was a teenager. She said her brother-in-law used his knowledge of the church's cover up to hide his own crimes.

"I wasn't allowed to talk about it. There was no law enforcement called. So basically it was a big cover up," she said.

….
Last November, Monteiro pleaded guilty to sexually assaulting several church teenagers and was sentenced to five years in prison.
The Press-Enterprise reported:
Malo "Victor" Monteiro, 45, pleaded guilty at Southwest Justice Center in Murrieta on Tuesday, Nov. 13, to four counts of lewd acts on a child of 14-15 years of age with the defendant at least 10 years older, two counts of sexual penetration with a foreign object and one count of attempted copulation of a minor, all felonies.

….

Before the sentencing, victims and former Faith Baptist Church congregants Rachel Peach, Lea Ramirez and April Avila — who all had previously told their stories publicly — made victim-impact statements.

Peach, who has sued the church, said in the lawsuit that her relationship with Monteiro started in the fall of 2007, when she was 15, and it advanced to sexual intercourse in the summer of 2008.

Ramirez has said she never had sexual intercourse with Monteiro, but she added that he would make her feel guilty when she refused. Ramirez said she left the church when she was 15 because of him.

Avila had said she was 14 when Monteiro began grooming her for sexual abuse with horseplay that turned intimate. She said Monteiro told her that it would damage her reputation if she reported the abuse.
Monteiro's victims shared their stories in a Press-Enterprise news story. You can read their accounts here.
Faith Baptist Church is pastored by Bruce Goddard. Menifee Baptist Church is pastored by Pat Cook. Both congregations are Independent Fundamentalist Baptist (IFB) churches. I previously wrote a post about Bruce Goddard titled, Pastor Bruce Goddard and His Bait and Switch Tactics.