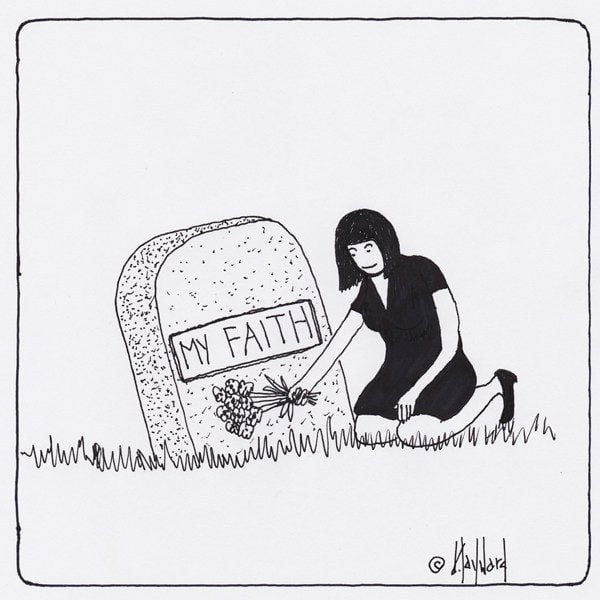 Over the past twelve years, I have corresponded with numerous Evangelicals who find themselves in "mixed" marriages after their loss of faith. Having entered marriage according to the Biblical principle found in 2 Corinthians 6:14-18:
Be ye not unequally yoked together with unbelievers: for what fellowship hath righteousness with unrighteousness? and what communion hath light with darkness? And what concord hath Christ with Belial? or what part hath he that believeth with an infidel? And what agreement hath the temple of God with idols? for ye are the temple of the living God; as God hath said, I will dwell in them, and walk in them; and I will be their God, and they shall be my people. Wherefore come out from among them, and be ye separate, saith the Lord, and touch not the unclean thing; and I will receive you. And will be a Father unto you, and ye shall be my sons and daughters, saith the Lord Almighty.
these unbelievers find themselves at odds with still-believing spouses. "What will become of their marriages?" these former Evangelicals ask. Having grown up in a religion that condemns mixed marriages AND divorce, they fear the consequences of losing their faith. Many of the Evangelicals who contact me suffer in secret, keeping their deconversions to themselves out of fear of hurting their spouses, children, parents, and close friends. I know a number of atheists/agnostics who attend Evangelical churches every Sunday because they fear what might happen if they dared to testify publicly that there is no God.
In April 2015, I wrote a widely read post titled, Consider the Cost Before You Say "I am an Atheist." Here's some of what I said:
If I had to do it all over again would I do it the same way? Would I write THE letter? Probably. My experiences have given me knowledge that is helpful to people who contact me about their own doubts about Christianity. I am often asked, what should I do? Should I tell my spouse? Should I tell my family, friends, or coworkers?

My standard advice is this: Count the cost. Weigh carefully the consequences. Once you utter or write the words I AM AN ATHEIST you are no longer in control of what happens next. Are you willing to lose your friends, destroy your marriage, or lose your job? Only you can decide what cost you are willing to pay.

I know there is this notion "Dammit I should be able to freely declare what I am" and I agree with the sentiment. We should be able to freely be who and what we are. If we lived on a deserted island, I suppose we could do so. However, we are surrounded by people. People we love. People we want and need in our life. Because of this, it behooves (shout out to the KJV) us to tread carefully.
This advice holds true today. Saying to believing spouses, children, and friends, I AM AN ATHEIST, can and will bring immediate negative responses. I always caution people to carefully and thoroughly weigh the costs and consequences of coming out of the proverbial closet. The Bible in Luke 14:28-30 gives some pretty good advice when it says:
For which of you, intending to build a tower, sitteth not down first, and counteth the cost, whether he have sufficient to finish it? Lest haply, after he hath laid the foundation, and is not able to finish it, all that behold it begin to mock him, Saying, This man began to build, and was not able to finish.
Many unbelievers conclude that it is better for them to be closeted atheists than risk blowing up their marriages. But even then, these atheists/agnostics run the risk of being exposed; they run the risk of their spouses finding out the truth about who and what they really are. One man I know attended an IFB church with his wife and children every Sunday. To his spouse, family, pastor, and fellow church members, he was still a Jesus-loving, sin-hating, Bible-believing Christian. Outwardly, he was a good example of someone who loved Jesus. (Despite what Evangelicals say, it is possible and easy to fake being a Christian.) His deception could have gone on forever had his wife not found his secret stash of books by authors such as Richard Dawkins and Christopher Hitchens. Needless to say, the shit hit the fan. This man remains married, but it is doubtful his marriage will survive once his children graduate from high school. The chasm between him and his wife is so large that it is unlikely they can find a way to bridge the two sides.
I know several couples who have been in mixed marriages for decades. They found ways to make their marriages work, choosing to compartmentalize their lives for the sake of their significant others. Several years ago, I ran into the spouse of one these couples at Walmart. I had been her pastor for a number of years, and her atheist husband — a delightful man — would attend church with her from time to time. I asked her about her marriage, "if you had it to do all over again, would you have married Bob?" She quickly said, "NO!" I asked her, "Why?"  She replied, "My faith is very important to me and there's a whole side of my life I can never share with Bob." Viewing their marriage from afar, I see a couple who stills love one another, but I also see a relationship where each of them has a life separate from the other.
I also have corresponded with atheists/agnostics in mixed marriages who quickly found out that their spouses loved God/Jesus/Church more than they loved them. One close family member went through a divorce several years ago. At the time of their wedding, he was a faithful, Jesus-loving Evangelical. His wife, on the other hand, was a nominal Christian. Over time, he moved away from his Evangelical roots, eventually embracing unbelief — at least when it comes to organized religion. His wife, however, ran headlong into the arms of what is best described as emotional, touchy-feely, syrupy, gag–me-with-a-spoon Evangelicalism. While he would admit that the reasons for their divorce are many, one man, Jesus, played a central part in their breakup. Given a choice, his wife chose Jesus over him.
Evangelical apologists have all sorts of explanations for why people deconvert. Few of their reasons, however, match what really goes on when a devoted follower of Jesus begins the process of deconversion. Most atheists/agnostics will tell you that their losses of faith were long, arduous, painful processes. I know mine was. The moment I wrote my coming-out letter, Dear Family, Friends and Former Parishioners, my entire life came tumbling down. Emotionally, I was a wreck. I knew walking away from Christianity was the right thing to do, but I grossly underestimated the carnage that would lie in its wake. I had followed the evidence wherever it led, and despite attempts to stop my downward slide on the proverbial slippery slope, I had concluded that the central tenets of Christianity were untrue. My unbelief forced me to rethink and rebuild my life from the ground up. What did I really believe? What were my moral and ethical values? What kind of husband and father did I want to be? The questions were many, some of which linger to this day. So, to Evangelicals who believe former Christians, without suffering, pain, and agony , just woke up one morning and said, "I am an atheist," I say this: "you don't know what the fuck you are talking about."
This rebuilding process, of course, does not take place in a vacuüm. People who are married when they deconvert wrestle with questions about the future. They ponder what kind of marriages they will have if their spouses are still Christians. They wonder how being in a mixed marriage will affect their children. No longer believing that there is life after death can and does alter how one views the world. If a former Christian's marriage was already troubled before his deconversion — yet he stayed married because of what the Bible teaches about divorce — he often questions whether he wants to remain married to his Evangelical spouse. Since there is only one life to live and then you are d-e-a-d, it's fair and honest to ask yourself as an unbeliever: "If my Evangelical wife remains a devoted follower of Jesus, do I really want to spend the rest of my life married to her?" Many times, the answer is no and divorce soon follows.
I know a handful of Evangelicals-turned-atheists who took a wait-and-see approach to their spouses and marriages. These former Christians believed their spouses were, at the very least, open to discussing the reasons for why they deconverted. Taking a low-key approach allowed them to have non-threatening, honest discussions about God, Christianity, and the Bible. More often than not, these discussions bore fruit, leading to their spouses' later deconversion. Sometimes, it took years of discussions (and book recommendations) before their spouses came to see the light, so to speak. These former Evangelicals believed that their marriages were worth saving if at all possible. This is more likely the case for couples who have been married a long time. It is a lot easier to walk away from a marriage of two or five years than it is to walk away from a marriage of twenty or thirty years.
People often look my forty-year marriage to Polly and think that we are some sort of shining example of what is possible post-Jesus. I warn them, however, that our journey from Evangelicalism to unbelief is ours alone; that far too often believing spouses remain so despite the deconversion of their husband or wife. Quite frankly, Polly and I were lucky. Just the other day we were talking about what might have happened had either of us stayed true to Jesus. We both concluded that our marriage might not have survived such upheaval and disunity had one of us still believed. Fortunately, as has been the case for most of our marriage, we walked hand in hand as our former lives as followers of Jesus went up in smoke. While there was a time when I was the out-and-proud atheist and Polly was the secret agnostic, we are closer now when it comes to the extent of our unbelief. Our personalities are different, so it stands to reason that how we live out our godlessness in public and around family is dissimilar too.
Are you in a mixed marriage? Did you go through a divorce after you deconverted? Are you a closeted atheist who still attends church with their spouse/family? Please share your experiences in the comment section.
About Bruce Gerencser
Bruce Gerencser, 61, lives in rural Northwest Ohio with his wife of 40 years. He and his wife have six grown children and twelve grandchildren. Bruce pastored Evangelical churches for twenty-five years in Ohio, Texas, and Michigan. Bruce left the ministry in 2005, and in 2008 he left Christianity. Bruce is now a humanist and an atheist. For more information about Bruce, please read the About page.
Bruce is a local photography business owner, operating Defiance County Photo out of his home. If you live in Northwest Ohio and would like to hire Bruce, please email him.
Thank you for reading this post. Please share your thoughts in the comment section. If you are a first-time commenter, please read the commenting policy before wowing readers with your words. All first-time comments are moderated. If you would like to contact Bruce directly, please use the contact form to do so.
Donations are always appreciated. Donations on a monthly basis can be made through Patreon. One-time donations can be made through PayPal.