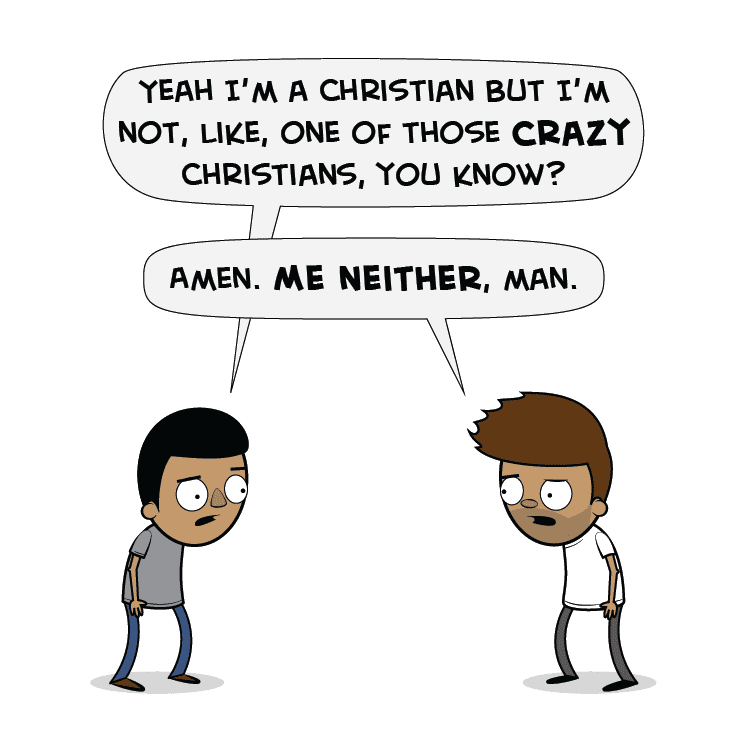 This blog attracts all sorts of readers, from ardent Fundamentalists to atheists. I long ago stopped trying to figure out why this or that group reads my writing. I am just happy that ANYONE does. Most of my focus is on Evangelical Christianity. Liberal and progressive Christians, along with fringe Evangelicals, enjoy my critiques and takedowns of religious beliefs they consider insane. Such people will often leave comments that say, "Those Christians are crazy. I'm glad I am not that kind of Christian!" In their minds, Fundamentalists are crazy, and real Christians would never believe such things. Rejecting the God of wrath, liberal and progressive Christians assert that "God is love." (1 John 4:8) Any belief that's not consistent with "God is love" is wrong — regardless of what the Bible says. Thus, when Fundamentalists thunder and rage against sin, consigning billions of people to the flames of Hell, liberal and progressive Christians say, God is love! While I certainly appreciate the love and kindness injected into Christianity by such a view, I find it intellectually lacking. Only by dismissing or reinterpreting vast portions of the Bible can one come to the singular conclusion that God is love. God is "love," but he is also a vindictive, mean, capricious son-of-a-bitch. Both Gods are in the Bible, but liberal and progressive Christians choose to ignore the latter. (And it could be argued that Christian Fundamentalists have lost all sense of God's love.)
When Fundamentalists preach creationism or claim the earth is flat, liberal and progressive Christians rightly say, "those" Christians are crazy. Yet, when pressed on their own beliefs, most of them admit that they are to some degree or another theistic evolutionists. Seventy-five percent of the people of the United States believe that God, either by direct action or guided evolution, created the universe. (Please see Jerry Coyne's post, Secularism on the rise: new Gallup poll shows that 40% of Americans are young-earth creationists, 33% are theistic evolutionists, and 22% are naturalistic evolutionists)  So, then, it seems that "crazy" is just a matter of degree. Sure, theistic evolution as a belief is better than nonsensically believing that the universe is 6,024 years old, but it is hardly a scientifically rigorous system of thought.
Fundamentalists are known for being literalists — people of the Book. They aren't, but that's how they perceive themselves. Fundamentalists, much like liberal and progressive believers, are cafeteria Christians. Down the Bible line they go, picking and choosing what they want to believe. This is why we have millions of Christianities and Jesuses. Each believer makes and molds Jesus in his or her own image. The only difference, really, between Fundamentalists and liberal/progressive Christians is the foods they put on their trays — each believing that their food choices best represent Jesus and historic Christianity. Good luck trying to figure out which group is right. While I prefer liberal and progressive Christianity due to its harmlessness, I find Christianity, in general, irrationally and intellectually stupefying. (Please see The Michael Mock Rule: It Just Doesn't Make Sense.) I am convinced that more than a few liberal and progressive Christians are actually atheists/agnostics. Many liberal and progressive believers have jettisoned more of the Bible than did Thomas Jefferson, yet, for some reason, they hang on to Christianity. Fear? Family connections? The need for spirituality? I don't know. I can't speak to the reasons why people refuse to let go of the bones of faith. What I do wish they would do is at least be honest about their beliefs, hermeneutics, and how they rationalize the teachings of the Bible — rejecting literalism when it's embarrassing, yet clinging to it when it comes to Jesus, saving faith, and life after death. And perhaps therein lies the crux of their faith: the need to believe that there is more to life than the here and now; that death is not the end.
Liberal and progressive Christians think Evangelicals are nuts. Who in their right minds believes as Fundamentalists do? liberals and progressives think. But, to those of us who are no longer Christians, we see craziness in Evangelicalism and liberal/progressive Christianity alike: a virgin teenager being impregnated by the Holy Ghost and giving birth to a God-man, that God-man working countless science-defying miracles, dying on a Roman cross, resurrecting from the dead, and ascending to Heaven. Every liberal and progressive Christian I know, along with every Evangelical, believes that Jesus was the Son of God, died for human sin, and resurrected from the dead. These three claims alone are, to unbelievers, absurd. So, when liberal and progressive believers say, "those" Christians are crazy, what atheists, agnostics, and unbelievers see is a matter of degree. We recognize the world is a better place the more liberal and progressive religions become, but we can't ignore the "craziness" that is found in every system of faith.
To my liberal and progressive Christian readers, I say this: I would love to have you explain your worldview, how you understand the Bible, and what hermeneutics you use to interpret the Bible. I would love for you to explain to readers how you make Christianity work for you. I mean it. I am more than willing to grant you the floor and let you explain why you still believe. I am certain that the unbelievers who frequent this blog will give you a fair hearing and treat you with love and respect. We fight a common enemy — Fundamentalism. On that, we can agree. All I am asking for is for liberal and progressive Christians who are willing to do so, to explain "why" they continue to put their faith and trust in Jesus — and by extension Christianity. If you would like to write a guest post, please send your submission to me via the Contact form.
About Bruce Gerencser
Bruce Gerencser, 62, lives in rural Northwest Ohio with his wife of 41 years. He and his wife have six grown children and twelve grandchildren. Bruce pastored Evangelical churches for twenty-five years in Ohio, Texas, and Michigan. Bruce left the ministry in 2005, and in 2008 he left Christianity. Bruce is now a humanist and an atheist. For more information about Bruce, please read the About page.
Are you on Social Media? Follow Bruce on Facebook and Twitter.
Thank you for reading this post. Please share your thoughts in the comment section. If you are a first-time commenter, please read the commenting policy before wowing readers with your words. All first-time comments are moderated. If you would like to contact Bruce directly, please use the contact form to do so.
Donations are always appreciated. Donations on a monthly basis can be made through Patreon. One-time donations can be made through PayPal.