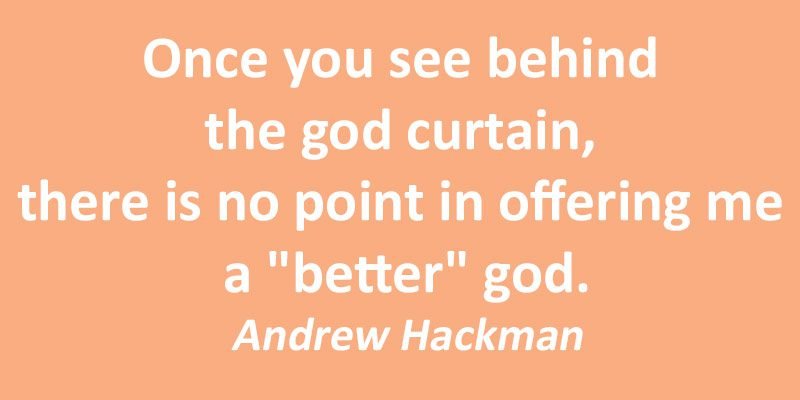 Recently, Andrew Hackman said, "Once you see behind the god curtain, there is no point in offering me a "better" god." Andrew's words got me thinking about the 1939 movie The Wizard of Oz; of how Dorothy and her compatriots traveled to the Emerald City to see the great Wizard of Oz. Rumor had it that the Wizard of Oz had great powers, and who better to give the Scarecrow a brain, the Tin Woodman a heart, the Cowardly Lion courage, and magically return Dorothy to Kansas? The Wizard agreed to grant their wishes if they brought him the broomstick belonging to the Wicked Witch of the West.
Upon achieving the quest, Dorothy and her friends return to the Emerald City, thinking that the Wizard will happily and quickly grant their wishes. Instead, he stalls, hoping they will give up and go away. As they persisted, Toto, the dog, pulled back a curtain to reveal that the great Wizard of Oz was actually a "middle-aged man operating machinery and speaking into a microphone."
So it for those of us who have pulled back the God curtain, only to find out that "God" was a fabrication of the human mind; that the God we loved, worshiped, and adored was nothing more than a feeble, frail man using magical words and religious texts to convince us of his existence. The God behind the curtain used all sorts of tricks to get us to accept that he was real; that he was the supreme ruler of the universe; that he was the King of Kings, Lord of Lords, the one true God. But once we saw the human behind the curtain, it was impossible for us to unsee. We had three choices: pretend that we didn't see what was behind the curtain, ignore what we had seen, or admit that the deity we had devoted our lives to was no God at all. For those of us who are atheists and agnostics, we chose number three — there is no God.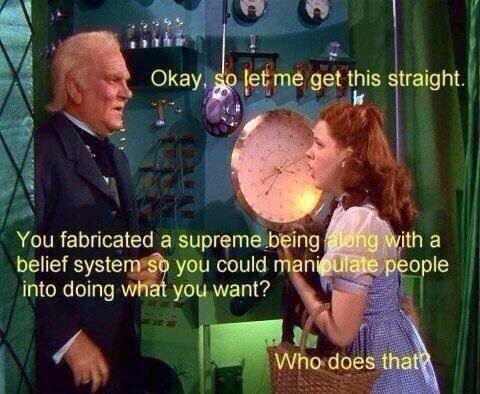 It's been a decade now since I pulled back the God curtain and found that Christian God (and all other extant Gods) was a fake, a fraud, a human invention. Since that time, countless Evangelicals, Catholics, and Muslims have attempted to evangelize me, saying that I had been worshiping a false God, and that if I would just believe in and follow their peculiar version of God, all my wishes would be granted.
Their remonstrations have fallen on deaf ears. Why? Let me quote my buddy Andrew again, "Once you see behind the god curtain, there is no point in offering me a "better" god." You see, once you know the truth, there's no going back. Once you realize the psychological, sociological, and geographical nature of belief in God, the idea that God is "real" falls flat on its face. Christian zealots continue to try to convince me that their flavor of Christianity is "truth," but I know better. You see, I have pulled back the curtain, and I know that God looks and acts a lot like Bruce Gerencser and seven billion other human beings.
About Bruce Gerencser
Bruce Gerencser, 62, lives in rural Northwest Ohio with his wife of 41 years. He and his wife have six grown children and twelve grandchildren. Bruce pastored Evangelical churches for twenty-five years in Ohio, Texas, and Michigan. Bruce left the ministry in 2005, and in 2008 he left Christianity. Bruce is now a humanist and an atheist. For more information about Bruce, please read the About page.
Are you on Social Media? Follow Bruce on Facebook and Twitter.
Thank you for reading this post. Please share your thoughts in the comment section. If you are a first-time commenter, please read the commenting policy before wowing readers with your words. All first-time comments are moderated. If you would like to contact Bruce directly, please use the contact form to do so.
Donations are always appreciated. Donations on a monthly basis can be made through Patreon. One-time donations can be made through PayPal.