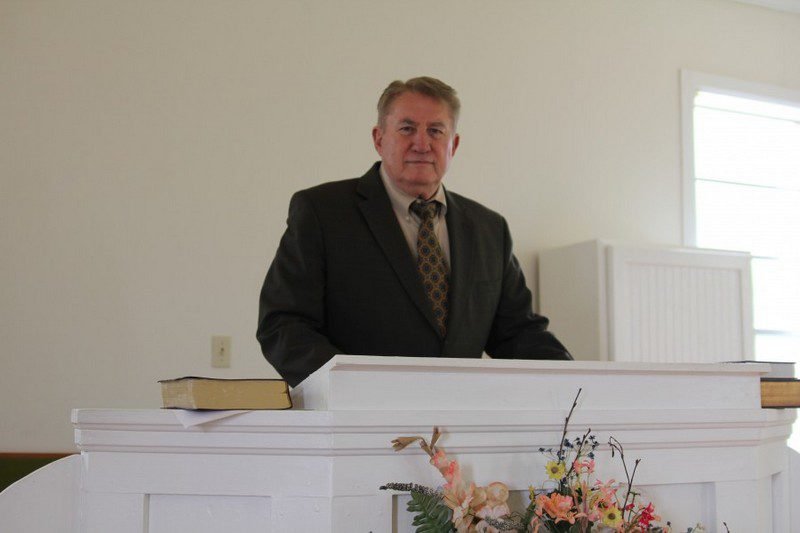 The Black Collar Crime Series relies on public news stories and publicly available information for its content. If any incorrect information is found, please contact Bruce Gerencser. Nothing in this post should be construed as an accusation of guilt. Those accused of crimes are innocent until proven guilty.
Benjamin "Gus" Harter, pastor of Ebenezer Primitive Baptist Church in Sandy Springs, Georgia, stands accused of repeatedly sexually molesting a girl under the age of sixteen.
An arrest warrant details how Harter is charged with molesting a girl under the age of 16, touching her inappropriately as she lay in his bed on multiple occasions across at least three years, from 2012 to 2015.

Harter was arrested on Friday, and is being held without bond.

….

Church officials confirmed parts of a winding, expansive biography: Harter and his wife joined religious communities in Georgia, Florida, Kentucky, Texas and even as far away as the Philippines.

They have five adult children in addition their adopted children and more than 20 grandchildren.

Before joining Ebenezer Primitive, Harter worked at several other churches in the Southeast, and most notably spent three decades with Bethany Primitive Baptist Church in Suwanee until 2000.

At that time, Harter left the church and moved with his wife to the Philippines.

While there, he led two churches and helped build many more. He and his wife also built an orphanage. They returned to the U.S. in 2008.
The Atlanta Journal-Constitution reports:
In a 2012 interview with The Atlanta Journal-Constitution, the pastor [Harter] explained that the word primitive means original.

"We worship like they did when they came over from England. We're very fundamental, and not charismatic,"Harter said. "The closest to us theologically is a reformed Presbyterian church."

A Florida native, Harter completed undergraduate studies at Southeastern Bible College in Alabama, where he began serving as pastor of a small Methodist church, the AJC previously reported. He continued his education at Asbury Theological Seminary in Kentucky, where he first attended a Primitive Baptist church. Harter served as a pastor in Kentucky for two years and in Florida for seven years before moving to the Atlanta area.

In addition to their adopted children, the Harters also have five adult children and more than 20 grandchildren, he previously told The AJC.
In 2014, Reporter Newspapers reported:
I came here to make this historic church work," he[Harter] said. "I don't want to see it die."

Ebenezer Primitive Baptist Church has fallen on hard times. First established in 1829, it sits on the corner of Roberts and Spalding Drives. But whereas it had over 1,000 people attend service in 1928, its membership dropped to an all-time low this spring.

"When I came, Edward Cagle [the previous pastor] was the only active member of the church," Harter said. "But 27 people joined with me so we've got a basic start."

Patsy Froy is one of the members who moved with Harter from Bethany Primitive Baptist Church to Ebenezer. "I've known him my whole life, basically," she said. "He's been there for funerals, babies being born, weddings. He's a very influential person in my life."

Harter plans on renovating the church as his first order of business. The current brick building stands across the street from the original church, which Harter said was taken apart by Union soldiers during the Civil War. The building as it is now is the church's fourth reconstruction.

"I want to dress it up, but I don't want to lose the antiquity of it," said Harter. "It's a beautiful church."

He thinks that this beauty alone, coupled with the improvements, will help attract new members. But Harter also believes that the church offers something different.

"We are not contemporary, but we are unique," he said. "Every service has 30 minutes of a capella singing, and about 45 minutes to an hour of expository preaching. And we have a potluck lunch after church."

Primitive Baptists are known for the simplicity of their worship. No musical instruments are allowed in church, so members engage in Sacred Harp singing, a tradition where singers use their voices as instruments in four-part harmony. There are also no divisions by age or gender. This means that children attend services and are encouraged to participate in all activities.