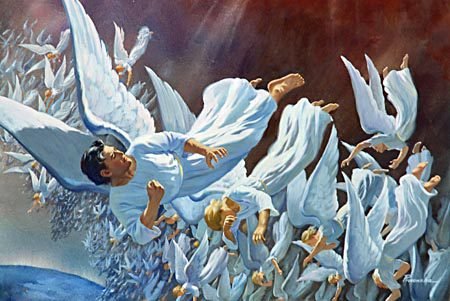 Sometime before the Christian God created the world, he created angels. Created higher than humans, angels are God's gofers — doing whatever God commands them to do. Angels are sexless beings, spirits that cannot be seen unless they take on a corporeal (i.e. human) form. The most famous angel in the Bible is Lucifer (Satan, Devil, Beelzebub, Dragon, Serpent, Abaddon, Morningstar). Lucifer, along with one-third of the angels in Heaven, rebelled against God. The rebellion proved to be a failure. God cast Lucifer and his followers out of Heaven. These fallen angels (demons, devils, unclean spirits) made earth their home. According to the book of Job, Lucifer, called the accuser of the brethren (Christians), still has access to Heaven. He's considered the god of this world, the prince and power of the air. Lucifer walks to and fro on the face of the earth, looking for people whom he may fuck up (devour). Some day, Lucifer will once again wage war against God. This war will fail, just as the last one did. After Lucifer is defeated, and Jesus renovates — what a great show for the Home and Garden TV channel! — the heavens and the earth, Lucifer will be cast into the Lake of Fire — the final home for Lucifer, fallen angels, Christopher Hitchens, Steven Hawking, Steve Gupton, Bruce Gerencser, and all (billions and billions) non-Christians.
I typed the previous paragraph from memory. It's been fourteen years since I preached my last sermon, but the vestiges of a lifetime of serving Jesus live on in my mind. I can't remember what I did an hour ago or yesterday, but religious beliefs learned over the first fifty years of my life live on. Some days, I wish I could have a Men in Black mind wipe, erasing all the religious nonsense that clutters my mind. Other days, I am glad I still remember this stuff. Thanks to a lifetime of reading and studying the Bible, I don't have to spend much time researching Bible verses or Christian theology. I may be an apostate reprobate, but Christianity lives on in my mind.
Ask Evangelicals about what Mormons, Muslims, Buddhists, and Hindus believe, most of them will tell you that these groups are cults, sects that believe all sorts of crazy nonsense. When asked if their beliefs are just as crazy, Evangelicals will take offense, saying that their God — Father, Son, and Holy Spirit — is the one true God, and there is nothing bizarre, fantastic, or foolish about Christianity. After reading what I write next, readers are invited to decide whether a room should be booked for Christianity at an insane asylum.
Evangelicals believe that there is a spiritual dimension all around us. We can't see or hear what goes on in this dimension, but it is as real as the Twilight Zone. How do Christians know this spiritual dimension exists? The Bible, on more than a few occasions, speaks of this dimension. Christians are already used to believing in an imaginary God, so it is not a stretch for them to believe in the existence of a non-corporeal spiritual dimension.
Evangelicals believe that this spiritual dimension is inhabited by Lucifer, fallen angels (demons), and heavenly angels. Day and night, God's angels and Lucifer's angels fight one another. Think of it as an endless MMA match. According to the Bible, non-Christians are influenced and controlled by Lucifer and his minions. These fallen angels can and do possess humans, causing them to do all sorts of abominable things — you know, like voting Democrat. Evangelicals are fond of blaming Lucifer and fallen angels for much of the evil we see in the world. Never mind the fact that the book of Job teaches that Lucifer can't do anything unless God gives him permission to do so. Remember that the next time an NRA-loving Republican senator blames Lucifer and his followers for a mass shooting. Lucifer may have pulled the trigger, but it was God who gave him the order to fire.
Lucifer also tempts, corrupts, influences, and leads Christians astray. While most Evangelicals don't believe fallen angels (demons) can possess followers of Jesus, they can and do oppress them. In fact, the more godly Evangelicals are, the more likely they are to come under demonic attack. Charismatics, in particular, have wild imaginations when it comes to Lucifer and his influence over Christians and non-Christians alike. Spend an hour or two reading the CHARISMA website and you'll come away wondering how the whole lot of them haven't ended up being locked up in padded cells.
I am sure many Evangelicals believe that I am under the influence of Lucifer; that I am more than likely demon-possessed. Maybe I am, but just remember that if I am, it's Jesus' fault. He's the King of Kings and Lord of Lords. He holds the world in the palm of his hands. He possesses the keys to life and death. No one, according to Evangelicals, is born or dies before God says so.
Take a moment to stand in your front yard or in the middle of your living room. Glance left, right, forward, back, up, and down. According to Evangelicals, all around you is a spiritual dimension filled with God's and Lucifer's angels. Sure would be nice to see these angels and not have to take their word for it. If an angel showed up at my bedside tonight with an authenticated message from God, why I might, for a moment, ponder the existence of spiritual beings. I say "for a moment" because if I do happen to see an angel, it is more than likely that I am either drunk or high on drugs.
Rational, skeptical humans know that there's no such thing as angels. Believing in the existence of such beings is a hangover from our pre-science past; back in a time when the unexplainable was attributed to God, Satan, or angels. We now know better — well some of us do anyway. Sadly, millions (billions?) of people believe that we are surrounded by invisible angels. They have never seen an angel (and if you say you have seen one, pictures or I don't believe you) but because of religious indoc . . . as I was typing this, my browser crashed. Was this an angel trying to stop me from making fun of him? Anyway, because of religious indoctrination, Christians believe without seeing. That's the essence of faith. If people believe in a virgin-born, resurrected-from-the-dead Jesus whom they have never seen, believing we are surrounded by angels is not too much of a stretch for them.
Just remember, with FAITH all things are possible.
What were you taught by your parents and pastors about angels and an unseen spiritual dimension? Did you read books such as Frank Peretti's novel, This Present Darkness? Please share your thoughts in the comment section.
About Bruce Gerencser
Bruce Gerencser, 62, lives in rural Northwest Ohio with his wife of 41 years. He and his wife have six grown children and twelve grandchildren. Bruce pastored Evangelical churches for twenty-five years in Ohio, Texas, and Michigan. Bruce left the ministry in 2005, and in 2008 he left Christianity. Bruce is now a humanist and an atheist. For more information about Bruce, please read the About page.
Are you on Social Media? Follow Bruce on Facebook and Twitter.
Thank you for reading this post. Please share your thoughts in the comment section. If you are a first-time commenter, please read the commenting policy before wowing readers with your words. All first-time comments are moderated. If you would like to contact Bruce directly, please use the contact form to do so.
Donations are always appreciated. Donations on a monthly basis can be made through Patreon. One-time donations can be made through PayPal.