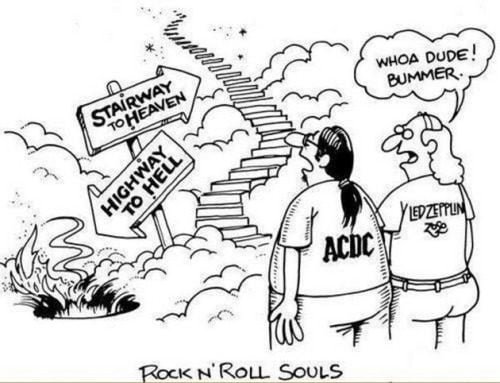 Repost from 2015. Edited, updated, and corrected.
I am often accused of lumping all Christians together.
I'm not like those nasty, hateful, judgmental Christians who comment on your blog, says the Good Christian.
Fair enough.
But, let me ask one question.
When I die, will I go to Heaven or Hell?
Well, that's up to . . . stop it.
When I die, will I go to Heaven or Hell?
I reject your God, Jesus, salvation, and Bible.
I reject the notion that Jesus was God, was crucified, and resurrected from the dead three days later.
With my whole heart, I reject every teaching that is central to what it means to be Christian.
I reject the Christian concept of sin. I have no need of atonement, redemption, or salvation.
So, I ask again, When I die, will I go to Heaven or Hell?
How you answer this question determines what kind of Christian you are.
The Phelps clan, with all the viciousness of a starving rabid dog, screams that I will go straight to Hell when I die and I will be tortured by God in a place where the worm dies not and the fire is not quenched.
How about you, Christian friend? What say ye? When I die, will I go to Heaven or Hell?
You can be the nicest person in the world, but if you believe that non-Christians go to Hell when they die, you are not really any different from the Phelps clan.
If you answer my question with the word Hell, then you are just like those nasty, hateful Christians you say are "bad" Christians. You may wear fashion designer clothes, smell great, and have the best smile money can buy, but if your answer to my question is "Hell," then you are no different from the trailer park trash Christians you say aren't part of your family.
Virtually every Christian sect believes that eternal punishment awaits atheists. I am an atheist, proudly so. I ask you, again, When I die, will I go to Heaven or Hell?
Your answer tells me all I need to know.
It really is that simple.
Bruce Gerencser, 63, lives in rural Northwest Ohio with his wife of 42 years. He and his wife have six grown children and thirteen awesome grandchildren. Bruce pastored Evangelical churches for twenty-five years in Ohio, Texas, and Michigan. Bruce left the ministry in 2005, and in 2008 he left Christianity. Bruce is now a humanist and an atheist. For more information about Bruce, please read the About page.
Are you on Social Media?
Follow Bruce on Facebook and Twitter.
Thank you for reading this post. Please share your thoughts in the comment section. If you are a first-time commenter, please read the commenting policy before wowing readers with your words. All first-time comments are moderated. If you would like to contact Bruce directly, please use the contact form to do so. Donations are always appreciated. Donations on a monthly basis can be made through Patreon. One-time donations can be made through PayPal.