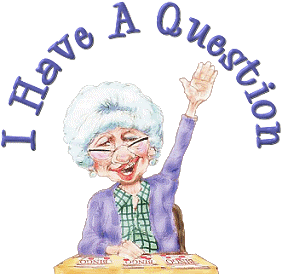 I put out the call to readers, asking them for questions they would like me to answer. If you have a question, please leave it here or email me.  All questions will be answered in the order they are received.
Troy asked:
In a local village forum on Facebook, a local Christian counselor spammed his services. I started a bit of a controversy by linking your warning about Christian counseling. I'm not against such religious counseling, but I do think people need to be warned that they aren't licensed by the state. This guy retorts that he has a masters from a dual accredited school and offers anecdotes of high success rate with some that have tried secular counseling previously. It isn't really mentioned in your own blog post, but I'd be interested to see your opinion on it, in particular about the dual accreditation.
Troy asked me this question on Facebook, but I thought it would make an excellent question for me to answer publicly. Before reading this post, you might want to read the post Troy mentions, Beware of Christian Counselors. In that post, I give an in-depth look at how utterly unqualified many Evangelical pastors are to provide counseling services. Thanks to the separation of church and state, the federal government and many state governments take a hands-off approach to what happens at houses of worship. Here in Ohio, pastors are free to provide counseling services to anyone who asks for them. In the early 1980s, I was the assistant pastor at Emmanuel Baptist Church in Buckeye Lake, Ohio. I was in my twenties at the time. One young adult — who attended the church from time to time — would frequently stop by my office to talk to me. On numerous occasions, he told me that he was thinking about killing himself. Red light, warning sign, right? This man told me that the only thing holding him back from ending his life was not knowing whether suicide was the unpardonable sin. He was afraid that if he killed himself, God would send him to Hell. This went on for weeks until one day I told him, why don't you kill yourself and find out? Even now, as I read these words, I am horrified. It matters not whether the man was serious about ending his life or just wanted me to listen to him talk. If the man had actually killed himself, I know that I would have been culpable in his death — but protected by the clergy-congregant seal. Having battled depression and suicidal thoughts much of my adult life, I can only imagine how I might have responded if a pastor told me, why don't you kill yourself and find out? This is one of those times where the only thing I can say is that I was a stupid young man who allowed my busyness and impatience to affect my relationship with a congregant. The young man, by the way, never "bothered" me again.
Many Christian colleges and universities are accredited. However, it is important to ask who, exactly, is the accrediting body. More than a few Christian colleges are accredited by groups that were established for the express purpose of giving Evangelical institutions cover when being questioned about accreditation. The best way to determine if an institution's accreditation is of any value is to find out if they accept Pell Grants or VA Education Benefits. If they don't, it is likely that their "accreditation" is little more than wallpaper covering a hole in a wall.  Looks nice, but structurally there are likely to be problems.
Let me be clear, I am not anti-Christian education. Evangelicals are, for the most part, anti-culture. They have spent the past hundred years building a subculture that caters to the wants, needs, and whim Evangelical Christians. I call this subculture the Christian Ghetto. What Evangelicals do is take what the secular world offers and slap the word Christian in front of it: Christian bookstore, Christian music, Christian coffee shop, Christian TV, Christian radio, etc. Sometimes, the word Christian is omitted, and icons are used instead: a cross or the ichthus (fish) symbol. The icons are meant to say to people, "Hey, I am a member of the Jesus club, spend your money here!" As an atheist, when I see such signs, I immediately look elsewhere. Even as a Christian, I frequented businesses based on the quality of their work, and not whether we shared a common faith.
People who live in areas where Evangelicalism has a strong presence can find it difficult or impossible to find a counselor who is not a Christian or doesn't use "Biblical" methods with clients. One of my sons is a former drug addict. For several years, he drove to Toledo to attend group therapy. The program director was a state-licensed social worker who also happened to be an Evangelical Christian. Most of her techniques were standard operating procedure. However, on more than a few occasions, the woman would tell the group that if they truly wanted deliverance from their addictions, then JESUS was the answer. She would then invite the group to visit her church, where the — wink-wink — "real" answers could be found.
And therein is the problem when you have Evangelical counselors who have state licensure but also have devout religious backgrounds. Rare are Evangelical counselors who can compartmentalize their religious beliefs. I don't fault them for being unable to do so. Christianity for Evangelicals is more than clothes you wear on Sundays; it's a worldview, a way of life. Evangelical counselors can no more separate themselves from their beliefs than skunks can separate themselves from their smell.
If Evangelicals want Christian counselors to talk to, that's fine. That said, pastors and counselors should be required to tell counselees the extent of their training and licensure. And this goes for Evangelicals who are licensed social workers. Such people can't work in secular settings unless they are willing to build a wall between their religious beliefs and accepted counseling practices. Unfortunately, many Evangelical social workers feel led by God to reach those in need with the gospel and teachings of the Bible. Evangelical social workers know they can't outwardly and publicly share their faith, so they, instead, look for low-key, behind-the-scenes opportunities to put in a good word in for Jesus. For example, an Evangelical social worker with the welfare department might have a client whose pregnant and already has five young children. The woman asks the social worker what services and programs are available to her. A conscientious social worker would tell the overburdened woman about ALL her options — including abortion. The Evangelical social worker, however, is anti-abortion, so she refers the woman to the local pro-life crisis pregnancy center.
There are countless ways a counselor's Evangelical beliefs can get in the way of competently helping a client. In the above-mentioned scenario, the social worker committed malpractice and should be fired and have her license revoked. As for the counselor mentioned by Troy, I would want to know where he received his training and licensure. As far as his religious approach to counseling being superior and producing "better" results than secular counseling, I would want more than anecdotal stories to prove his claims. For Christians, Jesus ALWAYS produces superior results, so I suspect that this man likely doesn't have empirical evidence to back up his claims. He just knows it to be true!
About Bruce Gerencser
Bruce Gerencser, 62, lives in rural Northwest Ohio with his wife of 41 years. He and his wife have six grown children and twelve grandchildren. Bruce pastored Evangelical churches for twenty-five years in Ohio, Texas, and Michigan. Bruce left the ministry in 2005, and in 2008 he left Christianity. Bruce is now a humanist and an atheist. For more information about Bruce, please read the About page.
Are you on Social Media? Follow Bruce on Facebook and Twitter.
Thank you for reading this post. Please share your thoughts in the comment section. If you are a first-time commenter, please read the commenting policy before wowing readers with your words. All first-time comments are moderated. If you would like to contact Bruce directly, please use the contact form to do so.
Donations are always appreciated. Donations on a monthly basis can be made through Patreon. One-time donations can be made through PayPal.