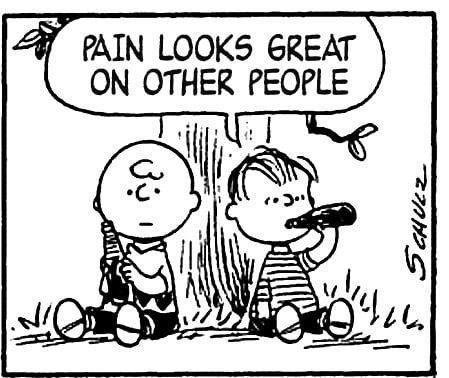 I begin each day with pain. No matter how much medication I take, pain, from the bottom of my feet to the top of my head, is ever with me. There's never a day when pain is not front and center, demanding attention. Afternoon turns to evening. Hopefully, I have felt strong enough to sit down in my office and write a few words for this blog. As I type this post, my hands remind me that osteoarthritis is my ever-present "friend." Someday, I will push the keyboard away and say to the pain, "you win." Not today, but no promise that tomorrow won't be the end of my run. I fear what happens to me when I quit; when I say, "I have had enough."
By the time the clock says 10:00 pm in the eastern time zone, my body says, "enough! I shan't go any farther!" Two decades of struggling with fibromyalgia have taught me to recognize when it's time to surrender for the day. "Wave the white flag, Bruce, and live for another day," I tell myself. As I slump into my recliner, turn on Pardon the Interruption, and adjust the sound, tears come to my eyes. "Why live another day, knowing that tomorrow will be no different from today?" No matter how much I try to think happy thoughts and "put mind over matter," reality reminds me that it is a bitch, a taskmaster with no concern for my suffering and pain. "Tough shit, Bruce. This is your life, deal with it."
I hear the front door open. It's Polly coming home from work. The clock strikes 2:30 am. We trade pleasantries, ask questions of one another, eat a snack, and finish the day off with The Daily Show. Now it's time for the final act of the day, bedtime. I drag my pained, fatigued body to my side of the bed, plug my iPad into the wall charger, put on my Bluetooth headphones, and run one of the video streaming apps — usually Hulu. Of late, I am re-watching the Los Angeles police drama Southland. Polly touches me gently on my back and says, "good night." I reply, "I love you." Polly will quickly fall to sleep, but not me. Sleep for me will not come until pain and sleep medications do their work — that is, IF they do their work. Some nights, this process takes an hour. Other nights, it takes two, maybe three hours for sleep to win the victory.
And then, I do this all over again. There's never a day without pain and fatigue. Never. I am not sure my family and friends understand this. Oh, they try, but for people who have not lived with never-ending, unrelenting chronic pain, there's no frame of reference for them. How can someone "understand" that which they have not experienced? I photographed a local high school basketball game tonight — the first game of the season. As I entered the building, a school official said to me (and Bethany), "how are you folks doing tonight?" His voice rang with happiness and enthusiasm. He was what I call "chipper." Before I could "think" of how I wanted to answer him, I blurted out, "do you really want to know?" His face told me that he was not expecting THAT answer. I quickly rescued him from the uncomfortableness of the moment. "Let me give you the standard human answer, "I'm fine. I am always fine!" And with that, I made my way to the gymnasium. Of course, I am not "fine." I am sure some of you might be thinking, "Bruce, if you are not "fine," why did you shoot the basketball game? "Why not stay home, rest, and take it easy?" Truth be told, it doesn't matter where I am or what I do, I can't escape the pain. Might as well try to do something I love to do than sit around and lose a few more brain cells watching TV. I know of only two "solutions" for my pain: death or pharmaceutical fog, neither of which I am willing to entertain. At least not today, anyway.
Knowing that the pain will never go away does give me a sense of certainty. I can't escape the pain. All I can do is to choose what to do and where to go. Well-meaning people will say to me, "Bruce, I saw you at the store today. You must be feeling better!" "No, I am not feeling better. I feel like shit. My body feels like it has been hit by a truck — twice," I have said to no one, ever. Instead, I pretend the well-wisher is oh-so perceptive. That's the nature of the chronic pain game. Better to live a lie than burden (and bore) people with the truth. Rare is the person who really wants to know and understand how you are feeling. And that's okay. I really don't want to know about your hemorrhoids either.
Tomorrow begins the holiday season for the Gerencser family. Polly, along with our daughters, daughters-in-law, and granddaughters, will gather at our home to make pies — pumpkin, cherry, apple, and pecan — for Thanksgiving. If anything can temper my pain, it's food, family, and football. If anything can give me a reason to punch the time clock for another day, it's Polly, my children, and grandchildren. For them, I'm thankful.
Addendum:
The girls popped the first four pumpkins pies in the oven today and started cooking them. Fifteen minutes into the process, the power went out! We were without electricity for eight hours. We've had high winds today, and this led to an outage. Pie day was moved to our youngest daughter's home. Just another story to add to Gerencser family Thanksgiving lore.
I hope you and yours have a wonderful Thanksgiving!
About Bruce Gerencser
Bruce Gerencser, 62, lives in rural Northwest Ohio with his wife of 41 years. He and his wife have six grown children and twelve grandchildren. Bruce pastored Evangelical churches for twenty-five years in Ohio, Texas, and Michigan. Bruce left the ministry in 2005, and in 2008 he left Christianity. Bruce is now a humanist and an atheist. For more information about Bruce, please read the About page.
Are you on Social Media? Follow Bruce on Facebook and Twitter.
Thank you for reading this post. Please share your thoughts in the comment section. If you are a first-time commenter, please read the commenting policy before wowing readers with your words. All first-time comments are moderated. If you would like to contact Bruce directly, please use the contact form to do so.
Donations are always appreciated. Donations on a monthly basis can be made through Patreon. One-time donations can be made through PayPal.