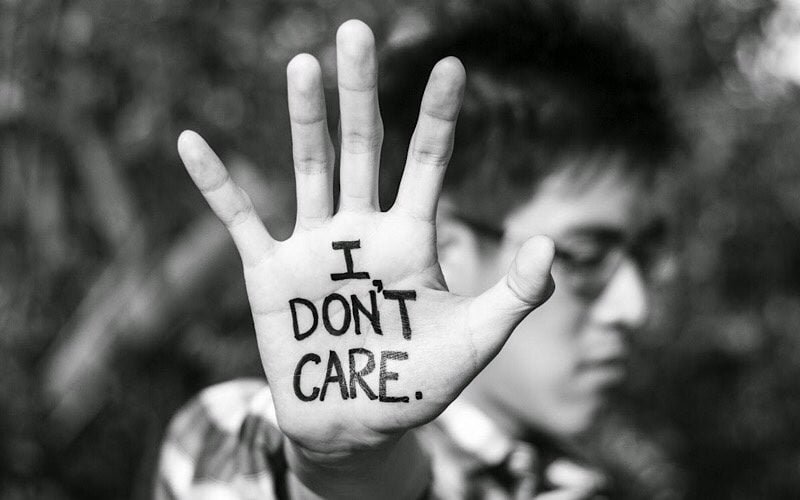 I'm sure that you've experienced it before; that passionless, detached "meh" you receive in response after asking someone questions about their belief in God. Those crucial questions to philosophy, faith, and the meaning of life, which you ponder and return to over and again, are dismissed with the kind of disinterest typically experienced by a policy specialist at the IRS when they explain what they do for a living. As a committed believer, you happily engage someone with the kind of dialogue that stirs your mind to explore the most significant questions human beings can ask. But, to your surprise, the person is wholly indifferent to the topic. You ask, "Do you believe in God?" And they respond with a deflating grin and shrug-of-the-shoulders reminiscent of The Office's Jim Halpert deadpanning Camera 2 after his buffoon manager, Michael Scott, asked him a ridiculous question.
Sometimes, the disinterest comes from the kind of person you would expect—an agnostic who, after years of oscillating between religious and areligious beliefs, has finally thrown their hands in the air and given up. Other times, the disinterest comes from the kind of person you would least expect—a self-described religious person who, for one reason or another, is utterly indifferent to the very foundations upon which their worldview was constructed. Either way, the result is the same. In our culture, there seems to be a growing apathy toward theism. In conjunction with declining religious service attendance and the rising of the religiously unaffiliated has come a new challenge to evangelism. It is no longer the pugnacious New Atheism at center stage, but something far less passionate—apatheism. This nonchalant attitude toward God is more challenging to evangelism than religious pluralism, agnosticism, and atheism. For this reason, the phenomenon should be taken seriously. Evangelicals ought to examine and understand it for the sake of the gospel. The more that we understand apatheism, the better equipped we are to engage it.
….
Apatheism—a portmanteau of apathy and theism—is, in part, the belief that God and questions related to his existence and character are irrelevant. These God questions (GQs) are the big ones: Does God exist? Can we know if God exists? If so, how does he reveal himself, and what is he like? What is the nature of his person and character? And what does God do? If God does not exist, then what does his non-existence mean? Apatheism is wholly indifferent to these questions.
….
So, why apatheism? Why is it that affections toward God today in Western society are so inert? It is difficult to imagine that a person could be so apathetic five centuries ago. Back then, questions about God's province over salvation and moral duty dominated the public imagination. Everyone asked these questions because they believed that ultimate meaning is found beyond humanity and nature. Religion, especially the Christian faith, offered answers to questions of meaning, so GQs were very important. But something changed. Western society began to separate itself from religion or, at least, no longer aligned with a particular religion. This separation led to questioning whether or not God is involved in our lives (deism), if we can know God (agnosticism), or if he even exists (atheism). After a while, some people began to question the relevancy of GQs themselves, like Denis Diderot (1713–1784), who famously quipped, "It is very important not to mistake hemlock for parsley, but to believe or not believe in God is not important at all." In short, apatheism has become possible because society has secularized.
— Kyle Beshears, The Gospel Coalition, Athens without a Statue to the Unknown God, December 4, 2019
Kyle Beshears is the teaching pastor of Mars Hill Church in Mobile, Alabama. While I don't agree with his answers for apatheism, I did find his survey of indifference towards religion helpful. Your mileage may vary.