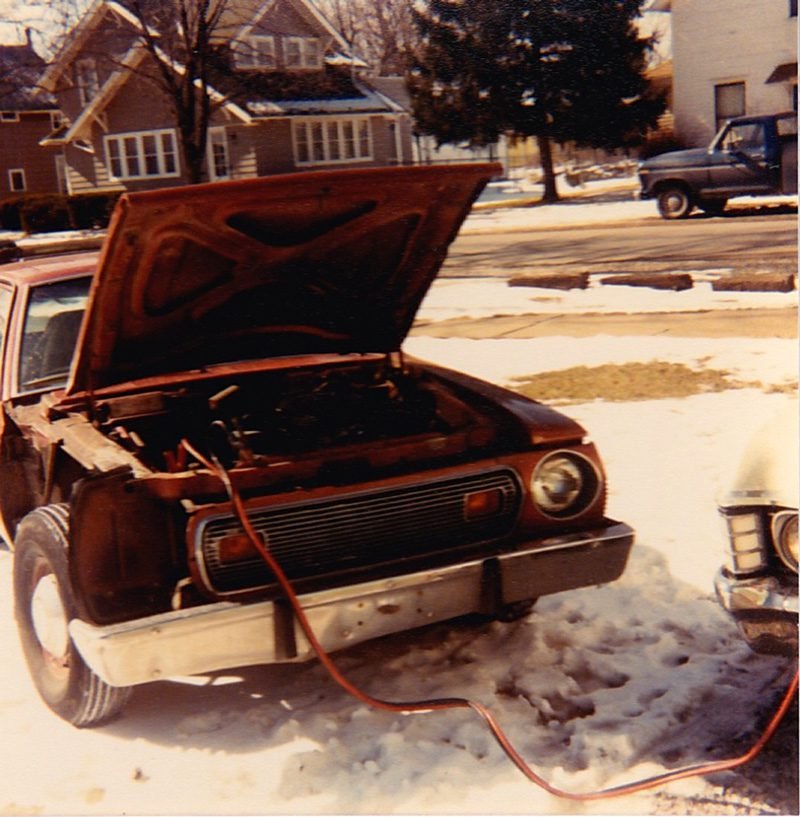 On a hot July day in 1978, before friends and family at the Newark Baptist Temple in Heath, Ohio, a naive nineteen-year-old girl and a similarly clueless twenty-one-year-old boy tied the knot, and with a kiss for luck, they were on their way. Little did they know how quickly their lives would change. After a week-long honeymoon at the French Lick Hotel in Indiana, Polly and I made our way north to our new apartment in Pontiac, Michigan. We were looking forward to our junior year of classes at Midwestern Baptist College. Shortly before the first day of classes, Polly said, "I think I'm pregnant." We had been married six weeks.
When it came to the birds and the bees, we knew the basics, but birth control? We didn't have a clue. Needless to say, the method we chose to use did not work, most likely due to operator error. Both of us enrolled in classes just as we had planned. However, Polly began having severe bouts of morning sickness. She dropped all of her classes, but two. By January, the machine shop I worked for laid me off. And just like that, six months into marriage, we were plunged into a financial crisis. Neither of us had any idea about how to handle money. I thought it best to withdraw from college too, but the dean of men counseled me to stay in school and "trust that God would provide." A month later, God still hadn't provided, so I dropped out of school and prepared to move us to Bryan, the place of my birth. We lived with my sister and her husband for a few weeks until I found employment and suitable housing.
Come late May, Polly's water broke and I rushed her to the local hospital. It would be two days before our son was born. Polly had what can only be described as marathon labor. Neither of us knew anything about childbirth — no classes back then. We literally were, so to speak, learning on the job. Well, truth be told, Polly was doing all the learning. I was a scared-shitless bystander, sure that my bride was going to die at any moment. Neither of us had parents nearby, so we were on our own.
As Polly moved into the second day of labor, Dr. Sharrock, a pediatrician/obstetrician, told us that it was going to be a while before Polly gave birth. He said, "I have to pick up a few things at Carroll-Ames (a local hardware/appliance/five and dime store), and then I will be back." I told Polly, "look, since nothing is happening, there's a car I've been looking at that I would like to buy. I will be right back, I promise." Off I went to a small used car lot on the north side of Bryan to see if the car I wanted was still available. I had already arranged for financing, so all I had to do is decide for sure which car I wanted to buy, sign the papers, and return to the hospital. All told, I was gone for about an hour.
I decided to buy a '70-something AMC Gremlin. Cool, right? It had a six-cylinder motor and a three-speed manual transmission. By this time, I was the assistant pastor of Montpelier Baptist Church and was working a first shift job in the shipping department at pneumatic tool maker, Aro Corporation. We needed two cars. Our other car was a white 1967 Chevrolet Impala with red interior. The Impala had a 327-cubic-inch motor with solid lifters. It hammered like a diesel and burned lots of oil. I was looking forward to having a "nice" car. If I remember correctly, I paid $1,200 for the Gremlin.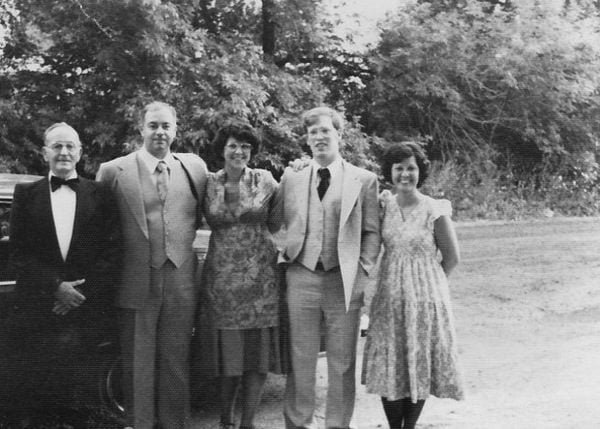 With the papers signed and the cardboard temporary license plate attached to the back of the car, I pulled the Gremlin out of the car lot and drove south on Main Street towards the hospital. Life was good. Here I had a "new" car, a beautiful wife, and soon I would be a father. I drove under the railroad tracks and stopped at the first traffic light. The light changed, and just as I moved into the intersection, an elderly man drove through the light and attempted to turn right. Unfortunately, my "new" car was in the way, and the man tore the right-front fender completely off the Gremlin. "How can this be happening?" I thought, at the time. "Polly hasn't even seen this car, and I have already wrecked it!" This accident would become a metaphor for many of the things we have experienced over the past forty-one years of marriage.
After the police report was filed, I drove the fenderless Gremlin to the hospital. I thought, "what in the world am I going to tell Polly?" When I got to Polly's room, I panicked as I saw her hooked to all sorts of monitors. I thought, "oh, my God, she's dying!" In my absence, Dr. Sharrock had decided to induce labor. It was game on. Polly was NOT dying, but she sure sounded and felt as if she were. Several hours later, our son Jason was born. The doctors had to use forceps, so Jason came into this world with what can best be described as a conehead. A pretty baby he was not. Polly, of course, disagreed with me. "What a BEAUTIFUL baby!" Polly would go on to have five more beauties.
Several days later, I picked up Polly and Jason from the hospital with the Gremlin and drove them to our apartment duplex on Hamilton Street. In October of that year, we packed our belongings into the Impala and Gremlin and moved 4 hours south to Newark, Ohio. We would remain in central and southeast Ohio for fifteen years.
Dozens of cars would be bought and sold in our lives over the next 40 years, but none of them has a story quite like the Gremlin.
Bruce Gerencser, 66, lives in rural Northwest Ohio with his wife of 45 years. He and his wife have six grown children and thirteen grandchildren. Bruce pastored Evangelical churches for twenty-five years in Ohio, Texas, and Michigan. Bruce left the ministry in 2005, and in 2008 he left Christianity. Bruce is now a humanist and an atheist.
Connect with me on social media:
Your comments are welcome and appreciated. All first-time comments are moderated. Please read the commenting rules before commenting.
You can email Bruce via the Contact Form.