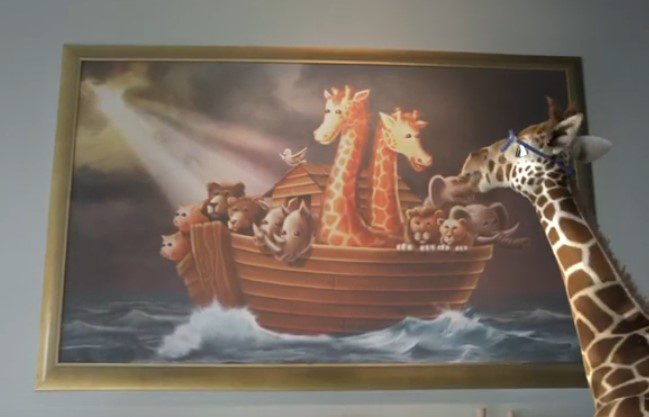 Ken Ham and his mighty band of young-earth creationists at the Ark Encounter have developed a plan to attract children to their monument to ignorance in Williamstown, Kentucky. The Ark Encounter is an Evangelical amusement park geared towards reinforcing creationist dogma for adults and indoctrinating children in the myth of Noah's Ark. Prior generations of Evangelicals had only the Bible as their guide. Today, creationists have the Creation Museum and the Ark Encounter, both of which give visual life to the first nine chapters of the book of Genesis.
Ham knows that financial ruin awaits him unless he finds new ways to attract and entertain fellow young-earth creationists. This year, Ham plans to admit children free to the Ark Encounter and Creation Museum. While dutiful Evangelical parents — who know how important it is to indoctrinate children when they are young — will insist that their children go with them to visit both facilities, I am sure they are grateful for Ham adding new attractions to his been-there-done-that amusement park. Children bore easily, so providing new and exciting things for them to see and do will likely help Evangelical parents who have to deal with children who say, "Really, Dad, the Ark Encounter AGAIN? Can't we go to Cedar Point or King's Island this year?"
What, you ask, is Ham doing to attract children to the Ark Encounter? In a recent Answers in Genesis news story titled, Bring the Kids and Think Bigger!, Ham wrote:
I believe you'll be amazed, thrilled, and astounded—and will praise the Lord for what he is doing in this cutting-edge ministry. A hint: think Paddington Bear, giraffes, children, and a bathtub.

….

Over the years, many Christian leaders have told me that the quality of the Creation Museum and its exhibits has set a very high bar for the Christian world. Many reporters have told me that because the museum is a Christian facility, they expected it to be "cheesy"—they recognized that the Christian world is not known for having a Disney-like quality.

We've also had dozens of visits from Christian organizations who were (or are) building Christian facilities, and they tell us they hope to attain the same quality.

When the Ark Encounter opened in 2016, people weren't surprised at the level of excellence they experienced at the Ark, having seen what was done at the Creation Museum.

Many Christians told me it was so refreshing for them to visit Christian facilities of such high quality—particularly because we are so bold about biblical authority, the gospel, and a truly Christian worldview.

….

Now, it's one thing to build such facilities, but people need to be informed they exist. World-class attractions like Disney and Universal Studios spend hundreds of millions of dollars in marketing and promotion. We, too, recognize that we need to do our best to market the Creation Museum and Ark so that people will know they exist, and then we need them to come and experience the proclamation of the truth of God's Word and the gospel in an engaging way!

Before the Creation Museum opened, the Lord led us to a marketing agency, Joseph David Advertising (JDA—www.jdaworldwide.com/). Its Christian ownership wanted to work with us to develop marketing ideas that would be equal to or better than what the secular world does.

….

Over the years, their experts have worked tirelessly with us to produce award-winning billboards, television advertisements, and other marketing tools. Many people have commented on how professional this marketing effort has been and how it really captured their attention. Many of you may have seen our ads on the Fox News Channel and many other networks.

We have also conducted a lot of market research through JDA to find out how we can best reach those likely to visit the Creation Museum and Ark. Through the help of JDA's creativity and resources, we have been able to market our attractions in powerful and effective ways.

A few months ago, we met with JDA's marketing team and discussed how we were going to market the Ark and Creation Museum for 2020. We also discussed the incredible war against children that is happening in our culture in regard to abortion, forcing the LGBTQ worldview on kids in schools, the war on the family, increasing talk about allowing pedophilia, and so on.

What's happening is so evil. It motivated us to come up with a plan to help reach more kids by allowing all children 10 years old and under into our attractions for free. Yes, that offer began January 1, 2020. We've actually restructured the ticket pricing.

Our marketing agents then came up with an idea that we thought was beyond our reach financially. But they worked out a way for this to happen—so remarkable!

You may have seen the family movie featuring the character Paddington Bear. Now, while this bear is an animated creature, the animation is done so well that it looks real as the bear interacts in the real world with real people!

Then we asked ourselves, "What animal is most associated with the Ark?" And of course, it was the giraffe! That's because most modern depictions of Noah's Ark in children's books (not those from AiG, of course!) have Noah's Ark pictured as a sort of overloaded bathtub with giraffes sticking their necks out the top!

Put all this together for a 30-second television advertisement with the same quality as the Paddington movie, but with giraffes—four of them: mom, dad, and the two kids—plus a bathtub ark and a visit to our true-to-the-Bible Ark, while promoting that kids go free. Combine that with a quaint story line, and there you have it: an extremely high quality, captivating, and stunning television ad that will market the Ark Encounter and free admission for children in 2020.

What Mickey Mouse and other characters are to Disney, these giraffes (named George, Gloria, Gracie, and Junior) will be to the Ark Encounter. I believe kids will fall in love with the giraffe kids, Gracie and Junior.

When I saw the first draft of this TV ad, I immediately thought of Super Bowl quality. In fact, I think it is better than many Super Bowl ads I've seen. Personally, I think the ad would win an award if played during the Super Bowl! But for $5.6 million dollars to run just one 30-second Super Bowl commercial, we certainly couldn't do that. But this high-quality TV ad will be shown on many channels and across our social media.

….

JDA partnered with several Hollywood studios to create the giraffe characters we'll all see on TV soon. These specialized studios are the same as those behind the animation in films like The Avengers, Wonder Woman, and Mary Poppins, and also popular TV shows like Star Trek and Agents of S.H.I.E.L.D. In fact, the VFX supervisor hired to produce our characters was the former Pixar supervisor who oversaw the creation of the character Jessie in Toy Story 2.

Since the TV commercial was shot in the same live-action style as Paddington (i.e., "animation over film"), JDA partnered with Whitestone Motion Pictures from Atlanta to build a custom set (see at right) and film the giraffe family in their living room. As complicated as the animation was to create, plus shooting blank frames 18 feet in the air in a custom-built 25-foot-tall living room designed for giraffes, it was nothing short of spectacular.

All in all, the talent JDA was able to bring to the table on our ministry's behalf was outstanding. I think you'll agree once you see the spot!
So there ya have it, Ham is producing cute promo spots he hopes will spur children to say to their parents, "Mommy and Daddy, can we go to the Ark Encounter?"
What follows is one of the new Ark Encounter TV ads. It's 30 seconds long. I hope you will take the time to watch it.
Cute TV ad, which is sure to speak to children everywhere. What's missing, of course, is, to quote Paul Harvey, "the rest of the story." Ham wants to suck children in with adorable animated animal figures, all the while hiding the fact that the story of Noah's Flood is really about an angry, vengeful God who drowned millions and millions of men, women, teenagers, children, babies, fetuses, and innocent animals.
Why did the Christian God commit genocide? Why did God drown millions of animals? Genesis 6:1-7 says:
 And it came to pass, when men began to multiply on the face of the earth, and daughters were born unto them, That the sons of God saw the daughters of men that they were fair; and they took them wives of all which they chose. And the Lord said, My spirit shall not always strive with man, for that he also is flesh: yet his days shall be an hundred and twenty years. There were giants in the earth in those days; and also after that, when the sons of God came in unto the daughters of men, and they bare children to them, the same became mighty men which were of old, men of renown. And God saw that the wickedness of man was great in the earth, and that every imagination of the thoughts of his heart was only evil continually. And it repented the Lord that he had made man on the earth, and it grieved him at his heart. And the Lord said, I will destroy man whom I have created from the face of the earth; both man, and beast, and the creeping thing, and the fowls of the air; for it repenteth me that I have made them.
According to the aforementioned text, God drowned everyone because the "wickedness of man was great in the earth, and that every imagination of the thoughts of his heart was only evil continually."  In particular, "the sons of God came in unto the daughters of men, and they bare children to them." This odd passage of Scripture suggests that fallen angels were having sex with women, producing hybrid devil children. (And yes, I am aware of other interpretations.) Talk about a made for HBO storyline!
Why not make a TV ad that shows God drowning everyone? Maybe put a big lifesaver on the side of the ark, with a message imprinted for those who are drawing their last breaths, "Smile, God loves you and has a wonderful plan for your life." How about an ad more geared towards Evangelical adults? You know, one with a Game of Thrones-like sex twist; one that shows fallen angels seducing women or righteous Noah getting drunk and exposing himself to his son Ham? (Genesis 9) Why not tell the whole story instead of hiding behind cute animated giraffes? Surely, Evangelical children deserve the truth.
About Bruce Gerencser
Bruce Gerencser, 62, lives in rural Northwest Ohio with his wife of 41 years. He and his wife have six grown children and twelve grandchildren. Bruce pastored Evangelical churches for twenty-five years in Ohio, Texas, and Michigan. Bruce left the ministry in 2005, and in 2008 he left Christianity. Bruce is now a humanist and an atheist. For more information about Bruce, please read the About page.
Are you on Social Media? Follow Bruce on Facebook and Twitter.
Thank you for reading this post. Please share your thoughts in the comment section. If you are a first-time commenter, please read the commenting policy before wowing readers with your words. All first-time comments are moderated. If you would like to contact Bruce directly, please use the contact form to do so.
Donations are always appreciated. Donations on a monthly basis can be made through Patreon. One-time donations can be made through PayPal.