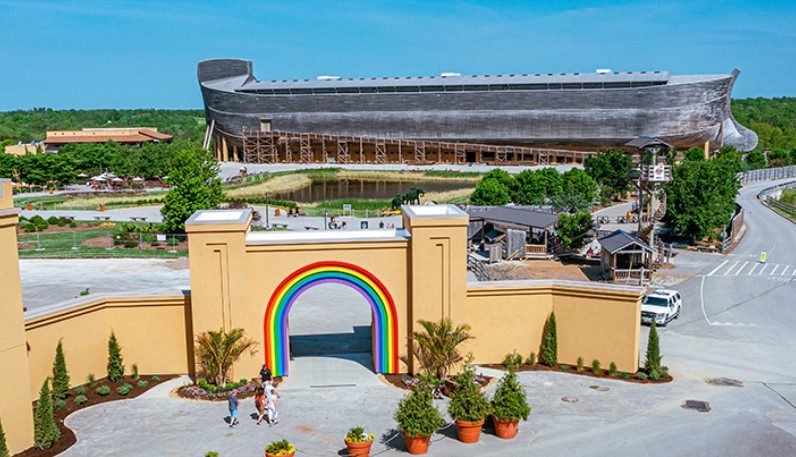 Giving in to the LGBTQ "agenda," Ken "Hambo" Ham and Ark Encounter, gave the arch pictured above a new rainbow paint scheme. Evangelicals across the world are alarmed by Ham's embrace of homosexuality. Closeted gays in Evangelical churches are left to wonder if they can finally join their Christian brothers and sisters in public at Ham's monument to ignorance. Maybe they will be permitted to stroll hand-in-hand with their lovers as they tour the biggest non-floating wood boat in the world. Rumor has it that Ham had added an LGBTQ display, with its description plaque saying, God Made Them This Way.
Of course, what I have written above is untrue. Ham believes it is his mission to reclaim the rainbow from those filthy, degenerate sodomites, and that's why he painted the arch in rainbow colors. The rainbow belongs to the genocidal God of the Bible, not LGBTQ people. How dare they use God's promise of never destroying the world again with a flood to promote same-sex love.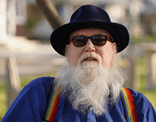 Bruce Gerencser, 64, lives in rural Northwest Ohio with his wife of 43 years. He and his wife have six grown children and thirteen grandchildren. Bruce pastored Evangelical churches for twenty-five years in Ohio, Texas, and Michigan. Bruce left the ministry in 2005, and in 2008 he left Christianity. Bruce is now a humanist and an atheist.
You can contact Bruce via email, Facebook, Twitter, or YouTube.
Your comments are welcome and appreciated. All first-time comments are moderated. Please read the commenting rules before commenting.