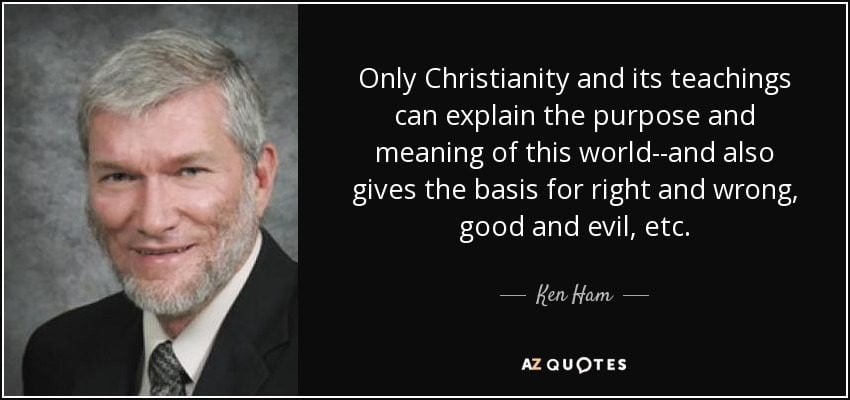 Just today, Ken Ham, the CEO of Answers in Genesis, released another screed about the supposed outlawing of Christianity by secularists. Ham wrote:
Little by little, the secularists have been outlawing Christianity from the culture. Through misinformation, bullying, and intimidation, they have been succeeding. And because so many Christians have been so secularized by the public education system, they have largely not put up a fight.

And if this trend keeps happening, do you want a picture of where America is headed in the future? Just look at England.
….
Warning! What is happening in the United States has already happened in Britain. That's where America is heading.

I would say the decline is happening for the same basic reason: God's people didn't stand on God's Word from its beginning. In this era, the compromise between evolution/millions of years and Genesis began in England and spread around the world. Really, what's happened to the church throughout England is actually the outworking of a church that has compromised God's Word with man's fallible ideas. Furthermore, the church has largely handed over the education of generations to the state.

This same compromise is rife in the church in the United States. At the same time, generations of children in America have been educated in schools that have increasingly outlawed anything Christian.

I believe this is why the Lord has raised up ministries like Answers in Genesis, the Creation Museum, and the new Ark Encounter. God is using these outreaches to equip Christians to stand against the secular attacks of our day and to challenge (in a very public and bold way) non-Christians with the truth of God's Word and the gospel.

God has allowed AiG to build the Creation Museum and the Ark because I believe there are many godly people who will take a stand on the authority of the Word of God.

While we still have the freedom to boldly proclaim the message of God's Word to the world, I pray you will support us in prayer to do whatever we can to embolden God's people and reach millions with the saving gospel. I urge you to help us to stand against those who would try to completely outlaw Christianity from the culture.
….cc
If God's people don't contend for the faith, we will see Christianity outlawed even further in our culture! I implore you to stand up for your faith. In a very public way (with an increasing number of scoffers trying to stop us), AiG is contending for the faith through many ministries like the Creation Museum and now the Ark Encounter.
Is Christianity being outlawed? Of course not. Christians are free to worship whenever, however, wherever, with whomever. Christian public school students are free to individually pray and read the Bible in school. Evangelicals are free to send their children to Christian schools or home school them. Christians are even free to build monuments to ignorance such as the Ark Encounter and Creation Museum. Evangelicals are free to evangelize their neighbors and stand on street corners preaching the gospel. Christianity is freer here in America than any other country on earth. Christian ministers get special tax exemptions/deductions, as do the churches they pastor.
Despite freedom of belief, worship, and practice that all Christians (and non-Christians) enjoy, charlatans such as Ken Ham continue to say that their brand of religious Fundamentalism is under attack. Ham says secularists are trying to ban Christianity. Knowing everything that I have mentioned above, how can Ham continue to lie about this? The very fact that Ham can build a damn wood boat on dry Kentucky land and say it is a testament to God's saving grace is proof that secularists are NOT trying to ban Christianity. Most secularists don't care about with whom, where, and how people worship their respective deities. Simply put…WE DON'T CARE!
We do, however, care about Evangelical (and Catholic and Mormon) attempts to breach the wall of separation of church and state. We do care when Evangelicals ignore the U.S. Constitution and the Bill of Rights, saying that God's law trumps man's law. We do care when Evangelicals attempt to sneak creationism and its gussied-up sister, intelligent design, into SECULAR public school classrooms. We do care when Evangelicals wrongly assert that America is a Christian nation and that the Bible should be the law of the land. And most of all, we do care when Evangelicals attempt to hijack local, state, and federal government for their own purposes.
Secularists stand resolutely against ANY attempt to merge church and state. We are students of history, knowing that when church and state are one, freedoms are lost and people die. If anyone is a threat to America and human freedom and liberty, it is theocrats such as Ken Ham. Does Ham want more or less freedom for those who do not share his religious sentiments? Less! Does Ham support the wall of separation between church and state? Does Ham think people should be free to live godless, heathen lives? Does Ham think consenting adults should be free to do sexually as they please? Does Ham support fairness, justice and equal protection under the law for all? No, on all counts. It is Ham and his Fundamentalist horde who want to rob Americans of their freedoms, not secularists. The real enemy, Ken, is You!