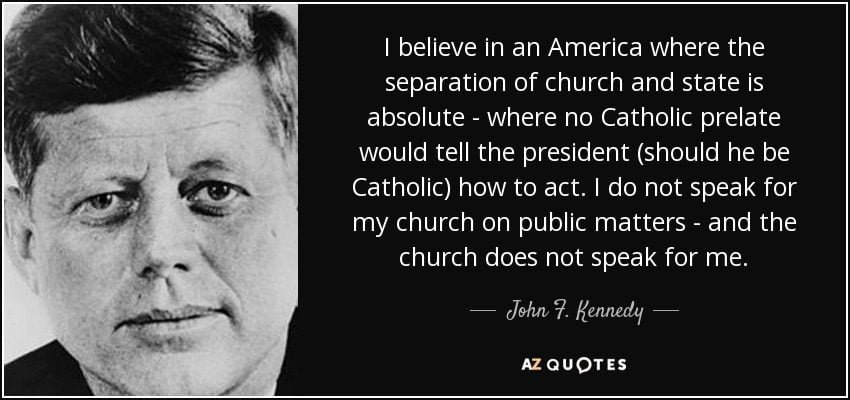 The United States is a secular nation. We have a secular Constitution and Bill of Rights. While America is one of the most religious nations on the face of the 6,024-year-old earth :), we have freedom of and from religion. There is a wall of separation between church and state. Christians are free to practice their religion without government interference. This freedom, however, is not absolute. Churches are expected to follow building codes, fire laws, and health and safety mandates. Worshipping a deity doesn't exempt them from their societal duties and obligations.
These things were universally understood by believers and unbelievers alike until the advent of the modern culture war. Today, millions of Evangelicals believe the United States is a Christian nation, that there is no separation of church and state, and the teachings of the Bible should be the law of the land.
Yesterday, Michael, a Christian (Evangelical?) blogger who spends his days raging against atheism, wrote a post titled What is Secular Privilege? Here Are Ten Everyday Examples. As you shall see, Michael whines and complains about his flavor of Christianity not being given preferential treatment.
Here are excerpts from seven of his examples of secular privilege:
Your Wages Aren't Lower Because You are Religious

While I was unable to find any solid studies that compare the income of religious vs. secular people, this Pew Research survey found that atheists and agnostics have a higher household income than members of most religions. For example, while almost 60% of atheists have an income of more than $50,000 per year, only about 30% of Baptists do.

While the Pew data don't measure religiosity itself, it is worth noting that the religious group with the highest household incomes also happens to be the least religious.

People Don't Make Assumptions About Your Intelligence Because Of Your Religion

A common stereotype about religious people is that they are stupid.

You Don't Feel Pressure To Represent Your Religion

Secular people never have to worry that if they make a mistake, people will assume they made it because secular people are less capable. On the other hand, if you belong to a religion, a mistake (intellectual or ethical) will be used as something that represents your religion. Being secular absolves you from this pressure to defy your religion's stereotype so that your mistakes don't hurt others of who share your religious faith.

Most Products Are Geared Toward You

A secular person can go into any corner convenience store to buy beer, cigarettes, lottery tickets, or other secular goods and walk out with something that suits them. Religious people will not find religious items so readily available (like pocket Bibles or kosher food), reminding them that in the eyes of mainstream culture, they are invisible.

Most Media Is Geared Toward You

Secular people can feel fairly confident that they will see people like them represented on TV, in movies, in magazines, in books, and all over the Internet. The media is clearly secular, as one can easily watch Netflix all weekend and listen to the radio in their car all week, catch a movie on a Friday night, and read the newspaper every morning without being exposed to religious messages/themes/people.

Beauty Standards Aren't Rigged Against You Because Of Your Faith

The rigid beauty standards depicted in the media harm all women, and that harm can be due to factors other than religion. But many religious women express their faith through modesty of dress. Some refuse to wear pants or makeup and others cover their heads. Yet the beauty standards of most women's magazines, fashion designers, and the various ads found throughout the media portray women who are scantily dressed with lots of makeup. Secular women don't usually feel the same pressure to uncover themselves and paint their faces.

A secular education for your child is free.

If you are a secular parent wanting your children to have a secular education, the government provides free schooling from ages 5-18. What's more, these schools effectively have a zero-tolerance for any religious expression in the schools and the courts routinely enforce efforts to censor if a violation is uncovered. On the other hand, if you want your child to have an education that includes religious considerations and values, you will have to pay large sums of money. Assuming a modest tuition of $3000/year for K-8th grade, and $10,000/year for 9th-12th grade, religious parents can end up paying $67,000 for something that secular parents get for free. Of course, since many religious parents cannot afford such an education, they are forced to send their children to secular schools that promote secular values and outlooks.

It would seem to me that anyone who is honestly and seriously interested in social justice would pay attention to secular privilege and seek to check it. But alas, no one in the social justice movement is willing to acknowledge even the existence of secular privilege. Could it be because the social justice movement itself champions and defends secular privilege? After all, we know in the atheist community, there is a huge overlap among anti-religious activism and social justice activism. And could it thus be that their posturing about social justice itself is just self-serving deception?
I will leave it commenters to dissect and eviscerate Michael's whine. I do, however, want to address his claims that most products and media are geared towards secularists. My first thought was "are you fucking kidding me?" Where does Michael live? In a deep, dark cave somewhere? Everywhere I look, I see Christian churches, Christian TV, Christian radio, Christian blogs, Christian podcasts, Christian books, Christian movies, Christian kitsch, etc. I live in rural northwest Ohio. There are hundreds of Christian churches, many of them Evangelical, within 30 minutes or so of my home. Everywhere I look, I see Jesus hanging out street corners like prostitutes selling their wares.
Countless business owners advertise the fact that the dead Jesus is their business partner. The fish sign and the cross are prominently displayed in advertising, letting local Christians know Jesus changes oil, cleans carpets, repairs cars, gives massages, and roofs/paints houses. These business owners deliberately cater to the dominant religious demographic. I've yet to see an ad geared towards secularists, atheists, agnostics, or other non-Christians. Why? Business is all about making money. Why limit your potential pool of customers? A smart business owner caters to everyone. Personally, I don't support businesses that explicitly advertise themselves as Christian. I let one such business owner know I wouldn't be frequenting his establishment. The owner let me know that he didn't need any business from atheists and libtards. His store later went out of business. Would income from secular and atheist customers have saved his business? Probably not. The owner was an all-around asshole, so I suspect that's the reason his business closed. That said, I did feel a sense of satisfaction when I saw his storefront empty.
Earlier this week, the Village of Ney (where I live) fielded a request for information about opening a medical marijuana facility in town (more on this in a future post). The mayor and council, all of whom are Christians, rejected the request out of hand. Why? Though left unstated, I am sure their Christian beliefs and personal moral standards led to them rejecting this request. Jesus doesn't toke dope, right? End of discussion.
I see nothing in our secular society that limits the ability of Christians to make money, worship Jesus, or metaphorically masturbate to their heart's content to the triune God of the Bible. Of course, Christians such as Michael want and demand more than religious freedom. They want preferential treatment. Most of all, they want every knee to bow to Jesus, the Bible, and Donald Trump. Theocracy is the goal.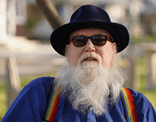 Bruce Gerencser, 65, lives in rural Northwest Ohio with his wife of 44 years. He and his wife have six grown children and thirteen grandchildren. Bruce pastored Evangelical churches for twenty-five years in Ohio, Texas, and Michigan. Bruce left the ministry in 2005, and in 2008 he left Christianity. Bruce is now a humanist and an atheist.
Connect with me on social media:
You can email Bruce via the Contact Form.
Your comments are welcome and appreciated. All first-time comments are moderated. Please read the commenting rules before commenting.