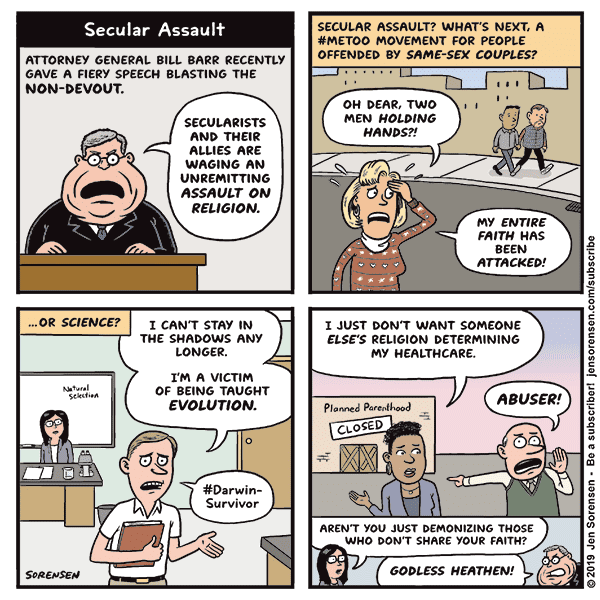 He [U.S. Attorney General William Barr] is a devoted Catholic who has said he believes the nation needs a "moral renaissance" to restore Judeo-Christian values in American life. He has been unafraid to use his platform as the nation's top law enforcement officer to fight the cultural changes they believe are making the country more inhospitable and unrecognizable, like rising immigration and secularism or new legal protections for L.G.B.T. people.
….
A series of assertive public appearances in recent weeks, laced with biting sarcasm aimed at adversaries on the left, have brought a sharper focus on Mr. Barr's style and worldview, both of which share aspects with the president's.
….
He [Barr] has painted a picture of a country divided into camps of "secularists" — those who, he said recently, "seem to take a delight in compelling people to violate their conscience" — and people of faith. The depiction echoes Mr. Trump's worldview, with the "us versus them" divisions that the president often stokes when he tells crowds at his rallies that Democrats "don't like you."
His politicization of the office is unorthodox and a departure from previous attorneys general in a way that feels uncomfortably close to authoritarianism, critics said.
"Barr has believed for a long time that the country would benefit from more authoritarianism. It would inject a stronger moral note into government," said Stuart M. Gerson, who worked in the Bush Justice Department under Mr. Barr and is a member of Checks & Balances, a legal group that is among the attorney general's leading conservative detractors. "I disagree with his analysis of power. We would be less free in the end."
….
He's [Barr's] offering a fairly unabashed, crisp and candid assessment of the nature of our culture right now," said Leonard A. Leo, the executive vice president of the Federalist Society and a prominent advocate for socially conservative causes. "There's certainly a movement in our country to dial back the role that religion plays in civil society and public life. It's been going on for some time," Mr. Leo added. "That's not an observation that public officials make very often, so it is refreshing."
Mr. Barr helped make the case for conservatives to shift to war footing against the left during a speech at Notre Dame Law School in October that was strikingly partisan. He accused "the forces of secularism" of orchestrating the "organized destruction" of religion. He mocked progressives, asking sardonically, "But where is the progress?"
And while other members of the Catholic Church and Pope Francis have acknowledged that the sexual abuse crisis has devastated the moral authority of the church in the United States and is in part to blame for decreasing attendance, Mr. Barr outlined what he saw as a larger plot by the left and others. He said they "have marshaled all the force of mass communications, popular culture, the entertainment industry and academia in an unremitting assault on religion and traditional values."
At one point, he compared the denial of religious liberty protections for people of faith to Roman emperors who forced their Christian subjects to engage in pagan sacrifices. "We cannot sit back and just hope the pendulum is going to swing back toward sanity," Mr. Barr warned.
— Jeremy W. Peters and Katie Benner, New York Times, Barr Dives Into the Culture Wars, and Social Conservatives Rejoice, December 8, 2019