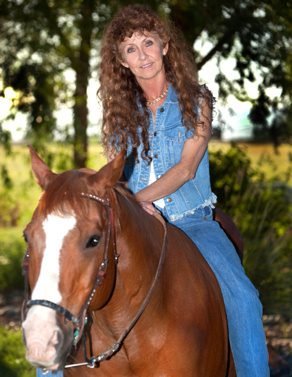 This is the one hundred and twenty-third installment in The Sounds of Fundamentalism series. This is a series that I would like readers to help me with. If you know of a video clip that shows the crazy, cantankerous, or contradictory side of Evangelical Christianity, please send me an email with the name or link to the video. Please do not leave suggestions in the comment section.  Let's have some fun!
Today's Sound of Fundamentalism is a music video of the song 'Rockin' with Jesus, sung by Joyce Shaffer. Shaffer describes her music this way:
My music is God inspired and I give the praise to HIM! I'm a Christian patriot and sing songs to encourage folks to put God first in their lives and let Him do the worrying for us. He has sustained me through many losses and heartaches and know He is still in control. My music is about true to life experience or people who have influenced my life, giving the praise to the One who loves us most!  "American Country Gospel" is my cup of tea in music and I hope you will enjoy listening!  I wear the colors of our Nation and "on my knees I stand behind the Cross"….. when Christians are serious about taking a stand, we will begin on our knees!!!!  Want some changes in your life or in our Nation?? Duck and let God do it!
Lyrics
I'm free from the prison I've been living in
Heartaches and failures have come to an end
I'm living a life I've never lived before
Just rockin' with Jesus on heaven's front porch
No candy mountain just water of life
No more worries to always get it right
Loving Jesus there's a door I walk through
Just rockin' with Jesus waiting for you
Some may wonder they don't understand
Things can control you like money or land
No Gods before Him He can set your course
To rock with Jesus on heaven's front porch
I know you'll miss me please don't cry
It's better than vacation I'm living mighty high
Rockin' with loved ones who've come before
We're rockin' with Jesus on heaven's front porch