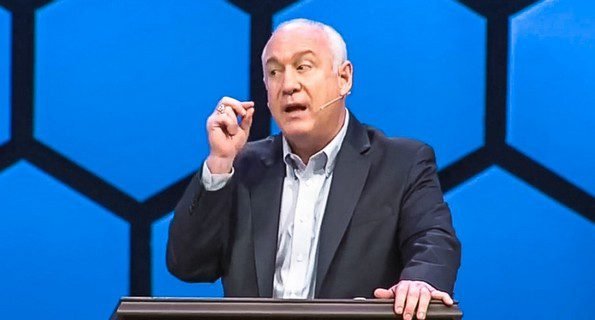 This is the forty-ninth installment in The Sounds of Fundamentalism series. This is a series that I would like readers to help me with. If you know of a video clip that shows the crazy, cantankerous, or contradictory side of Evangelical Christianity, please send me an email with the name or link to the video. Please do not leave suggestions in the comment section.  Let's have some fun!
Today's Sound of Fundamentalism is a video clip of a sermon by Maury Davis, pastor of Cornerstone Church, Nashville, Tennessee.  Davis, by the way, served time in prison for murder. A 2009 Nashville Scene news report had this to say about Davis' murderous past:
It must be hard to watch the man who murdered your mother 30 years ago sermonize about the godly life. Ron Liles watches him gesticulate and stroll across a stage, not from a pew, but on his computer screen in suburban Dallas, some 700 miles away from the church in Madison, Tenn., where the preacher tells this story of profound redemption.

It's Liles' story too, though he wishes to God it wasn't.

He wants to tell Pastor Maury Davis that he's a liar for bending the greatest truth in his life. To remind the mega-church pastor that the price of his spiritual rebirth, his professed salvation, was the blood of Liles' 54-year-old mother, Jo Ella. That every good thing Davis has in this life is borne on the back of a grieving son, in whose home her blood was spilled.

Rev. Davis must know that each time he stands at the pulpit, before his flock at Cornerstone Church, there are those who still desire a full accounting for his mortal sin. How could he not?

From the path Davis set out on so many years ago, no one could ever have guessed that he'd end up here in Middle Tennessee. First he was the son of a well-to-do family in Irving, Texas. Then a convicted murderer.

Yet today he's a high-profile pastor, known for his brash style and conservative theology, with a branded media ministry and a house worth nearly $1 million in a gated Goodlettsville neighborhood.

Contrast this life with Liles'. He was the only child of parents who struggled to stay afloat, losing his mother to a senseless murder remarkable only for its viciousness. Now he's an unassuming pharmacist working the graveyard shift at a CVS in Texas, left to wear the garments of raw anger and heartbreak, which aren't easily shed.

Pastor Davis says he's been forgiven for his sins. Washed in the blood, you might say. After all, who can argue with God?

Yet in the eyes of the few who know the whole story, Davis wears an indelible stain, however faded before the eyes of his own congregation, for the violation of the most sacred law of God and man. And in this world, not even the blood of his Savior has been able to wash it clean.