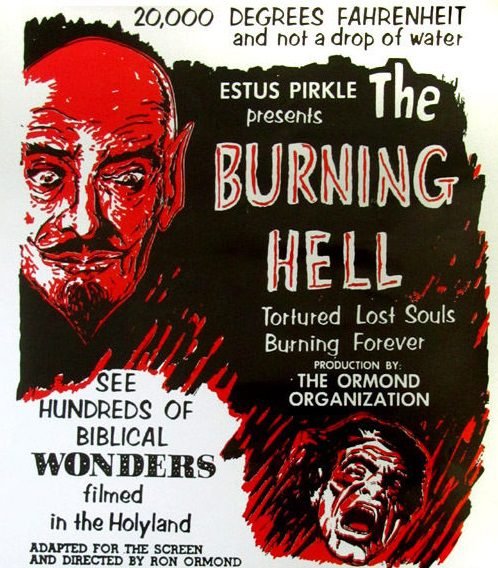 This is the one hundred and seventh installment in The Sounds of Fundamentalism series. This is a series that I would like readers to help me with. If you know of a video clip that shows the crazy, cantankerous, or contradictory side of Evangelical Christianity, please send me an email with the name or link to the video. Please do not leave suggestions in the comment section.  Let's have some fun!
Today's Sound of Fundamentalism is the movie The Burning Hell, produced by Fundamentalist Baptist pastor Estus Pirkle and Ron Ormond.  Released in 1974, The Burning Hell was used by thousands of Fundamentalist churches to "scare" sinners into getting saved. I first saw The Burning Hell in 1974. I saw it several more times in the late 1970s and 1980s.   According to the Estus Pirkle Evangelistic Association website, The Burning Hell:
is a scriptural interpretation of what the Bible has to say about a literal hell. The film seeks to portray in graphic terms all of the horror of hell and how to escape its flames. Of central importance in the film is the incident involving the rich man and Lazarus. Millions of people have been saved in Spanish and English speaking countries through this film. The film is sixty minutes and in color. Preaching is by Estus W. Pirkle.
The movie is available on DVD for $29.95, plus $6 for shipping.