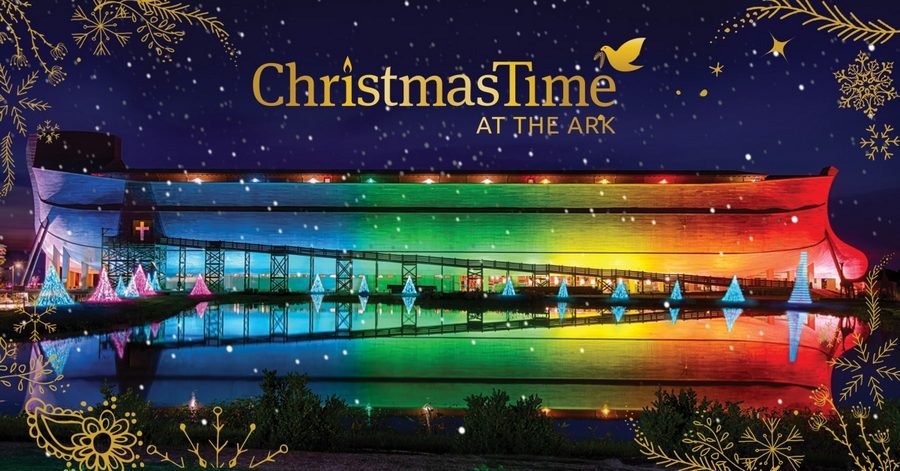 We've visited other Creationist attractions — each has its own unique charm — but none match the scale and sophistication of Kentucky's Ark Encounter. Regardless of your religious beliefs (and in spite of a biblically proportioned admission and parking fee [$40 per ticket plus $10 parking]) the Ark is an attraction that should be visited — if only because it's unlikely that you'll ever visit anything else like it.
Built at a reported cost of $91 million, opened to the public in July 2016, the Ark is the brainchild of Answers in Genesis, the same group that opened the Creation Museum in 2007. Billed as "The Largest Timber-Frame Structure in the World" and "a modern engineering marvel," the Ark contains 3.3 million board-feet of lumber and weighs more than two thousand tons. Answers in Genesis CEO Ken Ham claims that it was built to scriptural specs, 510 feet long and as tall as a seven-story building — an exact replica of Noah's enormous wooden boat.
The purpose of the Ark, according to Ham, is to fuel the faith of his fellow Bible literalists and to reach people who would otherwise avoid a Creationist attraction. Co-founder Mike Zovath has stressed the Ark's broad appeal, saying that he hopes it becomes a bucket-list roadside wonder, "like seeing the biggest ball of twine."
The Ark itself is dimly lit, a windowless wooden labyrinth whose brown interior is enlivened with over 100 bays of colorful, professionally-designed exhibits. As you walk up a ramp into the Ark's belly you're greeted by the recorded sounds of a thunderstorm and caged animals. There are no live animals on this Ark, only lifelike replicas, including a surprising number of juvenile dinosaurs. These creatures are a big part of the appeal of Ark Encounter, especially for children. The attraction could have simplified its narrative by wiping out the dinosaurs in the Flood, but then it wouldn't have had any dinosaurs for visitors to see. Answers in Genesis speculates that the dinosaurs' later extinction — after all the trouble taken to save them — was not a miscalculation by God, but because Noah's descendants ate them.
Ark Encounter features a number of exhibits showcasing the wickedness that made God decide to drown everyone on the planet (The "Help Me Understand" display explains that God created humankind, so He's within His rights to kill everybody whenever He wants to). These detailed glimpses of the sinful pre-Flood world are the most memorable part of the attraction. One miniature diorama shows people murdered in an arena by a human giant and a toothy dinosaur with gilded horns. Another elaborate tableau depicts babies being delivered into the belly furnace of a golden snake god.
Poster-size illustrations with titles such as "Abuse of Creation" and "Descent into Darkness" show poor, defenseless dinosaurs being senselessly slaughtered by depraved humans, and crowds of smug, shirtless revelers with tattoos and tambourines — time-honored visual shorthand for every parent's nightmare of party debauchery.
If you're wondering how you missed the part in the Bible that chronicled the age of dinosaurs as gladiators… you didn't. A sign explains that Ark Encounter had to invent these details because the Bible doesn't mention any of them. Nevertheless, visitors are assured, the pre-Flood world "was thoroughly infested with violence, idolatry, and every imaginable form of immorality."
….
An attraction so invested in its own feasibility can tolerate no perceived insults. This is stressed in the "Fairy Tale Ark" exhibit, which attacks children's books (most of them Christian) for practicing the "7 D's of Deception," including "Discrediting the Truth" and "Deceptively Cute." Ark Encounter makes clear that there's nothing cuddly about the Earth's greatest premeditated mass slaughter, although there is one bright spot. Answers in Genesis CEO Ken Ham has said that his Ark, despite appearances, is not built to float, because God promised He would never flood the Earth again.