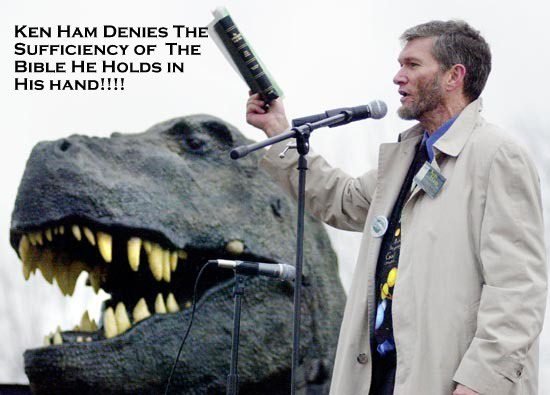 Ken Ham, CEO of Answers in Genesis and stand-in for Captain Noah on the Kentucky Ark of Ignorance, is well-known for pointing to the Bible — God's science textbook — as THE (only/final) authority when it comes to understanding how the universe came to be. Ham is noted for telling Bill Nye that the Bible was all-sufficient, that it alone explains how everything came to be. But here's the thing, Ham doesn't really believe this. Here's proof of my contention:
Ken, I ask you, why do we need to read your materials? I thought all we needed to do is read Genesis 1-3. Now you are saying that the Bible is NOT sufficient for our understanding of how the universe and biological life came to be. What's up with that?
Of course, Evangelicals don't really believe that the Bible is a one-stop knowledge store. If this was really the case, there would be no need for the thousands of Christian books that are published every year. There would also be no need for "ministries" such as Answers in Genesis. Ham and his cadre of professional dispensers of ignorance have published over ten thousand articles that are meant to help Evangelicals understand what God said in Genesis 1-3. If God has spoken, why would Christians have any reason to read any of Ham's articles? The answer, of course, is that Ham needs 10,000 loads of bullshit to cover up his irrational, anti-scientific, literalistic interpretation of the Bible.
Bruce Gerencser, 66, lives in rural Northwest Ohio with his wife of 45 years. He and his wife have six grown children and thirteen grandchildren. Bruce pastored Evangelical churches for twenty-five years in Ohio, Texas, and Michigan. Bruce left the ministry in 2005, and in 2008 he left Christianity. Bruce is now a humanist and an atheist.
Connect with me on social media:
Your comments are welcome and appreciated. All first-time comments are moderated. Please read the commenting rules before commenting.
You can email Bruce via the Contact Form.