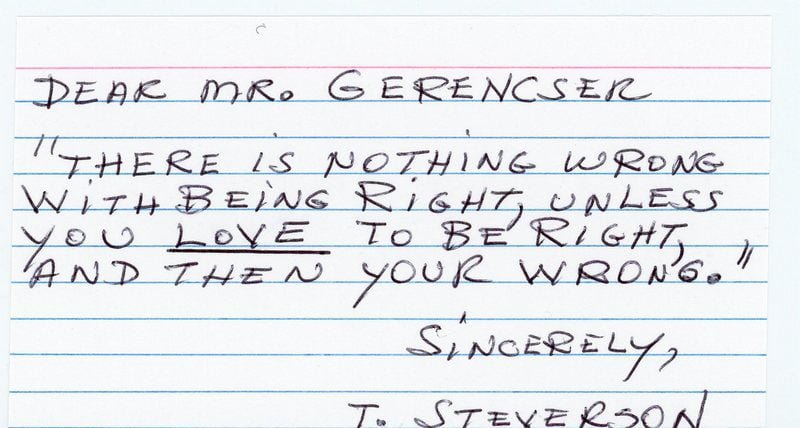 Last week, I received the index card above in my mail from Tommy Steverson, a 70+-year-old Evangelical man who lives in New Orleans, Louisiana. Today, I received a six-page single-spaced letter from Steverson, along with a tract and tract-like business card.
The tract-like business card is a lame attempt to prove that no human is a "good person." Titled "The Good Person Test," the card says:
Place your left thumb on the gold square and leave it for eight seconds. If you are a GOOD person then the gold square will turn green.
The back of the card says, in part, Did you pass the test? The fact is no one can pass the test.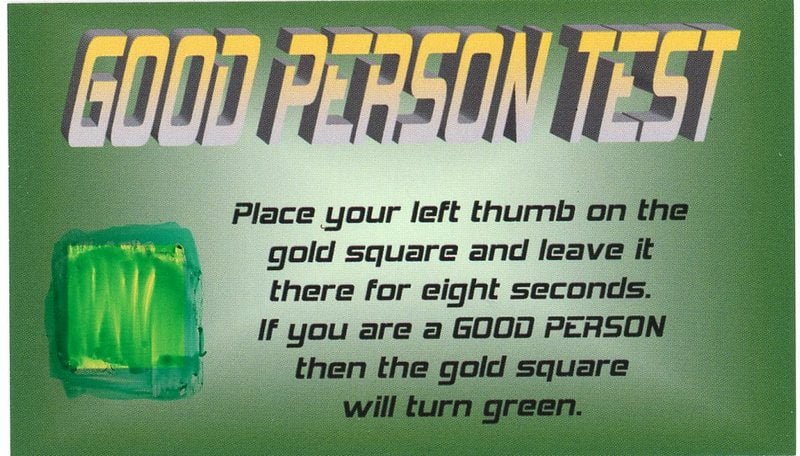 Well, that's a lie. I put my left thumb on the gold square and left it for eight seconds. Low and behold, the square turned green! That means I am a good person. I don't need to be saved from sin because I'm not a sinner. I am not perfect, but I am, indeed, a good person.
Steverson's letter is titled "Crispy Critters." The gist of the letter is that I will one day be a "crispy critter" in Hell unless I repent of my sins and accept Jesus as my Lord and Savior. Steverson ends his letter with Revelation 21:8 (NIV):
But the cowardly, the unbelieving, the vile, the murderers, the sexually immoral, those who practice magic arts, the idolaters and all liars—they will be consigned to the fiery lake of burning sulfur. This is the second death
Steverson poses what he calls three salient questions to atheists, agnostics, skeptics, and card-carrying unbelievers (all grammar in the original):
How is it that four different men [the writers of the gospels], and countless eyewittnesses, never recognized or recorded, even "one" instance of pride in Jesus Christ, in three and one half years of his life? How is that possible?
How is it, that four different men, and countless eyewitnesses, never heard of recorded even "one" instance of the words" I'm sorry, I made a mistake or please forgive me, from the lips of Jesus Christ? How is that possible.
How is it, that you probably never recognized any of this yourself? How is that possible?
Let me answer Steverson's third question. The reason atheists, agnostics, skeptics, and card-carrying unbelievers don't "recognize your claims" is because they aren't true. We have no idea who wrote the gospels. They most certainly are not eyewitness accounts. We have no idea what kind of person Jesus was, or if the Jesus of the gospels remotely resemble the Jesus of first-century history. We do know that Jesus was a "man." Thus it seems reasonable to believe that he had the same passions as the rest of us. The Bible is little more than a fairy tale shaped around a very human first-century man named Jesus.
It's clear from Steverson's letter that he is a Fundamentalist Christian who believes the Bible is the inspired, inerrant, infallible Word of God. This faith claim cannot be intellectually or rationally supported. If Steverson would like to talk about this subject with me, I would be glad to do so. If not, I encourage him to read several of Dr. Bart Ehrman's books. Ehrman is a New Testament scholar at the University of North Carolina. Author of numerous books on the text and history of the Bible, Ehrman disabuses Evangelicals of the notion that the Bible is in any way an inerrant/infallible book written by a supernatural God.
I won't bother with the rest of Steverson's long-winded, incoherent rant. New day, same old shit. If you would like to read the complete text of Steverson's letter:
Steverson signed off saying, "Have a Nice Eternity." In other words, "Bruce, I hope you enjoy burning in Hell."
Sigh . . .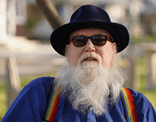 Bruce Gerencser, 64, lives in rural Northwest Ohio with his wife of 43 years. He and his wife have six grown children and thirteen grandchildren. Bruce pastored Evangelical churches for twenty-five years in Ohio, Texas, and Michigan. Bruce left the ministry in 2005, and in 2008 he left Christianity. Bruce is now a humanist and an atheist.
You can email Bruce via the Contact Form.
Your comments are welcome and appreciated. All first-time comments are moderated. Please read the commenting rules before commenting.