Several weeks ago, Polly and I spent a few days vacationing in Kentucky.  We stayed at the Boone Tavern Hotel in Berea. On one of the tables in the main hotel lobby I found a 2017 Kentucky Travel Guide. On the back of the guide was a full-sized advertisement for young earth creationist Ken Ham's Ark Encounter — a life-sized re-creation of the fictional Noah's ark found in the Bible. There was also a one-sixth sized ad on the front cover.
Here's the full-sized ad that was on the back cover: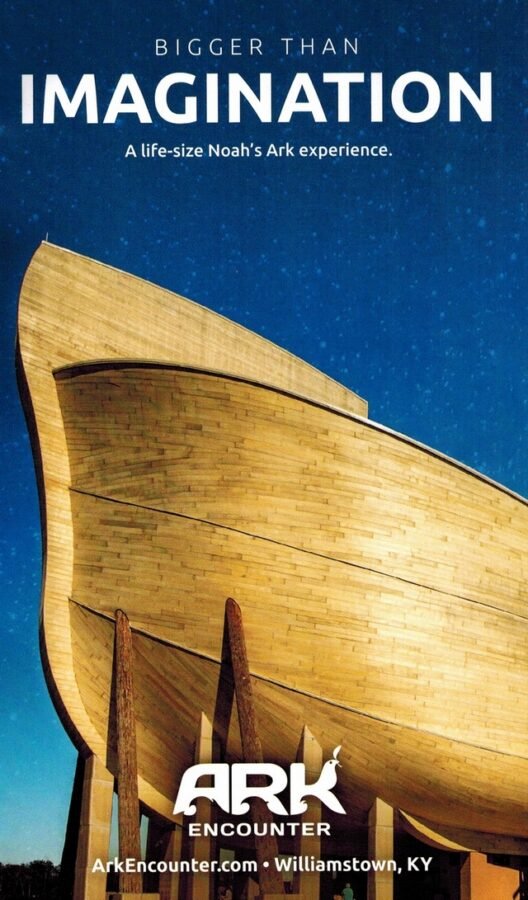 Anyone want to take a stab at what "Bigger Than Imagination" is supposed to mean?  Perhaps Ham is suggesting that it requires a boat load of imagination to believe that Noah, his wife, sons, and daughters-in-law built a ginormous wooden boat in the middle of the desert; that this boat, filled with animals, floated for a year on a sea that engulfed the entire earth, killing all life save Noah, his family, and the animals on the Ark. I don't know about you, but I don't have enough imagination to believe such a fairy-tale.
How about you? What do you think Ken Ham meant with the advertising slogan: "Bigger Than Imagination." Use your imagination in the comment section.