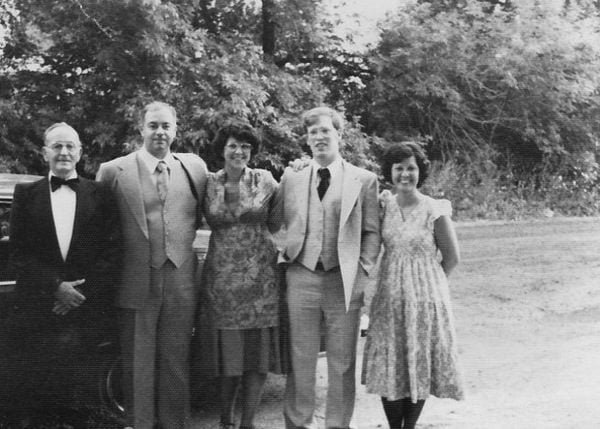 There come seminal moments in your life as an atheist when you learn what your Evangelical family really thinks of you. Often precipitated by a crisis, the truth comes spilling out for all to see. Such a moment happened recently . . . and now I know what one extended family member — a member of an Independent Fundamentalist Baptist (IFB) congregation in Newark, Ohio attended by Polly's mom — really thinks of me and my wife.
Polly's mother is dying from terminal cancer. Her death is imminent — days, weeks, or a month or two, at best. She is now living with our nephew and niece. While I won't go into the details of what precipitated the shit storm, I can tell you my nephew — who reads this blog — recently spent twenty minutes screaming at me; repeatedly cursing at me; calling me names, including lazy fat ass, and threatening me with physical violence — twice. Of course, my atheism and this blog came up. Polly's family doesn't like the fact that I write about the IFB church movement and its intersection with family. When I mention family, I never use their names or any identifiers (unless they are public figures). Evidently, I have no right to tell my story. I was told several times to shut up; that I'm a "victim"; that I need to move on; that I need to mind my own business. And what I write next will only reinforce my nephew's view of me.
As I have mentioned before, Polly's mom has always treated our family differently from family members in Newark, where Polly's late sister lived and raised three boys. Even when I was a pastor, we were treated differently; as outsiders; as people who didn't quite "fit." This led to all sorts of conflicts over the years, beginning days after our wedding day. For example, as I recently went over Mom's finances, I noticed that she gave substantial amounts of money to her Newark great-grandchildren for their graduations, birthdays, and special events. She does not do this for our grandchildren. Granted, we live four hours away from Newark, but proximity (or lack thereof) should not preclude Mom from buying a card, writing a check, and mailing it to our grandchildren. It is literally the least she can do.
Let me give you another example. I was a pastor for twenty-five years. Every family holiday one of the preachers would give a short devotional as we all gathered in one family member's home in Newark. Even the grandchildren from Newark were asked to give the devotional. Do you know who wasn't? Me. Not one time. It is hard not to take such things personally. I have known my mother-in-law for almost forty-seven years. She opposed Polly and me dating, tried to break us up, attempted to derail our wedding, and voiced her disapproval and disappointment more times than I can count over the years. Out of respect for Mom, I loved her, but I didn't like her.
In 2005, we finally had a showdown. Mom and Dad came up for Thanksgiving. As soon as Mom entered our home, she started doing her thing: moving furniture, ordering Polly around in the kitchen, and telling her how to cook this or that (Polly is a superb cook, by the way). Things got so bad that I told Mom to STOP; that she was a guest in our home. Mom called the next day and apologized, saying, "we always knew you were different." Ah, there it is. Our relationship got better in the sense that Mom knew she could no longer bully us. In fact, Polly told her mom, "if you force me to choose between you and Bruce, I am going to choose Bruce." Since then, Mom has taken a passive-aggressive approach to interacting with us.
Polly is widely viewed by our IFB family as an innocent, passive lamb; the submissive wife. Thus, I am always to blame for what happens in our life. Take our atheism. When we deconverted, we went from being barely a part of the in-group to being in the out-group; the group reserved for heathens, apostates, and reprobates. Over the past fifteen years, not one family member has had a meaningful conversation with us about our loss of faith. Not one . . . So my nephew's phone call was the first time anyone has said anything to me about our atheism. Oh, they gossip about us, "pray" for us, mention us at church, and use us as sermon illustrations. But, talk to us? Naw, they leave that to God.
Until yesterday, Polly and I had been responsible for Mom's finances. (We have since legally removed ourselves as agents.) We worked diligently to make sure her house was in order; so all her bills would be paid upon death. And then, for no good reason, Mom decided she didn't want us to do these things anymore. She had our niece put on her account and moved all her money, $14,000, into her checking account. A large check was written to our niece. All of these decisions were made without our knowledge and consent. We had no choice but to end our legal duty to her. Over the years, Mom (and Dad when he was alive) has repeatedly asked for our help. When things don't go as she thinks they should, she does her own thing and blames us for what happened. I have a business background. Twice, Mom and Dad, for a plethora of reasons, got themselves into serious financial straits. I helped them get their house in order. When things didn't go as planned, she "fired" me, and blamed me when everything went south. Just remember, "Bruce is always to blame." I am her scapegoat. This has happened so often, that we should have known not to involve ourselves in her end-of-life decisions. We did so because we love her and want what's best for her. (According to my nephew, we are just poor people who want her money, just one of many accusations he hurled my way while verbally assaulting me.)
I am sure some of you will conclude I am leaving things out of this story. I am. I just can't bear to rehash some of it. Maybe, someday I will. The drama and pain run deep. I was barely able to address these things with my therapist today. Here's what I do know: this was the last straw; the period at the end of the sentence. We have done all we can do to be a loving, kind, helpful daughter and son-in-law. You can only be shit on so many times before you say ENOUGH.
I have never seen Polly so hurt, broken, and angry. As she left for work, she said "fuck all of them." I concur. (And then she came home from work and drank beer — a first.) We have crossed the point of no return. Mom has made her bed, so to speak, with her "real" family. We have come to accept that we are not wanted; that we are outsiders; that Mom doesn't trust or respect us due to our atheism. Polly was the dutiful, loving daughter, yet Mom could never accept and love her as she is. Mom simply could not accept that we were going to walk our own path in life. Every move away from the IFB church movement brought criticism, judgment, and estrangement. My children grew up, married, and had children. They also left Evangelicalism, got college educations, and are gainfully employed in managerial positions. Along the way, some of them got divorced, started drinking alcohol, and picked up colorful language. Recently, my youngest son came out as gay. Polly and I are proud of our children, and what they have done with their lives. We are grateful that the IFB curse has been broken; that none of our grandchildren will ever have to experience what Nana and Grandpa and their Moms and Dads experienced in the IFB cult. Yet, all my mother-in-law sees is sin, disobedience, and disappointment. From beer in the fridge to rock music on the stereo to "revealing" clothes to someone saying shit or damn, all Mom sees is what happens when people disobey her peculiar version of God and her peculiar interpretation of the King James Bible. She has no capacity to accept people as they are or love them unconditionally. Only her "real" family, her church family, are deserving of such things.
And you know who is to blame for all the choices our children have made? I am. If Bruce had only stayed in the ministry. If Bruce had only pastored the "right" churches. If Bruce had only done this or that, all would be well. Of course, one need only to look at our extended IFB family and Mom's church family to see that such thinking is fantasy. Dysfunction and sin abound. They are every bit as fucked up as the rest of us. People are who they are, and the best way to get along in life is to accept people as they are. Polly and I have, without reservation, loved and accepted our IFB family. We would love to have meaningful relationships with them. Of course, that will never happen. Why? They are unable to compartmentalize their religious beliefs. It is. for them, a zero-sum game.
We are done with our IFB family. I am grateful that my nephew finally spoke out loud what the family has long thought about us. And when I say we are done, I mean in every way. As it stands today, we will not attend Mom's funeral. She's will be dead, so she won't care. The funeral service will be all about Jesus and getting saved. The graveside service will be more of the same. The viewing will be a torturous night of dealing with Mom's self-righteous church friends and people who despise us for daring to share secrets out of school; exposing the IFB church movement for what it is: a cult that causes untold psychological (and at times, physical) harm. (Wait until they see my upcoming podcasts about the IFB, including appearances by the former pastor's wife, Polly Shope Gerencser. May the shit gloriously hit the proverbial fan.)
I am sure some readers may disagree with our decision to not attend the funeral. I know several of our children do. All I ask is that people understand that this is a story forty-seven years in the making. So much pain and dysfunction; so much heartache and loss. This is us saying no more, we are done. This is what is best for us. And at the end of the day, this is all that matters. We can't control what people will think about this decision. All we can do is what will best help us sleep at night. I hope you will understand.
Have you had a messy breakup with your Fundamentalist family? Please share your experiences in the comment section. Better yet, share your story in a guest post.
Thanks for Reading,

And then we are done.