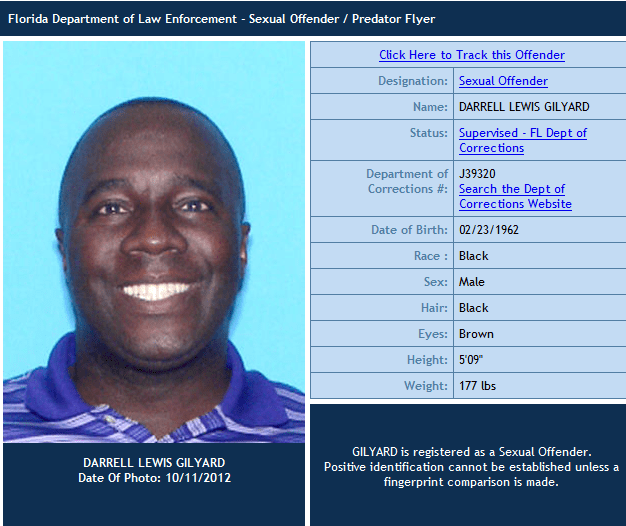 The Black Collar Crime Series relies on public news stories and publicly available information for its content. If any incorrect information is found, please contact Bruce Gerencser. Nothing in this post should be construed as an accusation of guilt. Those accused of crimes are innocent until proven guilty.
In 2009, Evangelical pastor Darrell Gilyard admitted sexually molesting two children and was sentenced to three years in prison. After his release from prison, Gilyard became the pastor of Christ Missionary Tabernacle Baptist Church in Jacksonville, Florida. Christ Missionary, at the time, was affiliated with the Southern Baptist Convention. While I was unable to find out how long Gilyard pastored Christ Missionary, news reports today say the registered sex offender is now the pastor of Mount Ararat Baptist Church in Jacksonville. Shockingly, because Gilyard is not on probation, he is free to work wherever he wants, including churches filled with potential victims.
A man who once served time in prison for sex crimes has become the new pastor of Mount Ararat Baptist Church in Jacksonville, and some said they're concerned that he's leading the congregation.

The Rev. Darrell Gilyard admitted to molesting two girls and was sentenced to three years in prison in 2009 followed by probation. He's currently a registered sex offender in the state of Florida.

When he left prison in 2012, Gilyard first began preaching at Christ Missionary Tabernacle Baptist Church, which also made some upset.

After Gilyard became the new lead pastor at Mount Ararat Baptist Church, some people posted their concerns on the church's Facebook page.

Tiffany Thigpen Kilgannon, who said she was a victim, wrote in short:

…God doesn't need predators in the pulpit, no matter how great a speaker or the truth of God's word being spoken…"

She continued, "…Please keep your young girls and ladies safe. It is a painful thing to recover from, give them the gift of safety…"

News4Jax visited Mount Ararat to talk with Rev. Gilyard. A staff member said, "No comment."
James Andrews, a long time supporter of Gilyard, said he prayed about it, and he trusts the good pastor. When asked if he trusted Gilyard around children, Andrews said, "Yes I would. I wouldn't have any problems at all trusting Pastor Gilyard around children."
Gilyard was accused of molesting other children, but he was never arrested.
For the life of me, I cannot understand how men such as James Andrews and the leaders of the two church Gilyard has pastored since his conviction can turn a blind eye to his crimes. Plenty of prospective pastors available, yet the best you could find is a convicted felon and a registered sex offender?