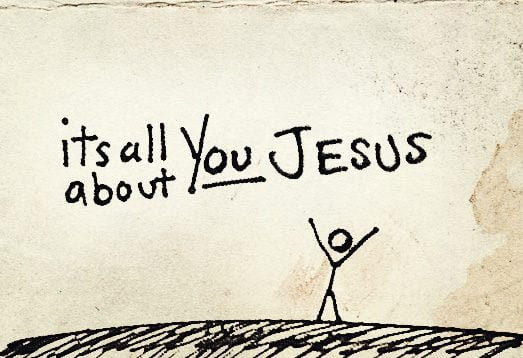 Repost from 2015. Extensively edited, rewritten, and corrected.
In a Gospel Coalition article titled Please Don't Make My Funeral All About Me, Nancy Guthrie had this to say:
…We were an hour and fifteen minutes in to today's funeral before anyone read from the scriptures, and further in until there was a prayer. Resurrection wasn't mentioned until the benediction. There were too many funny stories to tell about the deceased, too many recollections, too many good things to say about the things he accomplished to speak of what Christ has accomplished on his behalf.

But then this wasn't a funeral. It was a "Celebration of Life." In fact there was really little mention of death or of the ugly way sickness slowly robbed our friend of everything. Christ and his saving benefits could not be made much of because death and its cruelties were largely ignored…
Guthrie, like many Evangelical Christians, believes that the only thing/person that matters in life is Jesus. He is the end all, the first and the last, the sum of our existence. Even in the most personal of moments, a funeral, Guthrie wants everything to be about Jesus. The person in the coffin is of no consequence. The life they lived mattered little, because without Jesus they had no life. Without Jesus, their life had no meaning or purpose.
Guthrie wallows in her depravity. She sees herself as a loathsome, vile worm, a putrid corpse of sin and defilement. That is, until Jesus regenerated her and gave her new life. From that moment forward, her life was not about her, but about Jesus. From the moment of her new birth to the moment she dies, she is a nobody. Only Jesus matters.
In Guthrie's mind, the best funeral is one where the minister says, Joe Smith lived, knew Jesus, and died. Now let me tell you about Jesus, his death and resurrection, and the ugliness of sin and death. In other words, Guthrie wants the funeral to be like a church service, a passive event where Jesus is praised and everyone and everything else doesn't matter.
This approach is dehumanizing and it robs the dead people of all that made them who and what they are. If they lived a full life, then they left behind countless memories and stories that certainly ought to be told. Why not celebrate the dead person's life? Why not, one last time, remember them for what they said and did? Is this present life really that meaningless without Jesus? Is the Son of God such a Trumpian narcissist that he can't bear to hear anyone's name mentioned but his own?
Guthrie sees funerals as an opportunity to be reminded of our worthlessness and the awesomeness of Jesus. Any talk of the good works or the good life of the deceased is too humanistic, too worldly for her. Rather than making much of the deceased, she desires a service where the dead person is just a pretext to talk about the man of the hour: Jesus.
If the funeral service is really all about Jesus, perhaps it is proper to ask exactly what Jesus did for Guthrie's friend whose ugly sickness slowly robbed them of everything? Did Jesus physically comfort and aid her friend?  Did he have the power to heal her friend? Did Jesus do so? Of course not — her friend died.
Suppose a friend of yours died in a car accident. Your friend could have been saved by a doctor who stopped to gawk at the accident. The doctor offered no aid and made no attempt to save your friend from death. He had to hurry home to help his wife find her car keys. Everyone in your town knows the doctor could have saved your friend's life, yet he did nothing. Does anyone think that the doctor should be the guest of honor at your friend's funeral? Of course not. How is this any different from praising a deity who sat idly by while Guthrie's friend suffered and died? This deity had "all power" yet did nothing.
Guthrie betrays the fact that she is really just like us unwashed, uncircumcised, celebration-of-life, Philistines of the world when she writes "In fact there was really little mention of death or of the ugly way sickness slowly robbed our friend of everything." Robbed her friend of everything? Wait a minute, I thought JESUS was E-V-E-R-Y-T-H-I-N-G? Isn't everything else about their life, even their suffering, just the minutia of life? Why bother to even mention the deceased? Are they not just a prop used to preach the gospel to those who came to the service thinking they were attending so-and-so's celebration of life?
I was once like Guthrie. I saw funerals as an opportunity to preach the gospel, to witness to people who would not likely darken the doors of the church I pastored. While I did spend some time reflecting on the life of the deceased — that is if they were a Christian — my main focus was on preaching the gospel to the sinners seated before me. In one church, a dear, close friend of mine, a devoted follower of Jesus, died at the age of 40. His funeral was held at the church and for 40 minutes I hammered his Catholic and Methodist family with the Calvinistic gospel. I even told them that the deceased had specifically asked me to preach at his funeral, knowing that it likely would be the last time they would ever hear the gospel.
What did I accomplish? Nothing. I thoroughly offended my friend's family, and from that day forward I was, to many of them, Pastor Son-of-a-bitch. In Guthrie's eyes, I did the right thing. I exalted Jesus. I made the funeral about sin, death, and resurrection; about Jesus. But in the eyes of my friend's family, I made their loved one's life of little to no importance. The life their brother/uncle/father/friend lived, his good works, his commitment to his family and his job, none of these things really mattered. According to the Bible, "But we are all as an unclean thing, and all our righteousnesses are as filthy rags…" Any good this man did was because of Jesus, and any bad he did was due to his sinful, carnal nature.
Simply put, Jesus ALWAYS gets top billing.  This is why I have, for the most part, stopped going to Evangelical funerals. Since the deceased is of no consequence, why should I subject myself to the prattle of a preacher as he tries to use guilt (sin) and fear (death) to coerce people, at a time when they are emotionally vulnerable, to become a Christian?
Bruce Gerencser, 66, lives in rural Northwest Ohio with his wife of 45 years. He and his wife have six grown children and thirteen grandchildren. Bruce pastored Evangelical churches for twenty-five years in Ohio, Texas, and Michigan. Bruce left the ministry in 2005, and in 2008 he left Christianity. Bruce is now a humanist and an atheist.
Connect with me on social media:
Your comments are welcome and appreciated. All first-time comments are moderated. Please read the commenting rules before commenting.
You can email Bruce via the Contact Form.