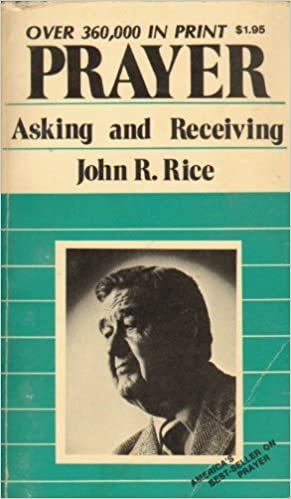 And I say unto you, Ask, and it shall be given you; seek, and ye shall find; knock, and it shall be opened unto you. For every one that asketh receiveth; and he that seeketh findeth; and to him that knocketh it shall be opened. (Luke 11:9, 10)
Want to turn pontificating Evangelicals unto babbling, incoherent defenders of the one true faith? Just ask them to explain and defend the teachings of Jesus found in Luke 11:9-10. All of a sudden, the inspired, inerrant, infallible Word of God becomes a hard-to-understand book; one that doesn't mean what it clearly says its means.
Forty years ago, Independent Fundamentalist Baptist (IFB) luminary and editor of the Sword of the Lord, John R. Rice, wrote a book titled, Prayer: Asking and Receiving. Two-hundred thirty-four pages long, Asking and Receiving is a defense of the notion that prayer is simply Christians asking, God answering, and believers receiving. Rice states:
II. Because Prayer is God's Appointed Way for Christians to Get Things

The outside, unbelieving world expects to get things by work or by planning or by scheming or by accident, but God's children are taught that they are to get things by asking and the reason we do not have is because we do not ask.

James 4:2 says: Ye lust, and have not: ye kill, and desire to have, and cannot obtain: ye fight and war, yet ye have not, because ye ask not.

"Ye have not, because ye ask not!" Fighting, warring, struggling and scheming — these are not God's ways for a Christian to get things. We are to get by asking. And the reason we have not is not "because ye work not," nor is it "because ye plan not." No, it is "because ye ask not." Asking is God's way for a Christian to get things.
Rice, a Bible literalist, takes Luke 11:9, 10 to heart. God is a divine vending machine of sorts. Christians put their quarters (prayers) in the slot, hit the appropriate numbers (or pull the handle back in the day), and God delivers. Boom! God delivers right to the Christian's hand a heavenly Milky Way or bag of Funyuns. Except, in real life that's not how prayer really works.
Every day, Evangelicals ask God for things. Big stuff, little stuff, up go the prayers. However, much like Trump's Federal medical supply chain, God doesn't hear nor answer the prayers. Oh, he might help Christians find their car keys or other trivial requests, but the prayers that are matters of life and death go answered. Well, on second thought, Evangelicals do say that God answers prayer one of three ways: yes, no, and later (maybe). It seems, at least from my seat in the atheist pew, that God has a stock answer. No!
The world is facing the Coronavirus Pandemic. Millions are infected and thousands upon thousands are dying. Countless others will face a lifetime of lung and heart problems. I have no doubt that Evangelicals have done a lot of praying of late. If I were a believer, I would be storming the throne room of Heaven too. (Hebrews 4:16) Yet, despite their fervent "asking," Christians are still being infected and dying. Why is that? If prayer is, as Luke 11:9-10 says it is, "asking and receiving," why is it that so many prayers are going unanswered? Doesn't God care about his children? (Please see Does God Always Take Care of His Children?) Of course he doesn't. His prior behavior should tell us everything we need to know about the God of Christianity. Look at how much suffering there is in the world. Look at all the poverty and starvation. Look at how past pandemics ravaged the world. Everywhere we look we see the absence of a God. If he is a prayer-answering God, he has a funny way of showing it.
Instead of wasting time praying, perhaps it is time for Evangelicals to spend their time pleading with President Trump to get his act together and actually help them and their fellow citizens. Perhaps, it would be time better spent to defend and support science — the only hope for delivering the world from the Coronavirus.
Bruce Gerencser, 66, lives in rural Northwest Ohio with his wife of 45 years. He and his wife have six grown children and thirteen grandchildren. Bruce pastored Evangelical churches for twenty-five years in Ohio, Texas, and Michigan. Bruce left the ministry in 2005, and in 2008 he left Christianity. Bruce is now a humanist and an atheist.
Connect with me on social media:
Your comments are welcome and appreciated. All first-time comments are moderated. Please read the commenting rules before commenting.
You can email Bruce via the Contact Form.