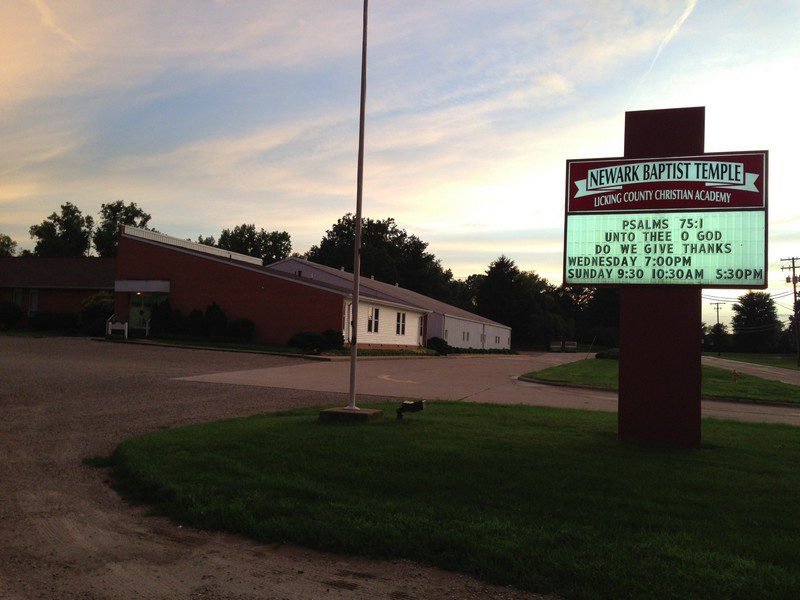 In March 2020, I wrote a scathing post about the Newark Baptist Temple and its pastor Mark Falls' handling of the Coronavirus pandemic. (Please read IFB Pastor Mark Falls Tries to Use Bible Verses to Guilt People into Attending Church during Coronavirus Pandemic.) In April, I wrote a post about why Polly's mom refused to wear a mask or get vaccinated. (Please see No Need to Wear a Face Mask: When it's My Time to Die, I'm Ready to Go.) And finally, last November, I wrote a post about Polly's father's funeral at the Newark Baptist Temple. (Please see An IFB Funeral: Fundamentalist Christianity Poisons Everything.) Despite me publicizing their recklessness (and the church and its pastor are very much aware of my writing), the Baptist Temple and its pastor continue to ignore the seriousness of COVID-19.
While family members swear on a stack of Bearing Precious Seed Leather Bound King James Version Bibles that Pastor Falls takes the virus seriously, video evidence suggests otherwise. Sure, Falls wears a mask (he and his family were infected last year), as do other church members, but by and large, the congregation continues to have unprotected sex with COVID-19. A recent family photo shot in the Baptist Temple's gymnasium features at least three family members with serious health problems (including Polly's mom). Not one person in the photo is wearing a mark. I see the same thing in other photos taken at the church or its school, Licking County Christian Academy. All the evidence suggests that the church gives lip service to CDC and Licking County Health Department COVID-19 guidelines.
Last Sunday, Polly's mom told her during their weekly phone call that ten of her fellow church members were currently infected with COVID-19, and two of them were in the hospital. The church has had other outbreaks, and I believe at least one member has died from the virus. It is clear, at least to me, that the Baptist Temple facilitates and promotes super-spreader events, also known as Sunday church services. Polly's mom continues to attend Sunday services, saying that she wears a mask and sits in the back of the church away from other people. Mom refuses to get vaccinated, claiming that COVID is no worse than the flu. And since she doesn't get the annual flu vaccine, she has no plans to get the COVID-19 vaccine either. Besides, according to Mom, Jesus is in control, and she is ready to die and go to Heaven.
Earlier today, our nephew — who pleaded with Mom to get vaccinated — informed us that Mom coded while at the doctor's office (she has congestive heart failure). She had yet another heart attack and was tested for COVID-19 while waiting to be admitted to the hospital. The test came back positive. She is currently asymptomatic, but the doctor told her the heart attack could be COVID-related. While it is impossible to know exactly where she was infected — she doesn't go anywhere besides church and rarely comes in contact with people outside of her church — it is safe to conclude that the Baptist Temple is the vector.
Pastor Falls, a libertarian, refuses to insist that church members wear masks and practice social distancing. I suspect he thinks doing so is a good idea, but his libertarianism keeps him from demanding congregants follow CDC and Ohio Department of Health Department guidelines. The Baptist Temple is an Independent Fundamentalist Baptist (IFB) congregation. The church has all sorts of rules mandating member behavior, yet when it comes to COVID-19, it is hands-off and follow the Lord's leading. Women can't wear pants, and premarital sex will get you excommunicated, but whether to take steps to protect oneself from a deadly virus is just a matter of personal opinion.
Polly and I are beyond angry. And frustrated. And helpless. Nothing we say or do will change what is happening at the Newark Baptist Temple. We are forced to sit by while Mom gambles away her life, believing that Jesus and good genes will keep her alive. And if they don't? Polly and I are left with the chore of dealing with the church, its pastor, and family members. We are left with the chore of cleaning up the mess Mom leaves behind after she dies. She refuses to update her will, leaving Polly and me to take care of everything after she is gone. We pleaded with Mom to set her house in order, but she refuses to do so, leaving her only daughter and son-in-law to deal with all the shit that is sure to come. We will certainly take care of things and do what we can to honor her wishes, but Mom's unwillingness to make things easier for us is selfishness on her part.
I texted my oldest son the following today: I HATE the Baptist Temple. I literally hate what this church has done to my mother-in-law (and my deceased father-in-law) and our extended family. While Mom is certainly culpable for her ignorant beliefs about the virus and Jesus's hands-on care, it's hard not to put much of the blame on the church she has attended for the past forty-five years. Fundamentalist indoctrination has crippled her ability to think and reason, and in the end, it will probably kill her.
Bruce Gerencser, 66, lives in rural Northwest Ohio with his wife of 45 years. He and his wife have six grown children and thirteen grandchildren. Bruce pastored Evangelical churches for twenty-five years in Ohio, Texas, and Michigan. Bruce left the ministry in 2005, and in 2008 he left Christianity. Bruce is now a humanist and an atheist.
Connect with me on social media:
Your comments are welcome and appreciated. All first-time comments are moderated. Please read the commenting rules before commenting.
You can email Bruce via the Contact Form.