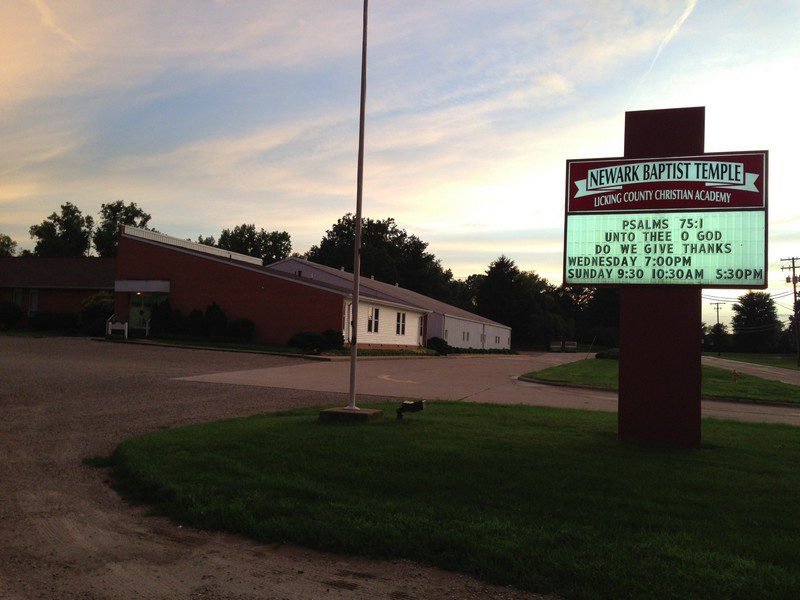 Mark Falls is the pastor of the Newark Baptist Temple in Heath, Ohio. The Baptist Temple, as it is commonly called, is an Independent Fundamentalist Baptist (IFB) institution. The church also operates the Licking County Christian Academy. My wife's uncle, the late James Dennis, pastored the Baptist Temple for over forty years. Polly and I attended the church for a short time in the 1980s. Polly's dad moved his wife and two teen daughters to Newark in 1976 so he could become the church's assistant pastor. Dad left the Baptist Temple in 1981 to start a new IFB church in nearby Buckeye Lake. Polly and I joined him there, helping to build the church until we left in 1983 and moved to Somerset, Ohio to start a new church.
Polly's parents have lived in Newark for forty-five years. Both are in their 80s, in poor health, and depending on the day, knocking on death's door. After closing the church in Buckeye Lake, Polly's parents returned to the Baptist Temple, and remain faithful tithing members to this day.
By way of a disclaimer, readers should know that my wife and I have an adversarial and complicated relationship with the Baptist Temple. While we have many fond memories of our time at the church, we also bad memories that have left deep, lasting scars. That's why when we briefly returned to the Newark area in 2005, we joined the Fallsburg Baptist Church, pastored by my best friend at the time Keith Troyer, and not the Baptist Temple. Art Ball, a missionary associated with the Baptist Temple, emailed me at the time, wondering why we weren't planning to attend the Baptist Temple. Art made it clear that from his perspective the Baptist Temple was the only church in town! I refrained from sharing our backstory with him. I told Art that family history is complicated and there were a lot of things he didn't know. He did not inquire further.
After James "Jim" Dennis retired, Mark Falls, a graduate of uber-fundamentalist Pensacola Christian College and Seminary, became pastor. While I appreciate many of the peripheral changes Falls has made to the church, he is, at heart, a Christian Fundamentalist. I have not met Falls personally, nor do I intend to do so. The only time Polly and I plan to darken to doors of the Baptist Temple is for funerals and weddings. Polly was last at the Baptist Temple for her uncle's funeral (I was too sick to attend). I have not attended anything at the Baptist Temple since the 1990s. Along with Polly's parents, we have a number of other relatives who either attend the Baptist Temple or are closely affiliated with the church. While we are, thus, symbiotically connected to the church, we certainly do not consider the Baptist Temple and its pastor our friends. I plan this year, health willing, to write a series of posts about our experiences at the Baptist Temple and with its former pastor, James Dennis. It's a story that needs to be told, but for obvious reasons, I have been hesitant to tell it. As long as COVID-19 doesn't get me, you can count on reading "The Baptist Temple" series in the coming months.
Polly calls her mother every Sunday at 10:00 PM. It is a ritual Polly's mom looks forward too, and one that I remind Polly is very important, even if she doesn't see that importance now. My mom committed suicide at age 54. Dad died of a stroke at age 49. Whatever my relationship may have been with my parents, I sure wish I could pick the phone up and call them, just to hear their voice and to tell them that I love them. There will come a day, sooner rather than later, that next call we get from Newark will be from one of our nephews telling us mom or dad is dead. We are prepared for such an eventuality, but I am of the opinion that it is important to keep in contact with our elderly parents. I don't want Polly to regret not talking to her parents. I don't want her sitting home on a Sunday evening wishing she could hear their voices one more time. The past fifteen years have certainly strained the relationship we have with Polly's parents. Our leaving the ministry and Christianity is something Polly's parents can not/will not understand. How is it possible that we are now unbelievers; atheists who have no interest in God, Jesus, the Bible, or church? While mom reminds us that she prays for our family every day, we have yet to have an honest discussion with Polly's parents about why we no longer believe. And frankly, I doubt we will ever have this discussion. We are fine with that. Our concern is for their quality of life, and it is this issue that brings me to the subject of this post.
Last Saturday, March 14, Pastor Falls posted a live video to the Baptist Temple's Facebook page detailing how he and the church would be handling the Coronavirus pandemic. I made an audio copy of the video which is posted below. Please forgive the lack of technical quality, but you should be able to hear my introduction and Falls' words just fine. The audio clip is a little over six minutes long. I hope you will listen to it.
I have been listening to IFB preachers speak for most of my life. From the 1960s, when Tim LaHaye was my pastor, until today, I have heard countless sermons and preached thousands of sermons myself. I know firsthand the lingo, what I call preacher-speak. I also know how IFB preachers manipulate congregants with their words to achieve a desired objective. That psychological manipulation was on showroom display in Pastor Falls' Facebook video. While I have no doubt that Falls will vehemently object to me characterizing his words as manipulative, the fact remains, through the use of Bible verses, appeals to distrust of government, and challenges to the depth of the faith of people who might stay home, Falls makes it clear that he expects people to be presented and accounted for the next day.
Falls begins his video by appealing to the distrust congregants have of government. While Falls praises Ohio governor Mike DeWine for exempting houses of worship from his "no social gathering" order, he also makes it clear that if DeWine ordered churches to close their doors that he would view this order as the state ordering churches to not obey God.
In Acts 5:29, Peter and the other Apostles said: We ought to obey God rather than men. Over the years I heard countless sermons and preached sermons on Acts 5:29. Christians are duty-bound to obey God, and not men (government), IFB preachers say. If the government asks churches/Christians to do anything that runs contrary to their interpretation of the Protestant Bible, they are expected to disobey. This thinking runs deep in the lifeblood of the Baptist Temple. Years ago, the Baptist Temple operated an unlicensed daycare called Temple Tots. Polly worked there for several years until she was summarily fired for not being a member of the church (we were living in Buckeye Lake at the time, helping Polly's father start a church). The State of Ohio determined that ALL daycares had to be licensed by the state. The Baptist Temple appealed to Acts 5:29, and refused to be licensed. This, of course, put them in breach of the law, creating several years of back-and-forth litigation. The State finally won the battle, and rather than accept state licensure, the Baptist Temple closed its daycare. The Baptist Temple has other conflicts with government over the years, fueled by their insistence that the State had no to right to meddle in their business.
Falls then appeals to the mother of all guilt-inducing verses in the Bible, Hebrews 10:25:
Not forsaking the assembling of ourselves together, as the manner of some is; but exhorting one another: and so much the more, as ye see the day approaching.
This verse is used to remind congregants that GOD expects them to be in church every time the doors are open. And if you aren't at the church's Sunday morning, Sunday night, and Wednesday night services, you'd better be so sick you can't drag your sorry, backslidden ass to church. Real Christians cough, man up, and go to church. God will bless you if you do! Or so the thinking goes, anyway. I preached countless sermons so sick that I could have passed out at any moment. It took mononucleosis to knock me out of the pulpit for the first time (1991). Bless God, I was going to be there every time the doors where open. I planned to die with my boots on.
Of course, I passed this mentality on to the people I pastored. They genuinely feared God (or Pastor Bruce) would get them if they didn't show up for churches. I routinely excoriated people who skipped church services. Lazy. Backslidden. Why, they might not even be saved! What kind of person chooses the lake, reunion, or their wedding anniversary over attending church and listening to my wonderful, Bible-based, Spirit-filled sermons?
It is clear, at least to me, that Falls expected church members to be at church unless they were really, really, really, I mean r-e-a-l-l-y sick. Falls did say that if people had Coronavirus symptoms that it was okay for them to miss church. Thanks, preacher. I wonder if the good pastor realized that this virus can be and is passed on by people not exhibiting ANY symptoms; that there could be Coronavirus Marys and Marks walking in the midst of the congregation infecting everyone they come in contact with?
Falls plants in the mind of congregants that he has serious doubts about what government is telling us about the Coronavirus. I didn't realize Falls was a scientist, an epidemiologist, or an infectious disease expert. He is, however, an avid supporter of President Donald Trump, so that might help to explain things a bit. While Trump has now had a come to Jesus moment when it comes to COVID-19, I am sure he still believes that a lot of what experts are saying is "fake" news, attempts by the media, liberals, China, and non-Christians to destroy his presidency and foil his reelection. I doubt that Pastor Falls believes the media is telling the truth, the whole truth, and nothing but the truth about the Coronavirus Pandemic. By planting that seed in the minds of church members, he is affirming their conspiratorial doubts too.
Finally, Falls reminds church members that their God is still on the throne. This is his way of saying, "Look, Jesus, the Great Physician, has everything under control. There's no need to fear a silly little virus. God will protect us, and if some us come down with COVID-19, well, that means it was God's will. Live or die, it's all in God's hand. Now, get your ass down to 81 Licking View Drive and listen to some old-fashioned IFB preaching and singing!
Here's why all this matters to me, and matters to my wife. Polly's parents were in attendance Sunday night. Both of them have serious health problems. Mom has congestive heart failure. Her cardiologist told her to prepare to meet her maker. She is quite proud, however, of the fact that she has beaten the doctor's time-of-death estimations. We are glad that she is still among the living too. That said, we hope that she doesn't check out any time soon. We have our own health concerns to worry about, so we would like to think that everyone at their church, especially their pastor, has their best interests at heart. Unfortunately, as the story I am about to share with you will show, Pastor Falls does not care about what is best for them.
I told Polly that perhaps Falls should call each elderly/sick congregant and encourage them to stay home. Let them know that God understands. In IFB churches, pastors wield a tremendous amount of control and power. Falls could use these things for good, but, instead, he's more concerned with making a stand against intrusive government intervention. He's more concerned with preaching up faith and making sure people obey the Bible than he is caring for their physical welfare.
After the service, Falls greeted Polly's mom and, I kid you not, shook her hand. He did question the wisdom of doing so, but likely at my mother-in-law's insistence, Falls went ahead and shook her hand. As I listened to Mom recounting this story to Polly, I wanted to scream. How can you be so stupid? How can you be so reckless? How can you be so indifferent to the health and welfare of others? That goes for Pastor Falls AND my mother-in-law.
It remains to be seen how the Coronavirus pandemic shakes out. I do know this. If we all follow the example of Pastor Falls and the Newark Baptist Temple, there will be no controlling or mitigating this pandemic. Falls has a duty and obligation to care for his flock. He has failed to do so. He cannot know whether he himself has been exposed to the virus, or anyone else in attendance, for that matter. Instead, he has let his theology and politics dictate what he deems proper care. He's young, so he has little risk of dying from COVID-19. Polly's parents? They are at the front of the death line, and it's a shame that their pastor is indifferent towards their frail condition. They have given more than half of their lives to the Baptist Temple. They deserve better.
Bruce Gerencser, 66, lives in rural Northwest Ohio with his wife of 45 years. He and his wife have six grown children and thirteen grandchildren. Bruce pastored Evangelical churches for twenty-five years in Ohio, Texas, and Michigan. Bruce left the ministry in 2005, and in 2008 he left Christianity. Bruce is now a humanist and an atheist.
Connect with me on social media:
Your comments are welcome and appreciated. All first-time comments are moderated. Please read the commenting rules before commenting.
You can email Bruce via the Contact Form.