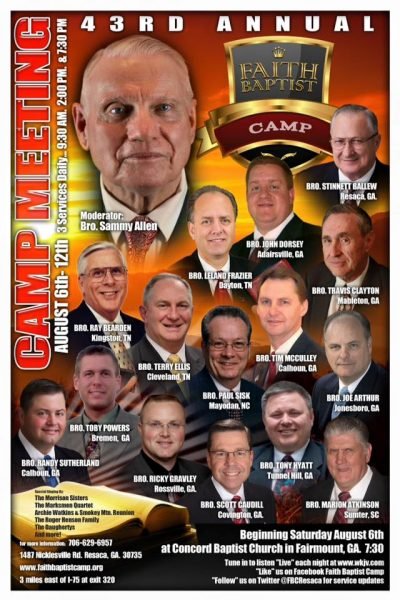 A Campmeeting is a scheduled time when Christian people get together for a few days or a week of concentrated preaching and singing. Some campmeetings are held at churches, while others are held at campgrounds. People often stay at the campgrounds or rent motel rooms. Meals are often provided for attendees.
Most campmeetings take place south of the Mason-Dixon line. I attended my first campmeeting at an Independent Fundamentalist Baptist (IFB) church in Rossville, Georgia. A pastor friend of mine from an IFB church east of Columbus invited me to go to the campmeeting with him and several men from his church.
Our trip from Columbus to Rossville was frightening, to say the least. My pastor friend was quite a control freak. He insisted on driving the entire 500 miles to the campmeeting. What was frightening, you ask? My friend knew one speed — fast — often driving in excess of 90 miles per hour. What made matters worse was the fact that my friend spent most of the trip with his head turned to the right, talking to me in the front seat. I spent most of the trip hanging on for dear life. Needless to say, I never went anywhere with him again. We later had a falling out. My friend took issue with some of my theology, and decided he could no longer "fellowship" with me. He is now divorced, and no longer in the ministry. (He replaced a pastor who was caught having sex with his secretary in the church office while congregants were out visiting their bus routes.)
Besides the white-knuckle ride to Rossville, several things stand out about the trip and campmeeting.
At the time, I was quite the Fundamentalist Baptist preacher. I had a long list of things I would not do out of wanting to maintain a pure testimony bAt the time, I was quite the Fundamentalist Baptist preacher. I had a long list of things I would not do because I wanted to maintain a pure testimony before God and man. One thing I would not do is eat at restaurants that served alcohol. That meant, of course, the only place I could get a steak was at Ponderosa. Remember their streaks? Yeah. Not good. Thank God for atheism and Texas Roadhouse.
Several hours into our trip, my pastor friend decided it was time to stop for lunch. He, of course, didn't have a problem eating at restaurants that served alcohol. So he and his fellow church members chose a restaurant that served booze. I explained my "conviction" to him, and asked that he choose an alcohol-free establishment. Instead, he laughed at me and said I could sit in the car. So, I did. Needless to say, our relationship went south from there.
What stood out the most to me was the campmeeting itself. The campmeeting featured numerous notable IFB preachers. The preaching itself was challenging, convicting, and quite entertaining. What was bizarre was the behavior of many the attendees. The services from start to finish were emotionally charged. Both the music and preaching stoked emotions, leading to behaviors I had never seen before (I was 31 at the time). I saw grown men (and a few women) running the aisles, standing on the pews, waving towels and Bibles, hooting and hollering, and egging the preachers on with shouts of AMEN! and PREACH IT, BROTHER! What I experienced was the Baptist equivalent of a Pentecostal/Charismatic church meeting — without the speaking in tongues. I found the first night to be quite troubling, but by night three, I had joined the nonsense.
The next year, I took a group of people from Somerset Baptist Church in Mt. Perry, Ohio to a campmeeting at Midway Bible Baptist Church in Fishersville, Virginia. This was, and still is, the home church of Evangelist Don Hardman.
Somerset Baptist was located in the Appalachian foothills of southeast Ohio. Some of the people who went to the campmeeting with me had never been out of southeast Ohio. One woman openly wept as we crossed the bridge over the Ohio River into West Virginia.
This campmeeting was more structured than the one in Georgia, but had similar preaching and music. One thing that stood out to me was how many of the church's members had cancer and serious illnesses. I later wondered if the area was some of sort of environmental cancer cell.
I also attended one IFB campmeeting in Ohio, held at Fellowship Baptist Church in Lebanon. Fellowship Baptist owns and operates the Fellowship Tract League. As with the meeting in Rossville, the preaching and music at Fellowship Baptist's campmeeting were emotionally stirring. This led to all sorts of crazy behavior. Normal for regular campmeeting attendees, but One Flew Over the Cuckoo's Nest-crazy to first-timers.
Fellowship Baptist provided free housing and meals for those in Fellowship Baptist provided free housing and meals for those in attendance. I brought Polly and our children to the campmeeting. Her first night at the meeting was definitely an eyeopening experience for her, as she had never experienced worship southern-style. The churches I pastored were quite staid emotionally, so being around a bunch of people hollering, shouting, standing on pews, and generally acting like they were on crack was quite a phenomenon.
Two things stand out from this campmeeting. First, when we walked into our motel room, there was a used condom on the floor. Ugh. Second, the motel offered free HBO. I was quite anti-TV at the time, and fearful that I might be tempted to watch the Home Barf Office — as I often called HBO in my sermons. To keep myself from giving in to sin, I broke one prong off of the TV's plug. Yeah, I know, bizarre behavior, but try to understand my actions in light of the Bible verses that say:
And if thy right eye offend thee, pluck it out, and cast it from thee: for it is profitable for thee that one of thy members should perish, and not that thy whole body should be cast into hell. And if thy right hand offend thee, cut it off, and cast it from thee: for it is profitable for thee that one of thy members should perish, and not that thy whole body should be cast into hell. (Matthew 5:29-30)
In my IFB mind, breaking off the electric plug prong was the equivalent of plucking out my eye or cutting off my hand. The goal was to abstain from all appearance of evil. (1 Thessalonians 5:22)
By the early 1990s, I had moved on from IFB campmeetings to staid, emotion-free Reformed Baptist/Sovereign Grace meetings. While some attendees would say AMEN when agreeing with the preacher, everyone stayed in their seats. Overt emotional expressions were frowned upon.
It is clear, at least to me, that worship style and practices are driven by cultural and tribal norms, not God/Holy Spirit. Have you ever been to a campmeeting? Please share your experiences in the comment section.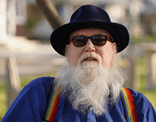 Bruce Gerencser, 65, lives in rural Northwest Ohio with his wife of 44 years. He and his wife have six grown children and thirteen grandchildren. Bruce pastored Evangelical churches for twenty-five years in Ohio, Texas, and Michigan. Bruce left the ministry in 2005, and in 2008 he left Christianity. Bruce is now a humanist and an atheist.
Connect with me on social media:
You can email Bruce via the Contact Form.
Your comments are welcome and appreciated. All first-time comments are moderated. Please read the commenting rules before commenting.