Spaniard VIII, a proud Fundamentalist Christian, runs a boutique blog titled, Spiritual Minefield: Exposing the spiritual landmines of the devil through the Word of God. Spaniard VIII attracts a small band of like-minded apologists, people who are unwilling or unable to see anything other than their peculiar brand of Evangelical Christianity — which they arrogantly and self-righteously call "True Christianity®."
Spaniard VIII has written about me, long-time commenter John Arthur, and the readers of this blog now and again. He routinely lies about people and refuses to understand why people leave Christianity. In Spaniard VIII's mind, everything is reduced to Satan and spiritual weakness. Atheists such as I were never True Christians®, and when life got hard, we left Christianity so we could "sin."
Recently, Spaniard VIII wrote a post titled, (Part 10) The True Darkness of Atheism. Here's some of what he had to say:
This John Arthur is full of hatred, bitterness, and rage against a righteous God, Jesus Christ because John Arthur is in darkness and serves his father the devil. If you notice that all these godless people hate the Word of God, proving its power and truth in it. Satan hates God's Word because it saves those who believe in what it says about Jesus Christ. No wonder Satan's followers also detest the Scriptures.

People who are godless, like atheists, have a pure hatred towards the Living God, Jesus Christ, who is the Savior of the world because Satan is their god. You see this with their vile and filthy mouth against Jesus Christ and His saints. If you are a Christian and have dealt with one, you know exactly what I'm talking about. There are even atheists who have committed their blogs to attack the person of Jesus Christ and even try to persuade believers, if they can, to abandon their Lord and Savior as they have done. They never had a spiritual backbone, the Holy Spirit, from keeping their faith from collapsing

….

Anyone who curses God by blaspheming and attacking God's Word, calling the truth, a lie, and the lie [the theory of evolution] the truth, comes from demonic spirits who live in their hearts.

If you notice, when a fake Christian apostatizes, they become full of rage against Jesus Christ. Why does this happen? Well, what happens when the light is turned off? Darkness appears, resetting them to default, sin. The absence of light is darkness, not the other way around. So, when a person abandons God, darkness fills their heart, and you will see them get from somewhat good, to bad, then worse, and finally unapproachable with the gospel.
Atheists hate the Evangelical God
Atheists hate the Protestant Christian Bible
Atheists speak vile, filthy things against Jesus
Atheists speak vile, filthy things against True Christians®
Atheists have demonic spirits living inside of them
Atheists rage against the Evangelical God
Atheists are filled with darkness
Atheists are unapproachable with the Evangelical gospel
Calling me a "fake Christian" — meaning I never was a True Christian®, I never was a follower of Jesus — Spaniard VII says "I committed my blog to attack the person of Jesus Christ and even try to persuade believers, if they can, to abandon their Lord and Savior as I have done." This, of course, is a lie, but Spaniard VIII is convinced that my goal as a writer to attack the dead Jesus and persuade his followers to become atheists. Evidently, telling my story and critiquing Evangelical Christianity are attacks on Jesus and attempts to lead people away from the one true faith. Amazing the "power" I have over Jesus' followers.
Spaniard VIII refuses to give the readers of this blog credit for thinking for themselves. I write, people read, and it is up to them to weigh the merits of what I've said. Have people deconverted after reading my writing? Sure. But I am not an atheist evangelist. As I have stated countless times before, my objective as a writer is to help those who have questions and doubts about Christianity and to help and encourage those who have left Christianity. I make no effort to evangelize, nor do I take my show on the road, commenting on Christian blogs or engaging believers on social media. I am never the initiator of contact. Having bullied and abused unbelievers during my preaching days, I am sensitive to the harm caused by such tactics.
Spaniard VIII also refuses to let atheists comment on his blog. He's known for deleting the comments of anyone who disagrees with him. I suspect, deep down, he fears what "truth" other than his might do. So, he makes sure that the only "truth" his readers hear is his — or what he perceives is God's. Granted, blog owners are free to make their own rules of engagement. I do so on this blog. However, Spaniard VIII walls off his blog from outside intrusion, not even allowing those he preaches against to comment.
Let me conclude this post with three comments lifted from Spaniard VIII's latest blog post. I think readers will find them enlightening:
Caeli:
Only the Holy Spirit can reach the most calloused soul. There comes a time when being miserable becomes so miserable and for some, this becomes the pivotal point to salvation and to the believers, growth.

I can understand the temptation to abandon God when things blow up. As believers, we expect God to step in and when He allows us to go through the most trying times, it's hard to see past the pain. But without the pain, we will never have an experiential grasp on the nature of choice, faithfulness, and above all, love. Jesus says, "Follow me" and to follow leads to no other road but one.
Londoninvestigates:
It's best not to engage with these demonoids who hate. The same people who wanted Christ crucified.

Be true to yourself and Christ.
Spaniard VIII:
These series are for exposure, to show people what is in the heart of atheists.
Spaniard VIII says that he KNOWS what's in the "heart" of atheists. First, what evidence does he have for his claim that atheists have "hearts?" Second, how does he KNOW what's in the hearts of unbelievers? Third, why does he make no attempt to see atheists as they are, and not as the caricature he has built up in his mind? Fourth, does he really believe that atheists are vile, evil people, filled with Satan; that we are empty of love, kindness, and decency?
While I pointedly address Spaniard VIII's errant beliefs, I have no doubt that he is a good husband and father. I know numerous Christians who are decent people, despite holding beliefs I consider irrational. Can he not see that I am more than an atheist; that I am a loving and kind husband (of 42 years), father, and grandfather; that I love my neighbors as myself and go out of my way to not cause harm to anyone — mosquitoes and flies excepted? Spiders, for example, co-inhabit with the Gerencsers. It is not uncommon for us to be watching TV and see a spider rappelling down from the ceiling. And then there was the mouse who entertained us a few years ago. We'd be watching TV and out he would pop, running across the top of the entertainment center, sometimes stopping to say, "how ya doing, folks?" My grandchildren have heard Grandpa's lecture numerous times about not stepping on ants, pulling the wings off of insects, etc. I have a deep love and admiration for all living things. This is the kind of man I am, but unfortunately, all Spaniard VIII sees is a man he thinks is vile and wicked; a man condemned by his God and his peculiar interpretation of the Bible. Not to toot my own horn — oh, hell I am going to do it — Spaniard VIII is missing out on knowing (and understanding) a good man; he's missing out on knowing people who may be unbelievers, but are some of those most loving, humane, and sympathetic people I know.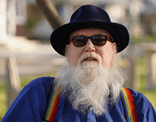 Bruce Gerencser, 65, lives in rural Northwest Ohio with his wife of 44 years. He and his wife have six grown children and thirteen grandchildren. Bruce pastored Evangelical churches for twenty-five years in Ohio, Texas, and Michigan. Bruce left the ministry in 2005, and in 2008 he left Christianity. Bruce is now a humanist and an atheist.
Connect with me on social media:
You can email Bruce via the Contact Form.
Your comments are welcome and appreciated. All first-time comments are moderated. Please read the commenting rules before commenting.