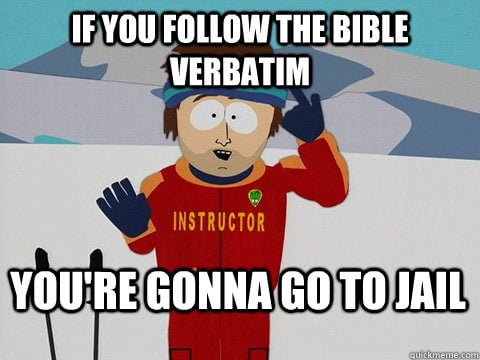 All young-earth creationists are literalists, that is except when they aren't. Let me illustrate this for you.
Six times in Genesis 1 the Bible says, the morning and even were the first, second, third, fourth, fifth, sixth day. Young-earth creationists are emphatic that these days were literal 24-hour days.
In Genesis 2:1, the Bible states that on the seventh day God ended his creative work. According to other verses in the Bible, God rested on the seventh day. So God only rested one literal 24 hour day? I don't know of any young-earth creationist who believes this.
God gave Adam the following command in Genesis 2:15-17:
And the Lord God took the man, and put him into the garden of Eden to dress it and to keep it, And the Lord God commanded the man, saying, Of every tree of the garden thou mayest freely eat: but of the tree of the knowledge of good and evil, thou shalt not eat of it: for in the day that thou eatest thereof thou shalt surely die.
Did Adam eat of the tree of knowledge of good and evil? Did Eve? Of course they did. Did they die on the very day they ate the proverbial apple? Nope. According to Genesis 5:5:
. . . and all the days that Adam lived were nine hundred and thirty years: and he died.
Do you see the point I am making? Young earth creationists are literalists until it contradicts their interpretation of the Bible, then all of a sudden Adam dying on the day he sinned is meant to be taken metaphorically, or the word "day" really means a period of time.
I will repeat what I have said countless times: no one, not even Ken Ham, takes every verse in the Bible literally. Whenever it suits them or whenever it will bolster their arguments, Evangelicals are quite willing to abandon literalism.
Bruce Gerencser, 66, lives in rural Northwest Ohio with his wife of 45 years. He and his wife have six grown children and thirteen grandchildren. Bruce pastored Evangelical churches for twenty-five years in Ohio, Texas, and Michigan. Bruce left the ministry in 2005, and in 2008 he left Christianity. Bruce is now a humanist and an atheist.
Connect with me on social media:
Your comments are welcome and appreciated. All first-time comments are moderated. Please read the commenting rules before commenting.
You can email Bruce via the Contact Form.