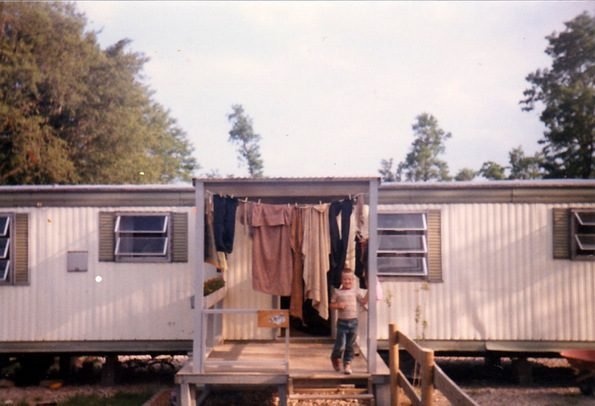 I spent the first fifty years of my life in the Christian church. Having been baptized a Lutheran and later making a public profession of faith in a Baptist church at the age of fifteen, I have been a part of the Christian church most of my life. I preached my first sermon at the age of fifteen, attended an Independent Fundamentalist Baptist (IFB) college as a young man, married an IFB pastor's daughter, and pastored churches for twenty-five years in Ohio, Texas, and Michigan.
I never went through the angst many people go through when determining what to do with their lives. At the age of five, I told my mother I wanted to be a preacher when I grew up. From the age of fifteen to the age of fifty, I was a preacher of the gospel of Jesus Christ. I had no doubt that God had called me to preach to sinners the unsearchable riches of Christ.
I am an all-in kind of guy. I have little tolerance for doing things halfway. When Jesus called to me and told me to leave my proverbial nets, I did so immediately. I was a devoted, committed, sold-out follower of Jesus Christ. My passion was for God, his church, and the Word of God. For twenty-five years, my life was consumed by the ministry and the work I believed God had called me to do.
Up until I started blogging in 2007, no one had ever doubted that I was saved, that I was a devoted, committed follower of Jesus. A person who years ago knew me quite well, was shocked when she heard that I was no longer a pastor and that I was now an atheist. She said, Butch (my family nickname) was the real deal. If he's not a Christian, no one is. It is important to understand this point. NO ONE . . . out of the thousands of people I came in contact with, ever expressed doubt about my salvation, my personal relationship with Jesus. Not one teacher, not one deacon, not one evangelist, not one church member, not one fellow pastor, ever expressed doubt that I was a Christian or that I was a God-called preacher.
Those who now contend I was never a Christian or that I was a false teacher make their judgments based not on the evidence of the life I lived, but on their peculiar interpretations of the Bible. For the Baptists, Calvinists, and many Evangelicals, the only way to square my life with their theology is for them to say I never was a Christian, or that I still am a Christian, just backslidden. Arminians have less of a problem explaining my life. While they are "troubled" by my apostasy, they recognize that I once was a Christian. In their eyes, I fell from grace, and I am now no longer a Christian.
I realize that I am a rare bird. While there are many men (and women) who leave the ministry, few leave it as late in life as I did. Many of the notable preacher-turned-atheists apostatized and left the ministry in their twenties and thirties. I left at the age of fifty. This does not make me special in any way, but it does make me an exception to the rule. And this is why Evangelicals have such a hard time understanding how it is possible for a man to be a Christian for most of his life and to pastor churches for twenty-five years, to then just walk away from it all and renounce Jesus.
Those who know me personally have a difficult time wrapping their mind around Pastor Bruce being an atheist. To quote Nicodemus in John 3, how can these things be? But whether they can understand it or not, here I am. I once was a Christian, I once was a man of God, and now I am not.
My life was motivated by the following verses:
Then said Jesus unto his disciples, If any man will come after me, let him deny himself, and take up his cross, and follow me, For whosoever will save his life shall lose it: and whosoever will lose his life for my sake shall find it. (Matthew 16:24,25)

Wherefore seeing we also are compassed about with so great a cloud of witnesses, let us lay aside every weight, and the sin which doth so easily beset us, and let us run with patience the race that is set before us, looking unto Jesus the author and finisher of our faith; who for the joy that was set before him endured the cross, despising the shame, and is set down at the right hand of the throne of God. (Hebrews 12:1,2)

For though I preach the gospel, I have nothing to glory of: for necessity is laid upon me; yea, woe is unto me, if I preach not the gospel! (1 Corinthians 9:16)

Love not the world, neither the things that are in the world. If any man love the world, the love of the Father is not in him. For all that is in the world, the lust of the flesh, and the lust of the eyes, and the pride of life, is not of the Father, but is of the world. (1 John 2:15,16)

For what is your life? It is even a vapour, that appeareth for a little time, and then vanisheth away.For that ye ought to say, If the Lord will, we shall live, and do this, or that. (James 4:14,15)
These verses, along with my commitment to follow every command in the Bible, led me to a life of self-denial and economic simplicity. While most people around me were focused on earning a living, providing for their families, and accumulating material goods, I was focused on making just enough money to keep a roof over my family's head. I took seriously the command to "learn in whatever state I am to be content." I practiced a Baptist version of voluntary poverty, and as the head of the home, I led my family to do the same. I figured that whatever money and material goods we had were what God wanted us to have. To desire, require, or want more was a sure sign that I was in love with the things of the world, and not God.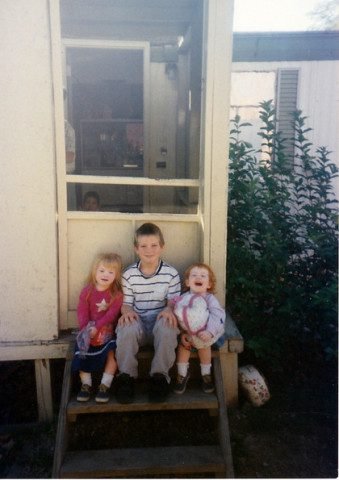 Over the course of twenty-five years in the ministry, my family and I were economically at or below the poverty line. For many years, we drove junk cars, and for five years our family of eight lived in a three-bedroom (large closets) 12'x60' mobile home. I paid $2,800 for the mobile home and parked it next to the church. It was a ratty old mobile home to which I had to do extensive work so we could live in it. As I look back on it now, I see this mobile home as a snapshot of my/our life of self-denial.
Somewhere in the late 1990s, I woke up one day, looked around, and realized that our family was the only one living this way. Everyone else, pastor friends included, were busy building their kingdoms on this earth. Their focus was on their jobs, careers, homes, lands, education, and retirement. My focus was on living a voluntary life of self-denial so that I might preach the gospel. I saw myself as following in the steps of Jesus and Paul. Why wasn't anyone else living this way?
I still think my interpretation of the Bible was essentially correct. It wasn't that I took Christianity too seriously, it was that most everyone else didn't take it seriously enough. After all, did Jesus not say:
No man can serve two masters: for either he will hate the one, and love the other; or else he will hold to the one, and despise the other. Ye cannot serve God and mammon, Therefore I say unto you, Take no thought for your life, what ye shall eat, or what ye shall drink; nor yet for your body, what ye shall put on. Is not the life more than meat, and the body than raiment? (Matthew 6:24, 25)

Lay not up for yourselves treasures upon earth, where moth and rust doth corrupt, and where thieves break through and steal: but lay up for yourselves treasures in heaven, where neither moth nor rust doth corrupt, and where thieves do not break through nor steal:  for where your treasure is, there will your heart be also. (Matthew 6:19,20)
My heart was squarely focused on Jesus. I treasured the Word of God and preaching the gospel. I saw the world neatly divided into saved and lost. As a saved man, one who believed in a literal Hell, how could I idly sit by while knowing that most people did not know the saving grace of Jesus Christ? I spent most of my married life hustling for Jesus. Preaching, teaching, witnessing, preaching on the street, preaching at nursing homes, visiting prison inmates, knocking on doors, visiting bus routes, handing out tracts, and starting churches. Like the Apostle Paul, I believed, woe unto me if I preach not the gospel!
I took seriously Ezekiel 3:17-19:
Son of man, I have made thee a watchman unto the house of Israel: therefore hear the word at my mouth, and give them warning from me, When I say unto the wicked, Thou shalt surely die; and thou givest him not warning, nor speakest to warn the wicked from his wicked way, to save his life; the same wicked man shall die in his iniquity; but his blood will I require at thine hand. Yet if thou warn the wicked, and he turn not from his wickedness, nor from his wicked way, he shall die in his iniquity; but thou hast delivered thy soul.
I believed that God would hold me accountable for every soul that went to Hell because I did not witness to them. I felt I was duty-bound to warn sinners of their wicked ways and of the judgment to come. My preaching, methodology, and lifestyle reflected this. Even though I was more committed than anyone else I personally knew, I also knew I was far from perfect, that I was far from being as committed as I could be. I pleaded with God to give me more of his power, more of his Spirit, just as he gave to great preachers like DL Moody, Hudson Taylor, David Brainerd, John Wesley, Charles Finney, Adoniram Judson, and Charles Spurgeon.
I left the ministry in 2005, and I left Christianity in 2008. It is hard for me not to look back on my/our life of self-denial without bitter regret. Yes, I helped a lot of people, and yes, in spite of our poverty, we had a good life. But, a lifetime of self-denial has put my wife and me in an economically difficult place. We are by no means poor. We have more than enough money to pay our bills and live a comfortable life. We still live simply, and outside of a 2020 Ford Edge sitting in the driveway, our home and its furnishings are modest. When we bought our home in 2007, we bought a fixer-upper, and we have been fixing it up and down ever since. Our life is comfortable, dare I say blessed. But I can't help thinking about where we might now be if I had not been so focused on living a life of self-denial. Last year, I officially "retired." I draw a minimal social security check because I didn't pay social security tax for most of the years I was in the ministry. I have no other retirement plan. Polly will likely have to work after she reaches retirement age. I deeply regret this, but decisions have consequences, and because I made a decision years ago to not pay social security tax, and because I thought Jesus and the church would take care of me when I was old, I made no other plans for the future. After all, I planned on dying with my boots on.
Life is one long lesson learned. How about you? Were you a devoted follower of Jesus? Did you take seriously the verses I mentioned in this post? If so, what did your life of self-denial look like then and now? Did you do without for the sake of Jesus and the church? Please share your experiences in the comment section.
Bruce Gerencser, 66, lives in rural Northwest Ohio with his wife of 45 years. He and his wife have six grown children and thirteen grandchildren. Bruce pastored Evangelical churches for twenty-five years in Ohio, Texas, and Michigan. Bruce left the ministry in 2005, and in 2008 he left Christianity. Bruce is now a humanist and an atheist.
Connect with me on social media:
Your comments are welcome and appreciated. All first-time comments are moderated. Please read the commenting rules before commenting.
You can email Bruce via the Contact Form.