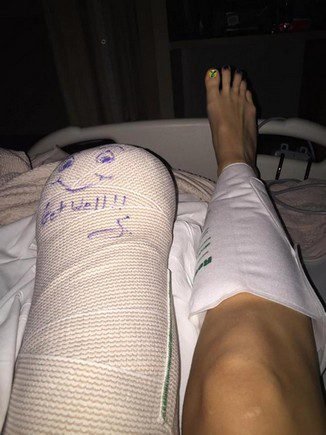 Most Christians are taught to give thanks for everything. The Apostle Paul said in 1 Thessalonians 5:18:
In every thing give thanks: for this is the will of God in Christ Jesus concerning you.
No matter what, the will of God is for them to always, in every circumstance, give t-h-a-n-k-s. When tempted to whine, complain, or pity themselves, Christians are reminded of the pain and suffering Jesus endured on their behalf. No one has ever suffered like Jesus — or so Christians are told by their pastors, anyway. (Please see I Wish Christians Would be Honest About Jesus' Three Day Weekend.)
As with all of us, bad shit happens to Christians. They get sick; they have accidents; they are at the wrong place at the wrong time, or any of the other countless misfortunes that may befall humans. They contract sicknesses and diseases, so much so that it makes an outsider wonder if the Great Physician has lost his license to practice medicine.
When it comes to physical, emotional, and mental maladies, Christians are in the same boat with the rest of us. The difference is they have to pretend that what is going on in their lives is good for them, that God had a wonderful, awesome, supercalifragilisticexpialidocious plan for their lives. They must always look on the bright side. They know every word of the Footprints in the Sand Poem by Mary Stevenson:
One night I dreamed a dream.
As I was walking along the beach with my Lord.
Across the dark sky flashed scenes from my life.
For each scene, I noticed two sets of footprints in the sand,
One belonging to me and one to my Lord.

After the last scene of my life flashed before me,
I looked back at the footprints in the sand.
I noticed that at many times along the path of my life,
especially at the very lowest and saddest times,
there was only one set of footprints.

This really troubled me, so I asked the Lord about it.
"Lord, you said once I decided to follow you,
You'd walk with me all the way.
But I noticed that during the saddest and most troublesome times of my life,
there was only one set of footprints.
I don't understand why, when I needed You the most, You would leave me."

He whispered, "My precious child, I love you and will never leave you Never, ever, during your trials and testings.
When you saw only one set of footprints,
It was then that I carried you."
Jim Steinhauer spoke for many of us when he wrote:
Sorry to have to break it to you, Jesus, but those are obviously my footprints.

Look closely. See how those footprints have that wavy tread pattern on the bottom, just like my docksiders? If they were yours, they'd make a sandal mark, like the footprints next to mine a little farther up the beach when I was going through better times.

See the footprints at the time of my divorce? You'll notice that the sandaled footprints drift off from the docksider ones. They lead to that picnic bench over there, the one with the cigarette butts scattered all over. It appears that in my darkest hour, instead of carrying me, you sat on a stump and had a couple of smokes. Real helpful, Jesus. Real helpful.

Sure, the sandal footprints came back when I got that big job promotion, but right at the point where my son Tommy died, they veer off again. Actually, now that I look again, it seems like there's an unusually large distance between each of the sandal-wearer's footprints around the time of my son's death, as if the person were actually running away.

I'm sorry, Jesus, but your whole story about carrying me during my worst moments just doesn't gibe with the facts. Besides, you'd certainly think a person would remember being carried by the Son of God, right? That's a pretty memorable thing, wouldn't you say? Well, either I've got amnesia, or you're a liar, because I don't recall ever being toted around by the Messiah. The only thing I do remember about my worst moments on the path of life is the horrible feeling of plodding along the cold sand all alone while icy rain fell in sheets and chill winds assailed me.

So thanks, Jesus. Thanks a bunch. You were really there for me when things got tough.
I realize that thanking God amidst adversity and suffering can be a coping mechanism. One night, in the midst of a bout of horrible pain, I found myself crying out to the God of Ceiling®. While my utterance brought no answer from the Great Physician, it did help to distract me for a moment from the unrelenting pain. My utterance also caused me to chuckle and say, hey, Bruce, who ya taking to? Dumb ass!
I don't want to rob anyone of anything that helps get them through the rough times of life. But, when I read news reports of someone praising God for their sickness, disease, or accident, it does cause me to wonder if the person is living in denial or has been so conditioned by their religious training that they cannot see life as it is. Such is the case of Rebekah DiMartino.
On April 15, 2013, DiMartino was standing 3 feet away from the Boston Marathon finish line when a bomb went off. The blast caused severe damage to DiMartino's left leg. Weeks later, the leg had to be amputated. She now has a prosthetic leg with the word BLESSED embroidered across the front of it.
Several years ago, DiMartino told her story (link no longer active) at St Matthew's Baptist Church in Louisville, Kentucky:
"Whatever you are going through in your life, don't give up because God has got a plan for everything. And everything that we go through, it ultimately works together for your good." "I took everything in the back of the legs so that Noah [her son] would be saved. That is God's purpose [for me]. I cannot feel sorry for myself in the least bit because I know my son is running around like normal today. … I thank God every day for my little boy still being here."
While I certainly sympathize with DiMartino, and I somewhat appreciate her positive outlook on her life after the bombing, I cannot accept or embrace a God who uses a terrorist and a bomb to blow someone's leg off. Using DiMartino's God's-got-a-purpose-for-everything logic, the deaths of Krystle Campbell, Lu Lingzi, and Martin Richard, all victims of the same bombing, happened because God had a purpose and plan for them. And the same could be said for policeman Sean Collier who was shot to death by the bombers. According to the Boston Public Health Commission, 264 people were injured in the bombing. Like DiMartino, 16 people lost a limb, and three people lost multiple limbs. Is this really God working out his plan for all of these people?
I understand the religious conditioning required to think like this. I used the same "reasoning" for years to "explain" my health problems. God has a plan for my life. God is working all things out for my good. God is teaching me to trust him more. God is drawing me closer to him. God is testing my faith. God is chastising me so that I might draw closer to him. Christian clichés — that's all these are. The truth is, for Rebekah DiMartino, she was the victim of a terrorist bombing. She was at the wrong place at the wrong time, and her son, fortunately, was at the right place at the right time.
These kinds of stories should remind us that our lives hang by a slender thread. An accident, a genetic abnormality, a stray bullet, a moment of clumsiness or inattention, along with a plethora of diseases, can snuff out our lives in the blink of an eye. As an atheist, I have no intention of praising an absent or fictional God for the suffering and pain I must live with every day of my life. Instead, I embrace the pain and suffering and do my best to make the most of it. Certainly, that's what DiMartino is doing. The only difference is that she thinks the Christian God is behind the wizard's curtain orchestrating the events of her life.
Bruce Gerencser, 66, lives in rural Northwest Ohio with his wife of 45 years. He and his wife have six grown children and thirteen grandchildren. Bruce pastored Evangelical churches for twenty-five years in Ohio, Texas, and Michigan. Bruce left the ministry in 2005, and in 2008 he left Christianity. Bruce is now a humanist and an atheist.
Connect with me on social media:
Your comments are welcome and appreciated. All first-time comments are moderated. Please read the commenting rules before commenting.
You can email Bruce via the Contact Form.