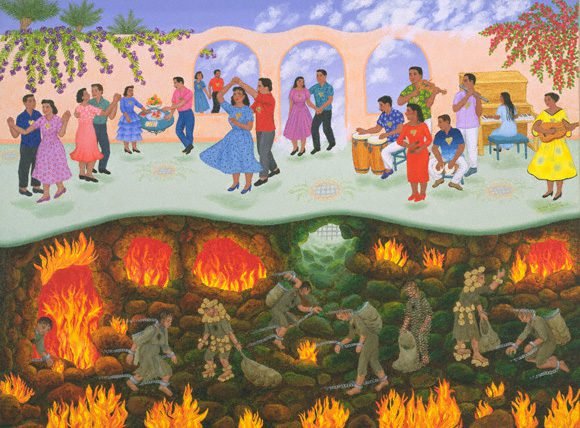 Years ago, three young Ohio boys fell through the ice on the Sandusky River and drowned. What a terrible, terrible tragedy. Two of the boys were brothers.
The pastor of the church where their funeral was held said the following: (link no longer active)
A minister has told mourners that three Ohio boys who fell through ice and died together in a river are now playing together in heaven.
This statement is restated many different ways during countless Christian funerals:
Granny is running around Heaven now with no pain!
Gramps is in Heaven now and doesn't need a wheelchair to get around anymore.
Momma is in Heaven, where she has no more pain, sickness, disease, or suffering.
Here's the problem . . .
Statements such as these are not true.
Historic, orthodox Christian doctrine teaches that when people die, they go to the grave. They are DEAD. The body remains in the grave until the resurrection. At the resurrection of the just and unjust, those who have died will receive new bodies (1 Corinthians 15).
So why is it that preachers lie about the present location of the dead? Why did I, as an Evangelical pastor, lie to numerous grieving families?
Sentimentality.
Families are grieving. They have lost a loved one. They want to believe there is a divine purpose, and they want to believe that life continues beyond the grave.
So preachers concoct grand stories about Heaven and the immediate transport of the dead from earth to the sweet-by-and-by. Never mind the fact that the Bible does not say this.
Belief in the afterlife requires faith. No one has ever come back from the dead to tell us what lies beyond the grave (if anything). Anyone who says he has is a liar.
Even Jesus himself didn't talk about the afterlife after his resurrection from the dead. His disciples did, the apostles did, but not Jesus. He told his disciples that wherever he was, they too would be someday. He never mentioned one time any of the things commonly heard in Christian funeral sermons.
Even the notion of spending eternity in Heaven is not taught in the Bible. Search all you might, it is not there.
What IS taught in the Bible is that followers of Jesus Christ will live forever in God's eternal kingdom (on a new earth). On this point, the Jehovah's Witnesses are probably closer in belief to what the Bible actually teaches than many Evangelical Christians.
The same could be said about Hell. Those who are not followers of Jesus will NOT spend eternity in Hell. The Bible doesn't teach that. The Bible DOES teach, however, that unbelievers will spend eternity in the Lake of Fire (Revelation 20:14).
Sentimentality allows preachers, who are supposed to be guardians of Christian doctrine to ignore what the Bible teaches in favor of telling stories to comfort grieving families.
I understand WHY they do it, but let me be clear: Preacher, if you can't tell the truth when it really matters the most, how can you expect people to believe anything you say? If sentimentality allows you to ignore what the Bible teaches about Heaven (and Hell), how do we know that you are telling the truth any other time? Not telling the truth in hard circumstances results in a loss of credibility.
As an atheist, I have serious reservations about the notion of an afterlife. At this point in life, I lack the requisite faith necessary to believe that there's life after death. I am of the opinion that each of us had best get to living this present life because it is the only one we have. That said, if you are a Christian, you are bound by what the Bible teaches. As a preacher, you are obligated to tell the truth. In fact, you owe it to your congregants to tell them the truth, even when it is hard to do so.
Of course, remove sentimentality from the equation and the Christian gospel and the promise of eternal life lose their luster. Telling grieving family members that Grandma — who attended church for 70 years and gave vast sums of money to the church — is lying in a grave, rotting until Jesus resurrects her a day, a hundred years, or twenty millennia from now doesn't have as much appeal as, Grandma is in Heaven right now, in perfect health, praising Jesus day after day. She can't wait for you to die and join her in Heaven, so the family circle will be unbroken.
Evangelicalism preaches a deferred payout. Yes, Jesus saves sinners, but the Christian life is no picnic. Life is filled with pain, heartache, and suffering. Preachers know they can't fool their congregants about their lives. The evidence is clear: life is hard, and then you die. So, they make promises of a blissful, pain-free afterlife. The payout is immediate. Draw your last breath on earth, and draw your next breath in Heaven (or Hell). Preachers have no evidence for these promises, so they tell flowery, sentimental lies, hoping that people will buy what they are selling. Their goal is to get sinners to close the eternal life deal without ever reading the fine print. The fine print — which is found in the Bible — tells the purchaser that all promised rewards happen sometime in the distant future. Until then, your worm-eaten, rotting corpse will remain in the grave. Evangelical preachers have been making eternal life promises for centuries. These preachers come and go, live and die, and much like those to whom they promised eternal life, they lie decomposing in their graves. There they shall remain until Jesus returns to earth and resurrects them from their graves. Given the fact that Jesus promised to return in the first century, I think we can safely conclude that he, too, is lying in a grave, never to arise again from the dead.
Bruce Gerencser, 66, lives in rural Northwest Ohio with his wife of 45 years. He and his wife have six grown children and thirteen grandchildren. Bruce pastored Evangelical churches for twenty-five years in Ohio, Texas, and Michigan. Bruce left the ministry in 2005, and in 2008 he left Christianity. Bruce is now a humanist and an atheist.
Connect with me on social media:
Your comments are welcome and appreciated. All first-time comments are moderated. Please read the commenting rules before commenting.
You can email Bruce via the Contact Form.