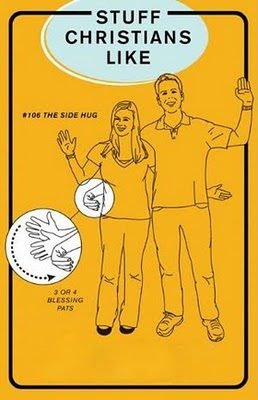 Repost from 2015-2016. Edited, updated, and corrected.
Hey girlfriend, when you feel tempted to hug your boyfriend, hug your dad, brother, sister, or an old lady in the church instead. Nothing quenches sexual desire like hugging a male family member or ancient Sister Bertha, right?
Paula Hendricks, a writer for the Lies Young Women Believe website, had this to say to young women who doubted an invisible Jesus could meet their sexual longings and desires:
Apparently I'm not the only one who has wondered how God can satisfy when all I want is a pair of strong arms to hold me close. Here's what Rebecca wrote me:

"The biggest thing I think my crush can give me that God can't is his strong arms wrapped around me. Although my crush has yet to hold me in his arms, his physical closeness sends shivers throughout my body. I know that God is always there for me . . . but sometimes my feelings get the better of me, and all I want to do is be wrapped up in my crush's arms and attention."

Grace added:

"I think what always gets me is that God isn't physically there like a guy is. He can't wrap his arms around me. Sometimes I just want that."

And finally, Isabella said:

"I have often thought, I wish God could come down here and give me a big bear hug. Then I would really be in love with Him."

But here's the thing . . . He has come down! And while He was here, He picked up kids and cradled them in His arms. (You have to admit, that shows a tender heart—few guys walk around doing the same thing!)

I know He's not physically here now…But one day soon, we will see Him. We will be with Him.

When Christ comes again to "marry" the Church, His Bride, He will likely hold us too…

…Now that is something to look forward to! Jesus Christ is not an idea; He is a Person. A Divine Person with arms and legs and beautiful probing eyes. He loves you. Enough to spread His arms wide in order to bleed so you might be healed. And if you have put your trust in His death and resurrection on your behalf, you will soon see and know Him fully.

So in the meantime, as you wait for Him, by all means, hug! No, not your crush. Hug your dad. Hug your mom. Hug your brothers and sisters. Hug your friends. Hug those old ladies at church…
I wonder if Hendricks has heard about the Christian side hug, a type of hug sexually aware, virgin Evangelical young people can give one another without causing sexual stirring or lust?
Rational Wiki describes the Christian side hug this way:
The Christian side hug is a means by which young Christians can show affection for each other without engaging in possibly tempting and impure front-to-front contact.

Instead of hugging face-to-face, the huggers stand side-by-side, and can be facing either the same way or in opposite directions. Unlike frontal hugging, side hugs minimize the risk of an eternal damnation which could result from possible incidental contact with a boob or penis of somebody to whom one is not married.

For extra affection, the side hug may be accompanied by a few non-contact blessing pats. If even the side hug is too intense, you can work up to it coyly with this elaborate sequence of gestures. There's even a Christian side hug rap, which attracted the attention of The Young Turks. The degree of parody and satire intended in the rap version is unknown, but that doesn't make it any better.
Several years ago, I wrote about the Six Inch Rule, a regulation used at Midwestern Baptist College — the college Polly and I attended in the 1970s — to keep young adults from touching one another. It proved to be a dismal failure. I don't know of one couple who lived in the Midwestern Baptist College dorm when Polly and I did who didn't violate the spirit and the letter of the six-inch rule. Something tells me — oh like common sense — that teenagers and young adults are still failing at keeping the touching prohibitions of Evangelical moralizers such as Paula Hendricks. Why, you ask? Simple. We are sexual beings and we desire physical, intimate contact with others. All the sweet, sexy Jesus in the world won't quench human sexual desire. When it comes to choosing between sexual intimacy and Jesus, my money is on sexual intimacy.
What makes writers like Paula Hendricks so harmful is that they encourage teen girls and young women to act against their nature. They encourage them to repress their sexual desires. Sadly, when these girls later marry, they often bring a warped view of physical intimacy and sex into the marriage (and men can do the same). Marriage is tough enough without starting life with sexual dysfunction. Instead of teaching teenagers and young adults to repress their sexual desires, they should be encouraged to responsibly act on their desires, starting with a hug or a kiss. If there is more to the relationship, then they can determine where to go from there. There are three bases between the batter's box and home. Hendricks wants unmarried teens and adults to stand in the batter's box, never moving or swinging when the pitch comes their way. No running to first, rounding second, sprinting around third, and sliding into home. Not a very fun or interesting game, yes?
Contrary to Paula Hendricks' horrible advice, hugging is not a gateway to sexual intercourse. Teenagers and young adults can sexually experiment without having intercourse. And if they decide to slide into home base, the best advice to give them is on how to be sexually responsible and use birth control. Of course, this advice must be given to them BEFORE they are rounding third and heading for home. In fact, before they even get to first base, wouldn't it be better to prepare single teenagers and young adults for their sexual future?
Hendricks now sports the last name Marsteller. She's married, and I suspect is regularly playing baseball with her husband. I wonder if she touched her husband before they married?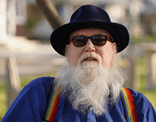 Bruce Gerencser, 65, lives in rural Northwest Ohio with his wife of 44 years. He and his wife have six grown children and thirteen grandchildren. Bruce pastored Evangelical churches for twenty-five years in Ohio, Texas, and Michigan. Bruce left the ministry in 2005, and in 2008 he left Christianity. Bruce is now a humanist and an atheist.
Connect with me on social media:
You can email Bruce via the Contact Form.
Your comments are welcome and appreciated. All first-time comments are moderated. Please read the commenting rules before commenting.