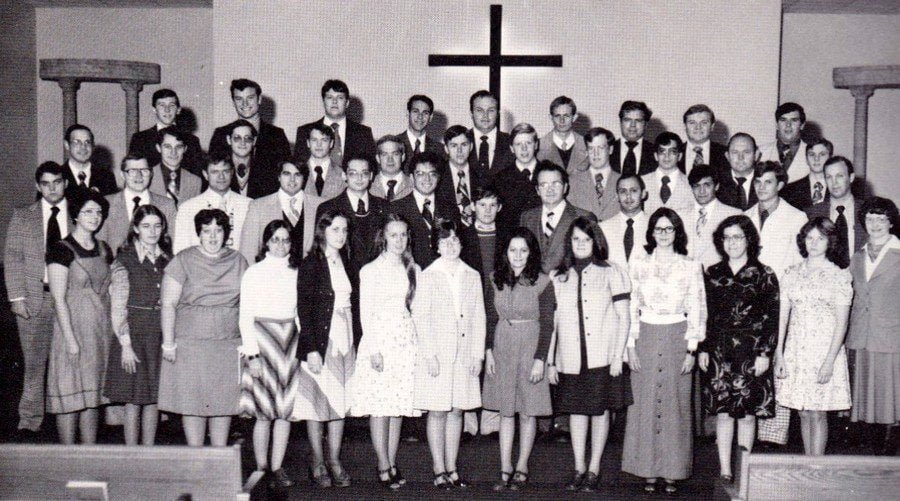 In late August, 1976, I packed up my meager earthly goods, put them in my Plymouth Valiant, and trekked two-and-a-half hours north from Bryan, Ohio to Pontiac, Michigan so I could enroll for ministerial classes at Midwestern Baptist College. I parked my dilapidated car in front of the dorm (which housed two floors of men and one of women) and unloaded my clothing, books, food stuffs, and a few pictures. My first roommates were Toby Todd and an older man named Dale Wilson. Several months later I moved to another room. My roommates were the only Black man in the dormitory: Fred Gilyard, Jack Workman, and Wendell Uhl — who was a rambunctious, thrill-seeking man who would later be expelled from school for writing his unique initials in a school monument's freshly poured cement.
I had three goals I hoped to achieve while attending Midwestern:
Prepare for the ministry
Date a lot of girls
Play sports
Now, when I say play sports, I am not talking about college sports as most readers think of when thinking about collegiate sports. The enrollment at Midwestern was around four hundred students. The college had an astronomical drop-out rate — over seventy percent. There was a constant stream of new talent for the college's basketball program. I was one such player. I was six feet tall and weighed one hundred sixty pounds. I loved playing basketball, having played high school city league basketball three years for Trinity Baptist Church in Findlay, Ohio. The team was coached by the chairman of the drama department. He was fired during my sophomore year of college for having an affair with the wife of the dean of men.
The coach was a player-coach. Many of the players were older men, some in their thirties. Midwestern's basketball team was very much a collection of misfits — at best an intramural team. Regardless of the quality of the team, I very much wanted to play basketball for Midwestern Baptist College. The college's founder, Dr. Tom Malone, was an avid basketball player. He was in his 60s at the time. I played many a pick-up game with Dr. Malone. He was a hard-nosed player. He sent many a student packing over complaints about fouls. No blood, no foul, was Dr. Malone's style of play; a style, by the way, that agreed with me. I loved playing rough, physical basketball.
Midwestern's team was made up of all comers. I expressed my interest in playing and began attending practices. I thoroughly enjoyed playing with my fellow teammates, and I was looking forward to helping Midwestern vanquish other nearby Fundamentalist Baptist college basketball teams. Unfortunately, something happened that would permanently derail my college basketball career.
One early evening at practice, I jumped up to block the shot of a fellow teammate. As I forcefully slapped the ball, I dislocated the middle finger of my left hand, jamming the finger into my knuckle. I was taken to the emergency room where the doctor attempted to reset my finger. After several careful attempts to do so, the doctor said, well, this is going to hurt! He made sure the bed wheels were locked, put his foot on the bar along the bottom of the bed, and with my mangled finger in his hand, forcefully yanked my dislocated finger back into place. He was right about the pain. I screamed and said a few Christian swear words (See Christian Swear Words), but I was grateful my finger was back in place. I left the hospital with a splint on my hand. This injury put an end to my college basketball career.
Midwestern had a strict dress code. Male students were required to wear ties to classes. One early morning, I met Polly in the dorm common room and asked her to tie my tie for me. No big deal, right? One fellow Christian helping another one, I thought at the time. I found it impossible to tie my tie with one hand, and I didn't think anyone would mind if my girlfriend helped me out. Boy, was I wrong. Sitting in the common room was a pharisaical couple who deemed our tie-tying endeavor a violation of the college's six-inch rule — a decree that said unmarried male and female dorm students couldn't have any physical contact. (See Thou Shalt Not Touch: The Six-Inch Rule)
Come the following Tuesday, Polly and I were called before the college's disciplinary committee to answer for our "sin." There were three men on the disciplinary committee, Gary Mayberry, the dean of men, Don Zahurance, and another man whose name I can't remember. Polly and I were excoriated for breaking the six-inch rule. Zahurance, in particular, grilled us, asking if we "enjoyed" touching one another; if we got a "thrill" out of physical contact. Today, I would have said, YES, DUMB ASS, WE DID! However, not wanting to be expelled, Polly and I endured their intrusive, offensive inquisition. We were given fifty demerits and told that if we had any physical contact again we would be expelled.
Their attempt to put the fear of the Independent Fundamentalist Baptist (IFB) God into us failed. We would spend the next eighteen months finding ways to engage in damnable sins such as holding hands, kissing, and hugging. On weekends, we would double-date with like-minded students. I won't tell if you won't, was the rule. We hugged and kissed our way to July 15, 1978, our wedding day. Finally, no more demerits for getting too close to the love of my life!
I know this story sounds almost unbelievable to some of you, but it did happen. Attending Midwestern Baptist College was like living in an alternate universe. Polly and I now laugh about our days as Midwestern students, but there was a time when we feared being exposed for behaving like normal, heterosexual humans. We feared being reported to the disciplinary committee for daring to touch one another. The cruelty of Midwestern's disciplinary system was that it allowed anonymous students to report offenders. There was a box outside of the dean of men's office for disciplinary slips. Only certain students were allowed to write someone up. Generally, freshmen were not permitted to write anyone up. Ironically the upperclassmen who reported us for breaking the six-inch rule? It was later rumored that they were going all-in on breaking the six-inch rule and having sex. Hypocrisy abounded at Midwestern. The couple who reported us is now faithfully pastoring an IFB church. I am sure they preach against teens and unmarried adults having physical contact with each other before marriage, conveniently burying their own sexual indiscretion in the dust of the past.
Bruce Gerencser, 66, lives in rural Northwest Ohio with his wife of 45 years. He and his wife have six grown children and thirteen grandchildren. Bruce pastored Evangelical churches for twenty-five years in Ohio, Texas, and Michigan. Bruce left the ministry in 2005, and in 2008 he left Christianity. Bruce is now a humanist and an atheist.
Connect with me on social media:
Your comments are welcome and appreciated. All first-time comments are moderated. Please read the commenting rules before commenting.
You can email Bruce via the Contact Form.