I came of age in the Independent Fundamentalist Baptist (IFB) church movement. IFB preachers are known for their staunch, unflinching views on human sexuality. Only sexual behavior between married, monogamous, heterosexual couples is ordained by God. Some preachers believe that certain sexual behaviors within marriage are sinful too: anal sex, oral sex, and mutual masturbation. In their minds, the primary goal of sexual intercourse is procreation. In this regard, their beliefs aren't different from those of the Roman Catholic Church.
These preachers, in particular, focus on the sex lives of unmarried teenagers and young adults; no physical contact before marriage, including kissing. Some IFB preachers forbid dating couples from even holding hands or putting their arms around each other. Holding hands is considered the first step on the slippery slope that ends in immorality. As a young IFB preacher, I remember telling church teens that no girl ever got pregnant who didn't hold hands with a boy first. And unmarried young people better not use their hands to find sexual gratification sans a partner either. Masturbation is considered an act of lust, one in which the person is only concerned with pleasuring one's self. IFB preachers remind unmarried teens and young adults that the Bible commands them to deny themselves. Of course, many of these preachers didn't practice what they preach when they themselves were hormones-raging young people.
My wife and I were virgins on our wedding day. Two decades of IFB indoctrination and conditioning made sure of that. We were true believers. Several years ago, I had a discussion with two women who were friends of mine during high school. The three of us were part of the same youth group at an IFB church in Findlay, Ohio. During our delightful time of reminiscing, I quickly learned that there was a whole lot of sexual activity going on among church teenagers; that I may have been one of the few virgins in the youth group. This did not surprise me. Now an old man and having pastored scores of teenagers and young adults over the twenty-five years I spent in the ministry, I know premarital sex is common; that all the rules in the world won't staunch raging hormones.
At the age of eighteen, I had a torrid six-month relationship with a twenty-year-old woman from the Conservative Baptist church we both attended. I was naive when it came to sex, whereas she had already had a sexual relationship with a previous boyfriend. We spent a lot of time together, often taking evening drives in the southeast Arizona desert. We would park along back roads and enjoy the clear, star-studded skies. We would, of course, make out. It's a wonder that we didn't have sex, but I suspect "fear" of disobeying God and being labeled fornicators by the church kept us from doing so.
In the fall of 1976, I left northwest Ohio and moved to Pontiac, Michigan to enroll in classes at Midwestern Baptist College — an IFB institution. My plan was to play the field, but it was not long before I met a beautiful, dark-haired preacher's daughter who would later become my wife. Midwestern had strict no-contact rules for unmarried students. Students of the opposite sex were required to stay at least six inches from each other at all times. No handholding, no kissing, no embraces. "Thou shalt not touch the opposite sex" was the eleventh commandment, etched in stone.
For the first five months of our relationship, Polly and I played by the rules. Breaking the no-contact rule was a serious offense that could lead to being campused (unable to leave the college campus except for work and church) or expulsion.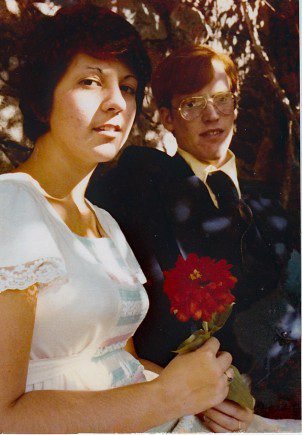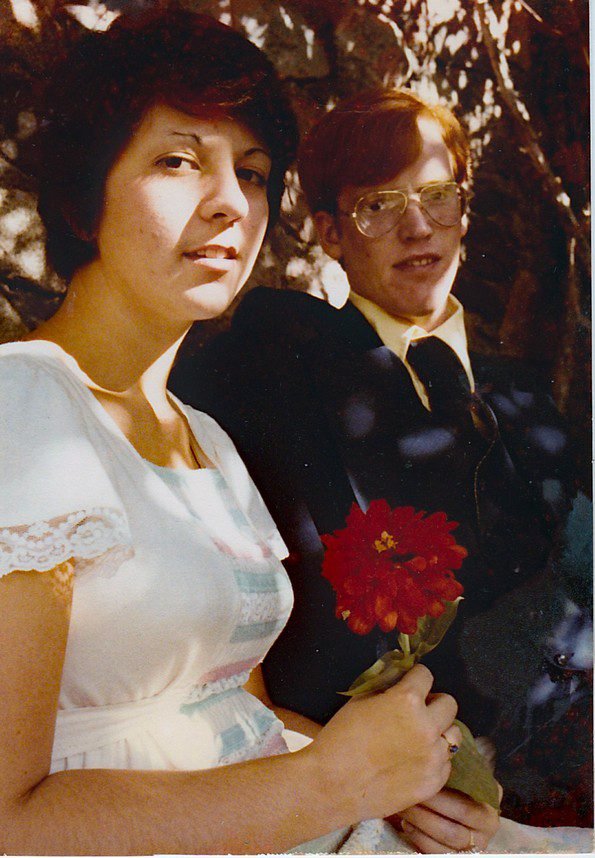 Christmas 1976 found me driving to Newark, Ohio to spend Christmas with Polly. For the first time, we were not under the watchful eyes of college and dorm leaders and rules keeping, turn-you-in-if they-see- you-breaking-the rules Pharisees. Polly's parents were living in an apartment at the time. Her mom asked Polly to go down to the laundry room to get their laundry. I, of course, went along with her to "help." It was in that nondescript, out of the way laundry room that we had our first embrace and kiss. For obvious reasons, it took us a long time to bring the laundry back to the apartment.
A week later, both of us returned to Midwestern and its no-contact rule. The problem for us was that we had enjoyed the forbidden, and putting the genie back in the bottle was impossible. What were we to do?
Students were permitted to double-date on weekends. Some couples were rigid Fundamentalists, keepers of the letter of the law. Others, not so much. We quickly learned which couples were "safe." We spent the next eighteen months breaking the rules, fearing getting caught and kicked out of school. Love and hormones won the day. Our virginity survived — barely — until our wedding day.
A week before our wedding, I drove to Newark to spend the day with Polly. We decided to go out to The Dawes Arboretum to spend the afternoon before attending church that night at the Newark Baptist Temple. We had a wonderful day, and as a soon-to-be-married couple, we did a lot of kissing and walk here and there arm in arm. Our passion, for two sexually unaware young adults, was palatable, so much so that I feared we were going to lose our virginity before our special day. We didn't, but we did lose track of time, arriving home late. Boy, did Polly's mom give us a tongue-lashing for breaking curfew. Here were were a nineteen-year woman and twenty-one-year-old man and we were being treated like children. We said nothing, changed our clothes, and headed to church. Seven days later, we said "I do."
Bruce Gerencser, 66, lives in rural Northwest Ohio with his wife of 45 years. He and his wife have six grown children and thirteen grandchildren. Bruce pastored Evangelical churches for twenty-five years in Ohio, Texas, and Michigan. Bruce left the ministry in 2005, and in 2008 he left Christianity. Bruce is now a humanist and an atheist.
Connect with me on social media:
Your comments are welcome and appreciated. All first-time comments are moderated. Please read the commenting rules before commenting.
You can email Bruce via the Contact Form.