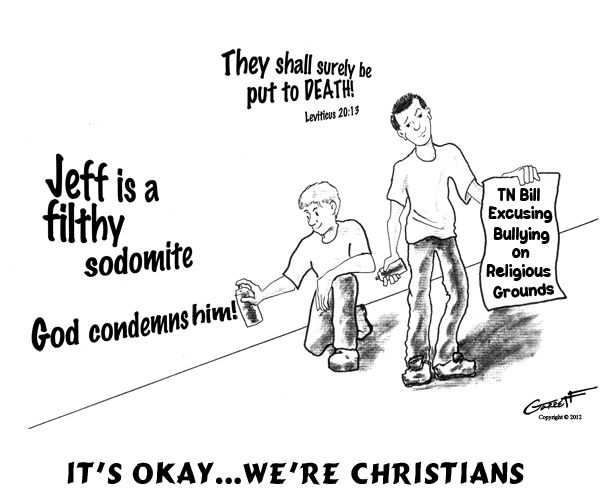 As a card-carrying-member of the Independent Fundamentalist Baptist (IFB) church movement, I often preached sermons condeming homosexuality. According to my infallible interpretation, the Bible condemned homosexual sex. Being the faithful Bible preacher that I was, I thought it important to preach against man-with-man, woman-with-woman sex. Never mind the fact that I did not personally know anyone who was gay. Well, I had my suspicions about several people — Polly's late uncle comes to mind — but as far as actually knowing someone who was gay? Not one. I would learn years later that several of the students in our Christian school were gay or bisexual. Consider this statistic. I was a raging homophobe who railed against homosexuality and sexual "sin" in general. Yet, one-third of the students in our school were either gay or bisexual. Add to that the students who likely engaged in premarital sex, and I think I can safely say my preaching did little to change hearts and minds on sexual identity and activity.
In March of 1994, I left a church I had pastored for almost twelve years and moved to San Antonio, Texas to co-pastor Community Baptist Church. This move proved to be a disaster, and in the fall that same year, we packed up our belongings and moved to Frazeysburg, Ohio. With the help of Polly's parents, we bought a newish manufactured home — a $25,000 upgrade from our previous mobile home.
We lived in Frazeysburg for six months. Needing immediate employment, I turned to restaurant management. I was hired by Charley's Steakery (now called Charleys Philly Steaks) to be the general manager of their franchise at the Colony Square Mall in Zanesville. I continued to work for this restaurant until March 1995, when I assumed the pastorate of Olive Branch Christian Union Church in Fayette.
The restaurant I managed had a drink refill policy for mall employees. If employees stopped at the restaurant with their cups, we refilled them free of charge. Some employees would stop every day they worked to get their large plastic cups refilled. One such employee was a man who worked at a nearby store.
This man was in his twenties. The first time I personally refilled his cup for him, my infallible, never-wrong (I am joking) gaydar went off. I thought, "OMG, this guy is gay. What if he has AIDS?" Quite frankly, I am surprised he didn't see the disgust on my face. Maybe he did, but ignored it. I dutifully put ice in his cup, filled it with pop, and handed it back to him. After he walked away from the service counter, I would quickly run to the kitchen and thoroughly wash my hands, fearing that I might catch AIDS.
Over time, this man and I struck up casual conversations. He was quite friendly, and truth be told, I liked talking to him. As I got to know him better, I found that I no longer was disgusted or worried about getting AIDS. I even stopped washing my hands after serving him. What changed?
My theology didn't change. And neither did my irrational fear of gay people. Coming to where I am today, a supporter of LGBTQ rights with numerous gay and transgender friends, took years. What needed washing was my proverbial heart, not my hands.
This story is a reminder of the fact that it is hard to condemn people when you actually know them; when you have actually talked with them or broken bread with them. Countless Evangelical preachers rail against atheists, yet most of them don't know any atheists personally. I have two Evangelical friends — a married couple. That's it. I have been friends with the man for almost 55 years. For several years, I was their pastor. I know their children and grandchildren and extended family. Until the pandemic hit, three or four times a year, we would go out to eat, thoroughly enjoying one another's company. We agreed that we wouldn't talk about religion. If asked a question, I would answer it, but outside of that, we focused on the things we had in common: family, grandchildren, food, and travel.
Our friendship has survived because we see each other as human beings, people we love and respect. Yes, my friends are deeply disappointed over my loss of faith. They might even pray that I will come back to the Lord. But, my friends have never let my atheism get in the way of our relationship. I thank them for doing what 99.9% of my Evangelical friends couldn't or refused to do: see me as a person, to see Polly and me as the same people we were back when we followed Jesus. Our character and personalities remain the same. Sure, we don't believe in God, but does that make us bad people?
A gay customer taught me a valuable lesson years ago, one I am still learning. It is far too easy to sequester yourself with people who only think and act like you. Our nation is overrun with racist, white nationalist people. It's easy to put the blame all on Donald Trump and the Republican Party, but I suspect that a lot of racists don't have friends of color. They live in communities and are members of churches and groups where the sign on the door might as well say, WHITES ONLY. So it is in many Evangelical churches — particularly IFB congregations. Such churches are monocultures, places where everyone thinks, acts, and looks the same way. Until they are exposed in a friendly, nonthreatening way to people different from them, it is unlikely they will change their minds.
Were you a homophobe, racist, or bigot? What changed your mind? Please share your experiences in the comment section.
Bruce Gerencser, 66, lives in rural Northwest Ohio with his wife of 45 years. He and his wife have six grown children and thirteen grandchildren. Bruce pastored Evangelical churches for twenty-five years in Ohio, Texas, and Michigan. Bruce left the ministry in 2005, and in 2008 he left Christianity. Bruce is now a humanist and an atheist.
Connect with me on social media:
Your comments are welcome and appreciated. All first-time comments are moderated. Please read the commenting rules before commenting.
You can email Bruce via the Contact Form.