When I started blogging in 2007, I made the decision to use my real name as I attempted to tell my story. I also decided that I would not protect the guilty. Since Evangelical churches, pastors, parachurch groups and the college I attended are a part of my storyline, I decided their names should be part of my story. Doing this has upset a lot of people, especially when a web search for their name, church, or group brings up my blog on the first page.
If you take time to search for websites mentioning my name, you will find sites with articles deconstructing my life. You will also find my name and articles mentioned on Facebook, Twitter, Google+, Free Jinger, Reddit, and a number of public/private sites.
Since I write using my real name, and I am the only Bruce Gerencser in the world, it is not hard to find a wealth of information, positive and negative. I knew when I started blogging that I would open myself up to intense scrutiny. I knew that people would lie about me, distort my story, and try to besmirch my character. This is the price I pay for being a public figure.
Those of you who have read this blog for years know I stopped blogging several times when the emotional and mental stress became too much. (That I have been blogging now for six years straight is nothing short of a miracle.) What changed? Thanks to me seeing a counselor on a regular basis, I have learned to handle the stress that comes from having a public blog that is widely read. This doesn't mean that I plan on blogging until Jesus comes again, but I hope I have enough mental and emotional wherewithal to withstand the pressures that come my way. If anything puts an end to my writing career it will be chronic illness and unrelenting pain. Recent health circumstances have had me circling the proverbial blogging drain, but, so far, I have been able to find the stopper, keeping me from disappearing. No promises, but I live for another day.
Several years ago, a man by the name of Steve Ransom sent me an email that I shared with readers in a post titled Steve Ransom Lays Down a Challenge to Bruce and His Fellow Atheists. He purported to have a new argument that he was sure would set me back on the right path to God. All he really had was a deconstruction of my life, and how I had followed a false God. There was a time such a deconstruction would cause me mental and emotional angst. Not anymore.
When I started blogging, I thought if I just told my story people would understand, even if they disagreed with me. I thought if I just explained myself, that my critics would at least understand my viewpoint. I know, I know, quite naïve of me.
This subject came up one day during counseling. I expressed my dismay over Evangelicals not being willing to accept my explanation of my life. Who knows my life better than me, right? My counselor told me:
Bruce, you think they care what you think? They don't give a shit about what you think.
And he is right. I know that those who tear into my life aren't interested in anything I have to say. They have read a handful of posts, maybe even twenty-five or thirty, and they are now ready to render judgment, and render they do. It's happened countless times over the years, and it will happen in future. Evangelicals can't help themselves, so I let them have one opportunity to say whatever is on their mind. One comment, that's it. Then it is time for them to move on.
There was a time when I engaged every Evangelical commenter. I thought if I just explained myself, they would understand. I now know better. Now that I know they don't give a shit, neither do I.
Of particular note are Evangelical critics who think they have me figured out psychologically. Instead of accepting at face value my explanation for why I left the ministry and left Christianity, they delve into what they believe are the psychological reasons for my divorce from Jesus and my abandonment of the church. According to them, I abandoned all I loved and held dear because I was angry, bitter, jaded, hated God, ad infinitum. Instead of accepting at face value what I say about my Evangelical past, these critics, use a nit comb to go through my life, looking for the "real" reason I am an atheist today.
I used to try to answer such people, but after years of doing so, I decided to leave them to their own devices. I know that nothing I say will change their minds, so why bother, right? Such people are not my target audience, so why give one moment of my time to them. I remain committed to helping those who have doubts about Christianity and those who have left the faith. They are my church, not those who sit in the back pews throwing horse shit at me as I share my life's story.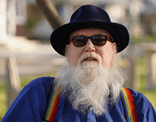 Bruce Gerencser, 65, lives in rural Northwest Ohio with his wife of 44 years. He and his wife have six grown children and thirteen grandchildren. Bruce pastored Evangelical churches for twenty-five years in Ohio, Texas, and Michigan. Bruce left the ministry in 2005, and in 2008 he left Christianity. Bruce is now a humanist and an atheist.
Connect with me on social media:
You can email Bruce via the Contact Form.
Your comments are welcome and appreciated. All first-time comments are moderated. Please read the commenting rules before commenting.