Yesterday, long-time reader and friend, Charles, complimented me on some of my recent writing, saying:
The several articles you put up today are very timely—-news wise—–and they are some of your best work.
I always appreciate such comments. I have never been a good judge of the quality of my work, so kind, thoughtful comments are always appreciated.
What I want to address in this short post is what else Charles said. Let me be clear, I am NOT taking Charles to task for saying this. I love and appreciate Charles, but there's a teachable moment here that I think readers might find helpful.
Before complimenting me, Charles said:
You must be feeling better Bruce.
As countless readers, friends, and family members do, Charles sees a connection between "good" writing and how I feel physically. If my writing is perceived as "good," then I must be feeling better. However, as my editor and my wife can tell you, some of my best work was written on days when I was quite sick, even suicidal.
I no longer have good days. I have no prospect of feeling better. The health problems I struggle with aren't going away, and, quite frankly, they aren't, on most days, very well managed. Writing, then, becomes a distraction of sorts, a way to take my mind off my pain and suffering. As I sit here typing this post, my body pulses with pain — and that's after taking this or that medication. What writing does is direct my mind away from the spectacle of my life. Writing can be, for me anyway, a pain reliever of sorts. Think of it this way: your foot is throbbing with pain. You pick up a hammer and hit your hand. Problem solved. Your foot doesn't seem so painful. This is exactly what writing does for me; a distraction that, for the time I am clicking away on my IBM keyboard, mentally reduces my pain.
Two weeks ago, I had a procedure done to temporarily lessen or stop the pain I have from gastroparesis. Unfortunately, it did not work. What treatments are left for me? Just do a Google search on "treatments for gastroparesis." Doing so left me in despair. I have concluded that I must find a way to live with this, or not. Today, I chose to eat lunch, knowing that it would leave me feeling like I had been slugged in the abdomen. I don't plan to give readers a running commentary on my difficulties. I just don't have the wherewithal to do so anymore. Know that when you don't see me post for a few days, it is for one reason alone: I can't. And when I do post, it's not because I "feel better," but I do feel well enough to drag my sorry ass from the couch to the office, turn on Spotify, and write a few words that I hope readers will find helpful.
I know readers such as Charles genuinely want what's best for me. They want me to feel better or find relief from my pain. I make no judgment on the well-meaning words of others. It beats being told by an Evangelical critic that he hopes I die and burn in Hell for eternity.
There are no more "feeling better" days ahead for me. I have resigned myself to that fact. Unless a revolutionary cure or miraculous healing comes my way, I know what lies ahead for me. And that's okay. Not really, but hell, what am I going to do about it? Pray? Seek out a faith healer?
When you see another post by me, I hope you will say, "awesome, Bruce, is among the living!" And when the day comes when I can no longer write, please know, I will be forever grateful for your love and support.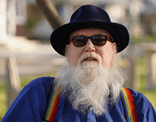 Bruce Gerencser, 65, lives in rural Northwest Ohio with his wife of 44 years. He and his wife have six grown children and thirteen grandchildren. Bruce pastored Evangelical churches for twenty-five years in Ohio, Texas, and Michigan. Bruce left the ministry in 2005, and in 2008 he left Christianity. Bruce is now a humanist and an atheist.
Connect with me on social media:
You can email Bruce via the Contact Form.
Your comments are welcome and appreciated. All first-time comments are moderated. Please read the commenting rules before commenting.