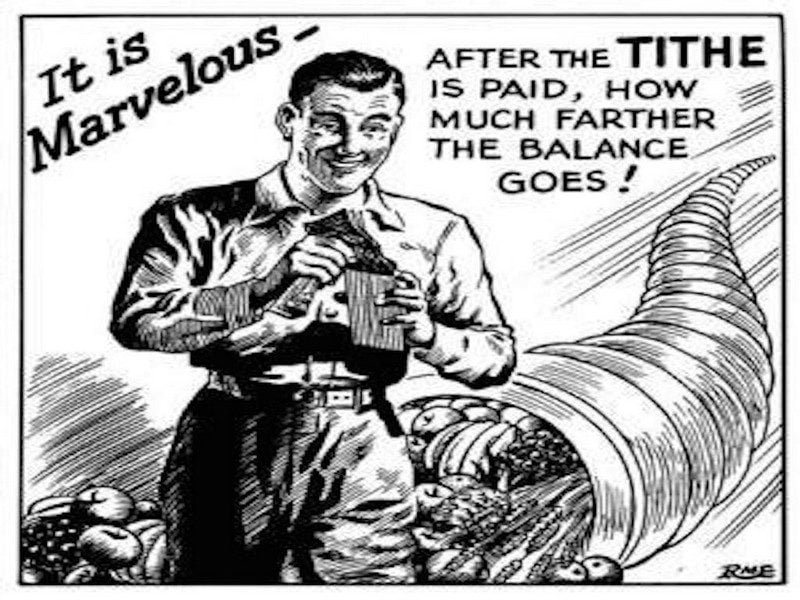 Independent Fundamentalist Baptist (IFB) preachers are known for preaching on money, particularly tithing and giving offerings above the tithe. For readers who don't understand the "Biblical" concept of tithing, let me explain this money-raising scheme to you. The word tithe, in IFB parlance, means 10%. Church members are expected to give 10% of their gross income — God and the government get theirs first — to the church.
I heard countless sermons over the years on the subject of tithing. Preachers, with hands and pockets open wide, told congregants that God demanded at least 10% of their income. Even children were expected to give a tithe to the church from their allowances, yard mowing money, babysitting money, etc. These preachers knew it was important to indoctrinate children. Teach (expect) people to tithe when they are young, they will continue to do so when they are older.
Many IFB preachers threaten congregants with the judgment of God if they don't tithe. They also tell church members that God will materially "bless" them if they do tithe. Some pastors check the giving records to make sure people are tithing. Those who don't tithe are considered backslidden, rebellious, or out of the will of God.
Malachi 3:8-10 says:
Will a man rob God? Yet ye have robbed me. But ye say, Wherein have we robbed thee? In tithes and offerings.Ye are cursed with a curse: for ye have robbed me, even this whole nation. Bring ye all the tithes into the storehouse, that there may be meat in mine house, and prove me now herewith, saith the Lord of hosts, if I will not open you the windows of heaven, and pour you out a blessing, that there shall not be room enough to receive it.
Don't want to rob God? Please make that check payable to Victory Baptist Church.
Unlike many of my Baptist peers, I rarely preached on tithing. I grew up in churches where my pastors constantly harped on money. Even in college, poor students were expected to give 10% of their gross income to the church affiliated with the college. These negative experiences affected me in such a way that I was hesitant to bug and beg church members for money. I just couldn't do it. I grew up poor, and we lived at or below the poverty line for the first thirty years of marriage. The most I ever made in the ministry was $26,000 (with a family of eight). I pastored Somerset Baptist Church in Mt. Perry, Ohio for eleven years. The most I ever made in one year at Somerset Baptist was $12,000. I certainly wasn't in the ministry for the money.
Many of the people I pastored were poor. I found it hard to ask people to tithe when they were barely keeping their heads above water. One year at Somerset Baptist, the highest paid man in the church made $21,000 (an auto mechanic). Appalachian economics applied to the church too.
Not only do IFB preachers preach on tithing, but many of them also preach on stewardship and faith promise missions giving. Polly's uncle, the late James Dennis (please see The Family Patriarch is Dead: My Life With James Dennis) would spend a month every year preaching on stewardship. The goal? To remind congregants that God expects them to give 10% of their income to the church; to remind congregants that God expects them to contribute to the mission fund, building fund, and any other "fund" the preacher cooks up.
IFB preachers are fond of humble bragging about how many missionaries their churches support. Instead of investing significant amounts of money in one missionary, churches will give fifty missionaries $25 a month. As a result, missionaries have to go to numerous churches on deputation hoping to raise $25 a month from each church. Many missionaries spend years on the fundraising circuit (the better the slide presentation of poor black people, the sooner the missionary makes it to the field). Some give up, never reaching their financial goal. Deputation is a cruel racket. It turns good people (regardless of what I think of mission work now) into beggars.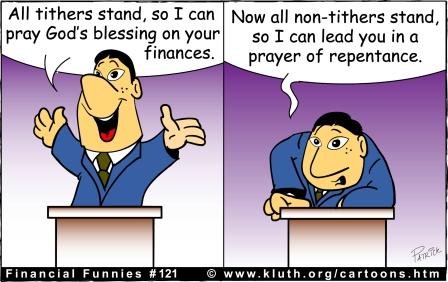 Some IFB churches have annual faith promise missions conferences. Missionaries come to the church and present their work (priming the pump for the money ask). Congregants are asked to promise God, by faith, that they will give $xx.xx a month to the church to support the mission program. What if they don't have the money? Church members are expected to give the money even if they don't have it. After all, they made a "faith promise." Remember, congregants are told that God promises to "bless" them materially if they tithe and give offerings above the tithe. I pastored poor church members who gave 20-25% of their income to the church. I was one of those people until I figured out late in my ministerial career that it made no sense for me to do so as long as the church wasn't paying me. Giving to the church so they can give it back to me was just me paying myself with my own money. Silly, right?
In the mid-1980s, a missionary from Bearing Precious Seed — a KJV Bible publishing ministry of First Baptist Church in Milford, Ohio — came to our church to hustle for money. I told him about the economic status of many church members, warning him that promising congregants a Bible in return for a monthly faith promise missions offering was a bad idea. The missionary ignored me, offering church members a brand new leather-bound KJV Bible if they would give a monthly donation to Bearing Precious Seed. More than a few church members took him up on his offer. The church was expected to collect the money and forward it to Bearing Precious Seed every month. Sure enough, after several months, some of those who promised to make a monthly donation defaulted on their commitment. Not wanting to look bad, I had the church make up the monthly deficit. Guess whose pocket that came out of? Mine.
Do you have a tithing or faith promise missions story to tell? Please share your experiences in the comment section.
Bruce Gerencser, 66, lives in rural Northwest Ohio with his wife of 45 years. He and his wife have six grown children and thirteen grandchildren. Bruce pastored Evangelical churches for twenty-five years in Ohio, Texas, and Michigan. Bruce left the ministry in 2005, and in 2008 he left Christianity. Bruce is now a humanist and an atheist.
Connect with me on social media:
Your comments are welcome and appreciated. All first-time comments are moderated. Please read the commenting rules before commenting.
You can email Bruce via the Contact Form.