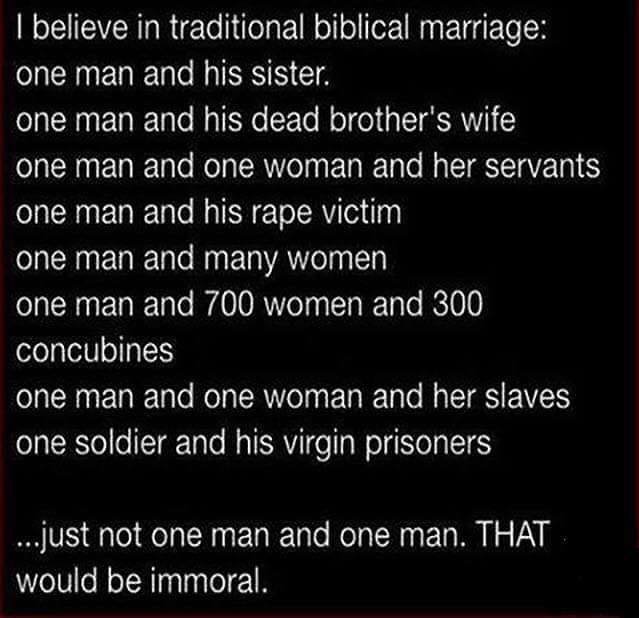 Today, I received the following email from an Evangelical man named Randy Willis. My response is indented and italicized. All grammar and spelling are in the original.
I saw your little Facebook post about Biblical marriage and wanted to share the truth with you.
What you want to share with me is your personal opinions and interpretations of the Protestant Christian Bible. Why should I listen to one word you say? You imply that you speak for God. What evidence do you have for this claim?
Jesus Christ is God who created man and woman. Male and female for the institution of marriage. They however chose to sin willfully.
First, you must provide evidence for the existence of God. Then you must provide evidence for that God being Jesus. Just because a book says something doesn't make it true. Have you read the Harry Potter books? Why should I view the Bible differently from Harry Potter?

You wrongly think the Bible=truth. It does not. The Bible was written by mostly unknown men thousands of years ago. It is not in any way a moral/legal standard by which societies should or must govern themselves. The United States is a secular state. Currently, heterosexual and same-sex marriage are legal in all fifty states. Cohabitation and common-law marriages are recognized in most states. Marriage is a legal contract between two people. God/Bible has nothing to do with state-sanctioned marriage. You, Randy, are free to live according to moral and legal teachings of the Bible — albeit I am certain you do so selectively. No Christian follows all the teachings of the Bible. Why does it matter to you who marries whom? I can't think of one thing that would materially affect your life if two women marry. Can you think of anything, Randy?

I don't believe in "sin." Sin is a religious construct used by sects and clerics to cause fear, keep asses in church pews, and money in offering plates. Evangelicals like you, Randy, are obsessed with who fucks whom, when, where, why, and how. Why is someone's sex life any of your business. If I have a threesome tonight — God, I can only hope 🙂 — how does that materially affect you in any way?

I assume you believe in personal accountability and responsibility. I know I do. Explain something to me. Why is any of us responsible for Adam and Eve's "sin"? We all come into this world "sinless," yet Evangelicals teach that we are born with a sin nature; that we come into the world at variance with God. We have no choice in whether we become a "sinner." Does that seem fair and just to you? When you look at a newborn, do you see a sinner who hates God, a little bundle of Hell deserving sin? I know I don't.

The world would be a far better place if we banished "sin" to the dustbin of human history. Just imagine how much better the world would be if Christians stopped moralizing about the "sins" of others?

Because of sin marriage was perverted polygamy, sodomy and everything that was listed on that meme that was meant to mock God's Word. 
Of course, I meant the meme to mock God's "word." That's the purpose of memes. That said, the Bible does permit and condone incest, polygamy, and other sexual relationships Evangelicals consider "sin." In fact, the Bible commands the subjugation and rape of female children. You do know this, right?

"And the Lord spake unto Moses, saying, Avenge the children of Israel of the Midianites: afterward shalt thou be gathered unto thy people. And Moses spake unto the people, saying, Arm some of yourselves unto the war, and let them go against the Midianites, and avenge the Lord of Midian.

….

 And the children of Israel took all the women of Midian captives, and their little ones, and took the spoil of all their cattle, and all their flocks, and all their goods. And they burnt all their cities wherein they dwelt, and all their goodly castles, with fire. And they took all the spoil, and all the prey, both of men and of beasts. And they brought the captives, and the prey, and the spoil, unto Moses, and Eleazar the priest, and unto the congregation of the children of Israel, unto the camp at the plains of Moab, which are by Jordan near Jericho. And Moses, and Eleazar the priest, and all the princes of the congregation, went forth to meet them without the camp. And Moses was wroth with the officers of the host, with the captains over thousands, and captains over hundreds, which came from the battle. And Moses said unto them, Have ye saved all the women alive? Behold, these caused the children of Israel, through the counsel of Balaam, to commit trespass against the Lord in the matter of Peor, and there was a plague among the congregation of the Lord. Now therefore kill every male among the little ones, and kill every woman that hath known man by lying with him. But all the women children, that have not known a man by lying with him, keep alive for yourselves."

Have fun with that one, Randy.And then we can talk about slavery and genocide.

Did Adam and Eve "pervert" marriage? How about Cain and Abel? If yes, what evidence do you have for this claim? We know that it is likely Cain and Abel married and/or had sex with their sisters. Was this incest? How would they have known it was incest since it would be long after their deaths that God gave Moses the law? You seem to be reading later history back into Biblical text or taking your personal moral standards and applying them to Adam, Eve, and everyone else who lived before the giving of the law. Is a behavior a sin if God has not forbidden it? Think on that one, Randy.
I know telling you the TRUTH will be met with how big of a hater I am . . .
Just because you capitalize the word TRUTH doesn't make your claims any more truthful. If you want me or the readers of this blog to accept your truth claims, you are going to have to present evidence for them. So far, you have not done so. An assertion is not good evidence for anything.

I have no idea how big of a "hater" you are. It seems, at least to me, that you have a persecution complex. You sent me an unwanted, unsolicited email, Randy. Why did you do so? What did you hope to accomplish? Are you a hater? I don't know. So far, all I know is that you are obsessed with what consenting adults do behind closed doors.
. . . but let me ask you this. If your house was on fire in the middle of the night would you rather I just keep driving? Or bust the door in and pull you out and save your life?
You sent me an email expressing your outrage over a meme I posted on social media. There's nothing in your email that remotely fits your burning house analogy. (I do hope you would call 911 before trying to "save" me.) You didn't even share the Christian gospel with me. Damn, this might have been the day I got saved had you shared the good news with me (as Trese did yesterday, and countless Evangelicals before you have done). Be honest, Randy, you are butthurt over a meme that makes your precious Bible/God look bad. Not my problem. Perhaps it is time to rewrite the Bible, getting rid of all the offensive shit. Man, Thomas Jefferson would be proud.

Your house is on fire (spiritually) and if you don't truly put your trust in Jesus Christ soon you will be burning for eternity and will remember all the times you mocked and rejected Jesus Christ.
Why is it that Evangelicals always threaten me with hellfire and brimstone?  You know I am an atheist. You know I don't believe in the existence of God/Jesus/Heaven/Hell. What's the point of threatening me with a place I do not fear nor do I believe exists?

Yes, I reject Jesus, and, at times mock the very dead, not-resurrected, not-virgin born, not-miracle working son of God. However, I would bet that I have read and studied the Bible, won more souls, and done more good works, than you have. Shall we have a dick measuring contest? I'm John Holmes, baby, when it comes to good works and loving Jesus. I spent most of my life, fifty years, devotedly following Jesus and following his teachings. Even now, I am a kind, decent, thoughtful person (though I have no patience for Christian assholes). Are you saying that the totality of my good works matters not, that the only thing that matters is me believing the right things? Are you not, then, preaching a gospel of "right belief"? What kind of monster is your God, Randy? Look at all the good works atheists, agnostics, pagans, Buddhists, and billions of non-Christians do. Yet, because they refuse (or out of ignorance, fail) to worship Randy's God, when they die they will be consigned to the flames of Hell to be tortured by Randy's God for eternity. If such a God existed, I wouldn't worship him.

Richard Dawkins was right when he said:

"The God of the Old Testament is arguably the most unpleasant character in all fiction: jealous and proud of it; a petty, unjust, unforgiving control-freak; a vindictive, bloodthirsty ethnic cleanser; a misogynistic, homophobic, racist, infanticidal, genocidal, filicidal, pestilential, megalomaniacal, sadomasochistic, capriciously malevolent bully."

— (The God Delusion)
Saved by Reason,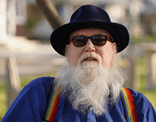 Bruce Gerencser, 64, lives in rural Northwest Ohio with his wife of 43 years. He and his wife have six grown children and thirteen grandchildren. Bruce pastored Evangelical churches for twenty-five years in Ohio, Texas, and Michigan. Bruce left the ministry in 2005, and in 2008 he left Christianity. Bruce is now a humanist and an atheist.
You can email Bruce via the Contact Form.
Your comments are welcome and appreciated. All first-time comments are moderated. Please read the commenting rules before commenting.