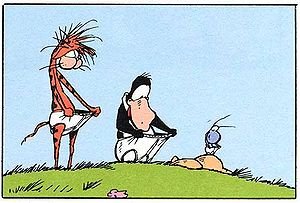 Calvinism is generally described as adherence or commitment to five theological points (TULIP):
Total Depravity (total inability)
Unconditional Election
Limited Atonement (particular redemption)
Irresistible Grace (effectual call)
Perseverance/Preservation of the Saints
Simply put, Calvinism is a system of theological beliefs that states:
Every person, thanks to the sin of Adam in the Garden of Eden, is born a sinner, alienated from God, and deserving the wrath of God and hell. Every person is dead in trespasses and sin, unable to do anything about their sinful condition. Total depravity is also called total inability. An unregenerate (lacking spiritual life) sinner is unable, by his own power, to seek God and salvation. Unless God gives the sinner eyes to see and ears to hear, he can never understand the Christian gospel and be saved.
From before the foundation (creation) of the world, God determined to whom he would give salvation. Only those whom God gives salvation will be saved. God knows exactly who will be saved. Those not chosen by God will never be saved, neither can they be since God did not give them the means necessary to seek and find salvation. No one deserves to be saved, and there's is nothing anyone can do to merit salvation. Those who are saved are given spiritual life only because of the unmerited favor of God bestowed on them when the Holy Spirit caused them to effectually respond to the gospel. From start to finish, Salvation is of the Lord.
Jesus died on the cross (shed his blood) to provide salvation only for those whom God, the Father has chosen to save (the elect).
Those whom God has chosen and Jesus died for, will, without fail, at a time appointed by God, be saved. God will save every person he intends to save. When the Holy Spirit begins to draw a person to Jesus, if the person is someone God intends to save, he will be unable to resist the Holy Spirit.
Those granted the glorious, wonderful Calvinistic version of the grace of God will persevere until death. God, by his almighty power, will preserve the chosen, regenerated, and converted sinner until the end. If someone falls away before the end, say someone like a Calvinistic preacher named Bruce Gerencser, this is proof that he was never were one of the elect (chosen).
Got all that? I'm tired just from typing it. The short version is this: God is Sovereign, Salvation is of the Lord, no others need apply.
For most Christians, Calvinism seems like word salad, loads of theological jargon that only those schooled in Calvin-speak can understand. Calvinism is what I call an intellectual man's wet dream. Most Calvinists are drawn to the intricate and intellectual aspects of the Calvinistic way of thinking. Let's face it, Brother Billy Bob down at the local Baptist church has neither the time nor inclination to plumb the depths of Calvinistic theology nor read John Calvin's Institutes of the Christian Religion. All Brother Billy Bob knows is that he was a drunk and Jesus saved him! Hallelujah!!
The men and women drawn to Calvinism tend to love intellectual pursuits. They love reading long, wordy books that purport to impart knowledge and understanding that most mere humans do not have. Most Calvinists end up building a substantial library of books. At one time, I had a library of over one thousand books. Once, a church member came into my study and, upon noticing my large library, asked me if I had read every one of the books on my bookshelves. He was astounded when I said, Yes, every last one of them. Years later, I came to understand that the size of a Calvinist's library is akin to the size of a man's penis. Size matters. The bigger the library, the greater the theological prowess.
Instead of just enjoying the grace of God and the wonders of unconditional election and particular redemption, Calvinists tend to spend an inordinate amount of time making sure they are right. There's always a new book to read, a lecture to listen to, or a new video to watch. They are like a man or woman watching YouPorn videos. Click, ooh, ah, click on another video link, ooh ah, ah . . . and so it goes. From video to video the porn-seeker goes, hoping to find a video that will stir his passions even further.  This is exactly what many Calvinists do. Ooh, the free offer of the gospel, ah, double predestination, ooh, ooh, supralapsarianism, ah, ah, ah, I'm going to . . . the regulative principle. 🙂 They are always looking for the latest book that will provide them some sort of new insight into their depraved condition or the grace of God. Unlike the porn-seeker who finally realizes that once he's seen one porn video he's seen them all, Calvinists continue to seek those which they think are deeper understandings and experiences with God. This is why most Calvinists become intractable as they age. The longer they study, the surer they are that they are right.
A perfect example of this is the Facebook group: Calvinism Fellowship, Debate & Discussion Online Discussion Forum. The administrator for the group, Nick Schoenberger, posted the following and turned it into a sticky so every reader would see it:
At this time of year, there always seems to be an increase in the number of 2nd commandment violations we have in CFDD, so I'm pinning this post in the hopes that we can avoid having to take action by preventing such posts in the first place. In short, any posting of an image that portends to depict a member of the Godhead will be removed and may result in a temporary or permanent ban of the poster.

Reference: Westminster Larger Catechism Q109, 110 and 2nd Helvetic Confession Chapters IV-V
In other words, don't post ANY artists' renderings of Jesus. Such pictures are a violation of the second commandment:
Thou shalt not make unto thee any graven image, or any likeness of any thing that is in heaven above, or that is in the earth beneath, or that is in the water under the earth. (Exodus 20:4)
Instead of enjoying the holiday season, Schoenberger is more concerned about a blasphemous picture of Jesus being posted to the forum.
Those who frequent the Calvinism Fellowship, Debate & Discussion Online Discussion Forum seem to be focused on the minutest detail of proper doctrine, who is and isn't saved, and attacks on the evil theological system called Arminianism. There's also a good bit of self-flagellation and groveling before the thrice Holy God of Calvinism. Calvinists are experts at not only pointing out the sins of others, but also digging down into the depths of their own souls (minds) to find long-buried affronts to God. Is it any wonder that many Calvinists have doubts about their salvation? They see little niggling sins in their lives and this causes them to wonder if they truly are one of the elect. Of course, if Calvinists are true to their doctrines, they cannot really know that they are saved until they die. Remember, Calvinists must persevere unto the end to be saved.
Calvinists, in their never-ending pursuit of intellectual nirvana, often lose sight of humanity. They become so infatuated with intellectual porn that they fail to notice that real flesh and blood people surround them. They metaphorically equate the porn they see on the screen with sex with their spouse or significant other. As Calvinists continue down the path to theological perfection, they become like Elijah who believed that he was the only remaining true prophet of God. It's hard not to picture the lone Calvinist in a room masturbating to his own theological thoughts. Instead of drawing Calvinists towards inclusion, their beliefs often lead them off into closed-minded exclusivism. Calvinist Henry Mahan, pastor of Thirteenth St. Baptist Church, told me years ago when I asked him about the other churches in Ashland, Kentucky, Well Bruce, God doesn't need more than one true church in town. In other words, Thirteenth Street Baptist Church was the only church God needed in Ashland. They alone preached the true gospel of Sovereign Grace. Pity all those other Christians in Ashland who just so happened to attend the wrong church or had wrong soteriological beliefs. Of course, if God wanted to save them he would lead them to visit Thirteenth Street Baptist Church so they could hear Mahan preach to them the true gospel. (And I'm sure some Calvinist is going to read this and say to me, "Don't you know that Mahan isn't a true Calvinist? He is an Antinomian!" Sorry, but Mahan is a Calvinist who is also an Antinomian. Wikipedia explanation of Antinomianism)
God's chosen ones will likely find this post offensive. How dare I equate their beliefs and their quest for understanding the "deeper" things of God to pornography, a devotee of the doctrines of grace will say. Yet, for those of us who at one time pulled up a stool at the John Calvin Pub and drank deeply of Calvin's predestination brew, the pornography connection is, on one hand quite humorous, but also quite depressing. We are reminded of a day when we valued theological purity over people. Our thoughts hearken back to a time when we were willing to eviscerate anyone who did not hold to the same "truth" that we did. We are painfully reminded of good people who left our churches because they could not or would not accept the five points of Calvinism. While Calvinists roundly dispute the notion that the five points equal the gospel, if you attend their churches, read their blogs, or peruse their forums (such as the one mentioned above) you will find that significant verbiage is expended disparaging non-Calvinists. The fair-minded observer will quickly discern what message Calvinists are trying to convey: believe like us or you will go to Hell. The only qualitative difference between the Independent Fundamentalist Baptist (IFB) church movement and Calvinistic Baptist churches is the matter of free will. When it comes to the exclusivity of their beliefs, both believe that they are the purveyors of the one true gospel. (An interesting fact is that many Calvinistic Baptists were at one time Independent Fundamentalist Baptists. While their soteriology changed (the doctrines of salvation) their Fundamentalism remained.)
The primary focus of this post is on Evangelical Calvinism, the belief system of men such as John MacArthur, Al Mohler, and John Piper. I'm well aware that there are many shades and nuances to Calvinism. Writing a post that covered all of them would result in a document with more words than the Bible.
Bruce Gerencser, 66, lives in rural Northwest Ohio with his wife of 45 years. He and his wife have six grown children and thirteen grandchildren. Bruce pastored Evangelical churches for twenty-five years in Ohio, Texas, and Michigan. Bruce left the ministry in 2005, and in 2008 he left Christianity. Bruce is now a humanist and an atheist.
Connect with me on social media:
Your comments are welcome and appreciated. All first-time comments are moderated. Please read the commenting rules before commenting.
You can email Bruce via the Contact Form.