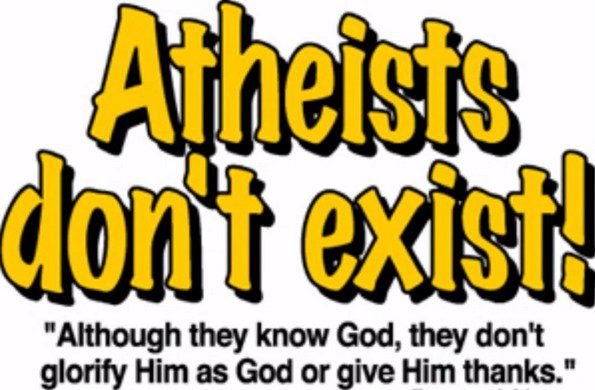 Calvinist Nate Pickowicz, pastor of Harvest Bible Church in Gilmanton, New Hampshire, recently wrote a post for the Entreating Favor blog titled The God-Fearing Atheist. Pickowicz trots out the age-old, worn-out argument that there really is no such thing as an atheist:
It has been said that there is a "God-sized hole" in every person. In other words, the human heart was designed to want and need God. It's a kind of fingerprint that God leaves on the souls of those created in His image (Gen. 1:26-27). Here's the rub, not every person acknowledges or believes that God exists. How then do we explain this?

In John Calvin's Institutes of the Christian Religion, he makes a case for "the knowledge of God implanted in the human mind". Because it is often argued that religion is a man-made invention to subjugate the masses, Calvin points to indigenous tribes of people who are fully convinced of the existence of God. Furthermore, almost uniformly, these tribes worship blocks of wood and stones as gods rather than believe in the absence of deity. They are naturally prone to worship.

Calvin then addresses the atheist.

He writes, "The most audacious despiser of God is most easily disturbed, trembling at the sound of a falling leaf." He's referring to the abject fear within a person when one comes to the end of himself. We've all heard the recently deemed politically incorrect phrase "there are no atheists in foxholes." This is what Calvin is talking about. Intellectually, one can deny God all day long, but placed into a situation which appeals to a person's instincts, that "God-sized hole" becomes a gaping, aching chasm. In conclusion, Calvin writes, "If all are born and live for the express purpose of learning to know God, and if the knowledge of God, insofar as it fails to produce this effect, fleeting and vain, it is clear that all those who do not direct the whole thoughts and actions of their lives to this end fail to fulfill the law of their being."

Did you catch that? Because we're hard-wired to acknowledge God; if we don't seek Him, then we violate our own nature!
According to Pickowicz, everyone is hardwired to know God exists. His proof for this claim? The Bible. He presents no empirical evidence for his claim. Pickowicz, quoting the God of Calvinism, John Calvin, points to the fact that even indigenous tribes acknowledge the existence of a deity. Fine, let's run with this argument for a minute. Let's say everyone is hardwired to acknowledge "God." Why is it then that this knowledge of God is so varied? If it is the Christian God who puts it in the heart of everyone to acknowledge him, why is it that so many people acknowledge the wrong God? I would think that the Christian God would make sure that everyone knew that he alone is God, yet day after day billions of people worship other gods. Why is this?
Pickowicz needs to get his nose out of Calvin's Institutes of the Christian Religion and do some serious thinking about WHY people are religious and WHY they choose the God they do. Several years ago, I wrote a post titled Why Most Americans are Christian. In this post, I explained why most Americans, when asked if they believe in the Christian God, will answer yes:
Cultural Christianity is all about what  people say and not what they do. This is the predominant form of Christianity in America. When asked, do you believe in the Christian God? they will say Yes. It matters not how they live or even if they understand Christian doctrine. They believe and that's all that matters.

It is this Christian world  into which children in the United States are born. While my wife and I can point to the various conversion experiences we had, we still would have been Christians even without the conversion experiences. Our culture was Christian, our families were Christian, everyone around us was Christian. How could we have been anything BUT Christian?

Practicing Christians have a hard time accepting this. They KNOW the place and time Jesus saved them. They KNOW when they were baptized, confirmed, dedicated, saved, or whatever term their sect uses to connote belief in the Christian God.

Why are most people in Muslim countries Muslim? Why are most people in Buddhist countries Buddhist? Simple. People generally embrace the dominant religion and practice of their culture, and so it is in the U.S.

It is culture, and not a conversion experience, that determines a person's religious affiliation. Evangelicals, in particular, have built their entire house on the foundation of each person having a conversion experience. However, looking at this from a sociological perspective, it can be seen that a culture's dominant religion affects which religion a person embraces more than any other factor.
Only by looking at religion from a sociological perspective can we understand and explain why people believe in a particular deity. People such as Pickowicz deny the value and importance of such explanations, preferring to let their trusty inspired, inerrant, infallible Bible do the talking. It is impossible to have a reasonable conversation with people who think in this manner. For them, God has spoken, and any knowledge, be it sociological or neurological, that doesn't affirm the Biblical narrative, is rejected out of hand.
Pickowicz, like Calvin, thinks that when put in circumstances where death is a distinct and imminent possibility, atheists will abandon their godlessness and cry out to God. And his evidence for this? There is none. I am sure there are stories of atheists crying out for God when dying, just as there are stories of Christians cursing God when facing death. Again, there are numerous reasons for why these things happen, but Pickowicz rejects them all, assured that all atheists KNOW there is a God and when they die they will cry out to the Christian God. (I would love to hear Pickowicz's explanation for the fact that most people when they die will call out for some other God besides the Christian one.)
Christopher Hitchens, arguably one of the most notable atheists of our generation, died December 15, 2011. Detailing Hitchens' final days, Ian McEwan of the New York Times wrote:
The place where Christopher Hitchens spent his last few weeks was hardly bookish, but he made it his own. Close to downtown Houston is the Medical Center, a cluster of high-rises like La Défense of Paris, or London's City, a financial district of a sort, where the common currency is illness…..

….. While I was with him another celebration took place in far away London, with Stephen Fry as host in the Festival Hall to reflect on the life and times of Christopher Hitchens. We helped him out of bed and into a chair and set my laptop in front of him. Alexander delved into the Internet with special passwords to get us linked to the event. He also plugged in his own portable stereo speakers. We had the sound connection well before the vision and what we heard was astounding, and for Christopher, uplifting. It was the noise of 2,000 voices small-talking before the event. Then we had a view from the stage of the audience, packed into their rows.

They all looked so young. I would have guessed that nearly all of them would have opposed Christopher strongly over Iraq. But here they were, and in cinemas all over the country, turning out for him. Christopher grinned and raised a thin arm in salute. Close family and friends may be in the room with you, but dying is lonely, the confinement is total. He could see for himself that the life outside this small room had not forgotten him. For a moment, pace Larkin, it was by way of the Internet that the world stretched a hand toward him.

The next morning, at Christopher's request, Alexander and I set up a desk for him under a window. We helped him and his pole with its feed-lines across the room, arranged pillows on his chair, adjusted the height of his laptop. Talking and dozing were all very well, but Christopher had only a few days to produce 3,000 words on Ian Ker's biography of Chesterton.

Whenever people talk of Christopher's journalism, I will always think of this moment.

Consider the mix. Constant pain, weak as a kitten, morphine dragging him down, then the tangle of Reformation theology and politics, Chesterton's romantic, imagined England suffused with the kind of Catholicism that mediated his brush with fascism and his taste for paradox, which Christopher wanted to debunk. At intervals, Christopher's head would droop, his eyes close, then with superhuman effort he would drag himself awake to type another line. His long memory served him well, for he didn't have the usual books on hand for this kind of thing. When it's available, read the review. His unworldly fluency never deserted him, his commitment was passionate, and he never deserted his trade. He was the consummate writer, the brilliant friend. In Walter Pater's famous phrase, he burned "with this hard gem-like flame." Right to the end.
So much for atheists leaving this world screaming for God. Hitchens entered the foxhole of mortality, knowing that thoughts of God were for those unable to face the brutality and finality of death. Hitchens died as he lived, a man who held true to his godlessness until the end. (If you have not read Hitchens' final book, Mortality, I encourage you to do so.)
I know there is nothing I can write that will change Pickowicz's God-addled mind. But perhaps time will. Pickowicz is a young guy who has not experienced much of life. I can only hope that he will get to know a few flesh-and-blood atheists before he dies. I hope he will have the opportunity to observe not only how atheists live but how they die. I am confident that the young preacher will find that dying atheists hold true to their convictions until the end. Unlike countless Christians when faced with death who have to be reassured of their salvation, atheists will need no such reassurance. Atheists know that death is the end. All that remains are the memories their friends and families have of a well-lived life. And that, my friend, is enough.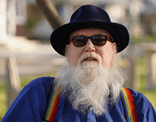 Bruce Gerencser, 65, lives in rural Northwest Ohio with his wife of 44 years. He and his wife have six grown children and thirteen grandchildren. Bruce pastored Evangelical churches for twenty-five years in Ohio, Texas, and Michigan. Bruce left the ministry in 2005, and in 2008 he left Christianity. Bruce is now a humanist and an atheist.
Connect with me on social media:
You can email Bruce via the Contact Form.
Your comments are welcome and appreciated. All first-time comments are moderated. Please read the commenting rules before commenting.