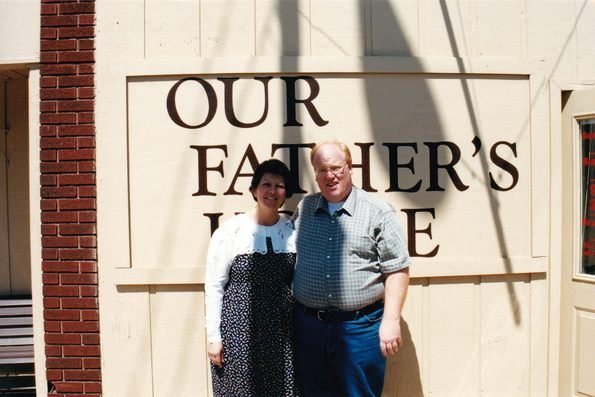 Excerpt from Our Father's House website, circa 1998. Edited slightly for spelling, grammar, and adding links
Often I am asked "what does your church believe about__________?"  This is not an easy question to answer because our church is a body made up of individuals, and even in a smaller church like Our Father's House, there are "differing" views on what the Bible says about some things. We do not set any particular creed or statement of faith as a requirement for membership in the church. Rather, if a person has repented of their sins, and by faith trusted Christ for salvation, AND has a desire to be taught the Word of God, we encourage them to become a part of our assembly. We accept the Apostle's Creed as a summary statement of belief. Please see our church constitution for further information.
So, when asked "what does your church believe about__________?" it is better for me to say what "I" believe and to share the viewpoint that "I" teach from.
I am an expositional preacher. The primary Bible version I use is the KJV [I later moved to the ESV]. Some church members use the NKJV.  Usually, I preach on random passages of Scripture, and at times will preach through books of the Bible. I believe the Bible is the inerrant, infallible Word of God. It does not just contain the words of God, it IS the Words of God, every jot and every tittle.
I am an Evangelical. I willingly embrace all those who claim the name of Christ and walk in His truth. I believe the denominational fragmentation that is seen today is a dishonor to the God of Heaven. The world will know we are Christians by the love we have for one another. One of my desires is to promote love and unity among God's people. Lest someone think I am an ecumenist, I oppose the Evangelicals and Catholics Together statement. While I readily grant that there are many Roman Catholics who are Christians (and I embrace them as such), the official doctrine of the Roman Church is salvation (justification) by works.  In the name of Christ, I embrace God's people wherever they may be found, but I strongly oppose the false gospel of works taught in many churches. A sinner is saved (justified) apart from the works of the law. (or any other work like baptism, joining the church, being confirmed) Sinners are not saved by works but UNTO good works. (Ephesians 2:8-10)
I am a Non-Cessationist. I believe that spiritual gifts are for today and that they are in operation today. While I would not call myself a charismatic, I do find a common bond with men such as John Piper and Martyn Lloyd Jones and ministries such as People of Destiny [now Sovereign Grace Churches]. I do not believe that many of the so-called charismatic gifts exercised in many Charismatic/Pentecostal churches are of God. Such churches preach a gospel according to the Holy Spirit, not a gospel that finds as its foundation Jesus Christ. Any gospel that requires a person to speak in tongues, evidence the fullness of the Spirit, etc. is a false gospel. I also stand opposed to the modern prosperity gospel preached by men such as Kenneth Hagin, Kenneth Copeland, Frederick Price, et al. The modern charismatic movement is an admixture of truth and error and is best described as a mixture of the Corinthian and Laodicean churches. I also stand opposed to most of the Charismatic teaching regarding demons, territorial spirits, and demon/spirit possession. There is a real Devil who can and does possess his children (John 8:44) and our battle is with him, but much of the spiritual warfare teaching is according to the philosophies of men and not of God.
I believe in the validity of the law of God. God's law is pure, holy, and true, and man is enjoined by God to obey. I emphasize that the believer is to progress in sanctification and holiness. Saved people LIVE like saved people. I find much in common with the good men and women. of the Chalcedon Foundation. They are a small voice in a large wilderness declaring the validity of the law of God.
I am a Calvinist. I believe in the Sovereignty of God and that salvation is of the Lord. No man can save himself. I do not believe man has an innate ability to believe. Unless the Father, by the power of His Spirit, draws a man to salvation, that man will never be saved. I believe in the perseverance (preservation) of the saints. God keeps His own until the day of salvation. I consider the doctrine of eternal security preached in many Churches to be a perversion of the truth because it denies a connection between the saviorship and lordship of Christ in a man's life. There is a direct connection between a man who is saved and how he lives. The same God who saves a man has also ordained that that same man would live a life of good works. No holiness, no heaven! While I consider myself a Calvinist, I stand against hyper Calvinism and its denial of the free offer of the gospel. I also reject double predestination as a doctrine rooted in the philosophies of men and not the Word of God. As a minister of the gospel, my desire is not to convert Arminians to Calvinists, nor is it to promote a system. I preach Christ. Calvinism is the best description of how and why God saves a sinner. I, without hesitation, affirm the 1689 London Baptist Confession of Faith as an accurate statement of that which I most surely believe.
I am posttribulational, and amillennial. I believe the church will go through the tribulation, and that there yet awaits a day when Jesus Christ will come again and judge the world.
I believe in the Lordship of Christ. We do not make Him Lord, HE IS LORD. Because He is Lord, we are called on to live holy, separated lives. The standard for such living is the Word of God. I reject all man-made standards of living, for God has given us everything we need pertaining to life and godliness. Legalistic standards of touch not, taste not are rejected as the philosophies of men.
My favorite theologians and authors are JC Ryle, Wayne Grudem, Donald Bloesch, Charles Spurgeon, Thomas Watson, Gardiner Spring, John MacArthur, and most anything written during the Puritan era. Truly a minister is known by the books he reads.  My favorite bookstore is the Cumberland Valley Bible and Book Service. They are an excellent source of sound doctrinal books and, of course, they carry a large supply of Puritan books
So there you have it . . .this is not all I believe . . . but I have given you enough so that you can decide what kind of preacher you think I am. After you decide, if you are still interested, please do stop and visit. We will be delighted to have you as our guest. If you have a question please email me and I will promptly reply.
Pastor Bruce Gerencser
Bruce Gerencser, 66, lives in rural Northwest Ohio with his wife of 45 years. He and his wife have six grown children and thirteen grandchildren. Bruce pastored Evangelical churches for twenty-five years in Ohio, Texas, and Michigan. Bruce left the ministry in 2005, and in 2008 he left Christianity. Bruce is now a humanist and an atheist.
Connect with me on social media:
Your comments are welcome and appreciated. All first-time comments are moderated. Please read the commenting rules before commenting.
You can email Bruce via the Contact Form.