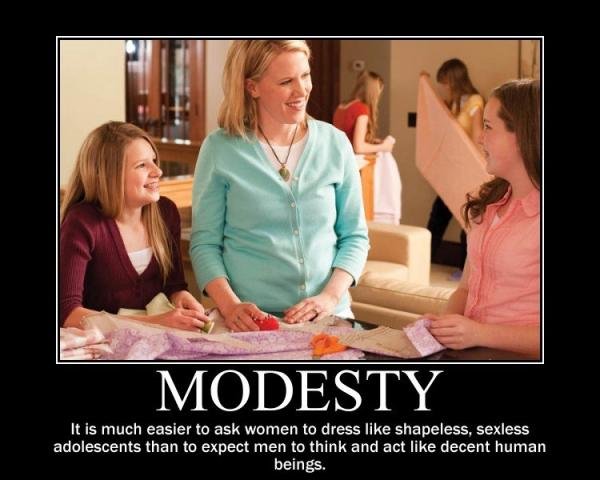 Over a year ago, I tried to encourage a young Christian woman to dress modestly. You would have thought I'd counseled her to murder little children! All her friends wore their clothes that way, she reasoned, so who was I to tell her what to do? She was only following the fashion trends!
Fast-forward to Christian Twitter this past week, where a pastor bravely offered a man's perspective on Christian women who dress provocatively. I've seen a lot of Christians vilified for standing on Biblical principles over the years, but never to this extent. According to his critics, he's objectifying women while ignoring the responsibility men have to control their lustful thoughts. His critics ask what gives men the right to say when a hemline is too high, a neckline is too low or an outfit is too tight. They claim that, once again, men are oppressing women.
….
Men definitely need to take control of their minds, but we women have a responsibility not to place stumbling blocks in their paths. We can look down our noses all we want, correctly calling out their sin, but we must understand that we can either shield them from temptation by dressing modestly or incite temptation by dressing provocatively. If we choose the latter, Jesus has some sobering words for us:
….
And don't you dare manipulate verse 7 by emphasizing the word "man" to get yourself off the hook! God doesn't judge women more leniently than He judges men. If we come to church, work or even the grocery store dressed in ways that might cause men to look at our bodies, we share in their sin.
Again, I know there are men that will lust after a woman even when she completely covers herself. In cases like that, women bear no guilt. It's sad that I need to pepper this post with so many caveats just to fend off "what about" challenges that seek to discredit the truth that how we dress can (and often does) elicit improper reactions in our brothers.
Let's accept the premise that dressing in certain ways does, in fact, encourage men to entertain sinful thoughts about us. Once we acknowledge our part as stumbling blocks, shouldn't we ask ourselves whether or not we love these brothers in Christ more than we love our cute clothes? Christian love sometimes requires us to sacrifice our personal freedom for the sake of our fellow believers. Instead of judging our brothers for their sin, shouldn't we love them enough to do whatever we can to discourage them from sinning?
— DebbieLynne Kespert, The Outspoken TULIP: Discipling Women For Discernment Through Doctrine, Don't Tell Women How To Dress, They Say, February 15, 2022
Bruce Gerencser, 66, lives in rural Northwest Ohio with his wife of 45 years. He and his wife have six grown children and thirteen grandchildren. Bruce pastored Evangelical churches for twenty-five years in Ohio, Texas, and Michigan. Bruce left the ministry in 2005, and in 2008 he left Christianity. Bruce is now a humanist and an atheist.
Connect with me on social media:
Your comments are welcome and appreciated. All first-time comments are moderated. Please read the commenting rules before commenting.
You can email Bruce via the Contact Form.